A Q&A with Dr. Bruce Kornreich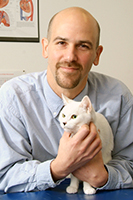 Bruce G. Kornreich, DVM, PhD, DACVIM, is the Feline Health Center's Associate Director for Education and Outreach. Having earned both his DVM and PhD at Cornell, Dr. Kornreich has been a dedicated member of the Cornell community since 1988 and our Associate Director since 2012.
Dr. Kornreich lives just outside of Ithaca with his wife, a dog named Rio, and Einstein the cat, who considers himself "head of household".
 
What is your role for the Feline Health Center?
I'm here to help people understand the health needs of cats. I provide information and support for cat owners, veterinary professionals, and breeders through a variety of media, including online, print, symposia, visitation, and through phone consultations.
When I'm not at the Feline Health Center, I'm working at the Cornell University Hospital for Animals, treating cardiology patients of all species and teaching Cornell University vet students.
 
What do you enjoy most about your work at Feline Health Center?
I really enjoy interacting with people and helping them with the problems of their feline loved ones. Getting to interact with so many different types of people from all over is always interesting.
 
What do you think owners and vets appreciate most about the Feline Health Center?
People like the fact that there's a place they can go for reliable information and support. They also appreciate the importance of the science we support here at Cornell. Research is the basis for all of feline medicine, and our members and followers seem to understand that Cornell is a leader in research that improves the lives of cats.
 
Where did you grow up? And where did you go to college and grad school?
I was born and raised in Brooklyn, New York and I went to undergrad at SUNY Albany. I graduated from Cornell's College of Veterinary Medicine, was the first veterinary cardiology resident here, and later earned my Ph.D. here as well.
 
What attracted you to veterinary medicine?
I've always loved animals, but it was a trip to the veterinarian when I was 8 years old that motivated me to go into veterinary medicine. My cat Tiger had swallowed a needle and thread, and the veterinarian showed me a radiograph (X-ray) of Tiger's neck. You could clearly see a needle inside his body, lodged in his cervical (neck) region. I was fascinated, and I wanted to be a vet from that point onward.
Tiger did well, and I helped nurse him along. His neck developed an abscess, and I had to apply hot compresses and flush the wound to keep it clean. It was my first experience with patient care – I loved it.
 
What do you love most about cats?
Cats are mysterious, individual, athletic, and they can be really social.
I've had three cats in my lifetime: Tiger, Beauregard, and our current feline, Einstein. Einstein is a domestic shorthair, and he's 14 years old. He has raised a couple generations of pitbulls in our household. He's a cool cat who knows when to assert himself with the dogs. Cardboard boxes  are Einstein's favorite. He uses them as cover for frontal attacks to antagonize the dog. It's all in fun for them. They love each other.
What's something about you that most people don't know?
I'm a songwriter and a guitarist. I'm in a band called Brookton Bridge. I'm also a basketball fanatic – I play several times a week.
Share this: