What Makes Us Unique?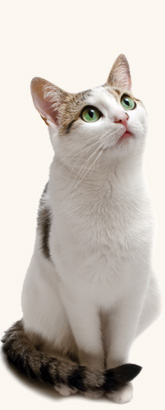 At the Cornell Feline Health Center, we strive to provide help for cats worldwide today while also promoting the hope for improved feline health tomorrow. We were the first center dedicated solely to the improvement of feline health; and although our history is long and proud, our future (and that of cats, too) looks even brighter, largely due to several unique aspects of our Center.
While a number of non-profit organizations supporting the betterment of cats exist, the Cornell Feline Health Center is unique in a number of ways. Our affiliation with, and support of, research at Cornell University promotes collaboration among world-class investigators that has resulted in breakthroughs in our understanding of feline diseases from perspectives ranging in scale from molecules to whole animals. Our close physical and intellectual partnership with clinical and basic researchers across a wide variety of disciplines here at the University fosters research that would not be possible if we were a remote entity. Proximity breeds communication and ideas among the dedicated researchers that we support; and our unique alignment with the excellence at Cornell allows us to benefit feline health today and into the future by supporting research investigating feline diseases. This research, funded by our benefactors' support, will identify improved methods of diagnosing and treating feline diseases.
Given the rapidity with which feline health crises can develop, we recognize the importance of making funds available to investigate emerging diseases/issues in a timely manner. To this end, our recently established Rapid Response Fund is unique among funding agencies in its ability to circumvent the often-prolonged application processes involved in procuring research support by other avenues. By providing a streamlined means by which top-notch researchers can obtain vital financial support for pilot studies, we expect to facilitate improved feline health by promoting the collection and evaluation of data during the crucial initial phases of health crises.
Another unique aspect of the Cornell Feline Health Center is the Dr. Louis J. Camuti Memorial Feline Consultation Service, which provides callers with the most up to date information on feline health care. This service is, to our knowledge, the only one of its kind; and thousands of cat owners, breeders, and veterinarians have received valuable information regarding the care of their beloved feline friends through this service. Our goal is to improve cats' lives by disseminating information, and the Camuti Consultation Service is a valuable tool in helping us and our callers achieve this goal.
The Cornell Feline Health Center takes the training of tomorrow's feline practitioners seriously. To this end, we are unique among feline-specific non-profit organizations in providing scholarships to veterinary students. Each year, we identify students at the College of Veterinary Medicine that have demonstrated academic success and a strong interest in feline medicine and/or surgery and provide stipends that promote their development as excellent feline practitioners. In this way, we hope to continue to support feline well-being tomorrow by training high quality feline practitioners today.