Erin Chu, DVM, Ph.D.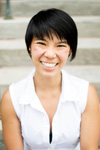 Erin Chu
Faculty Mentor: Dr. Paul Soloway
Current Position: Life Sciences Lead for Open Data, Amazon Web Services
Brief Biography
Erin grew up in a number of places including New York, Singapore, Beijing, and Texas before coming to Ithaca for her bachelor's in Biological Sciences at Cornell. While fulfilling her requirements for veterinary school, she decided to give basic science research a try…and never stopped. Erin has a research focus in epigenetics and plans to use her clinical and research skill sets in a career in translational biomedical science. In her free time Erin rides her horse Honor, reads books that aren't textbooks, and hangs out with her dog Shiloh and cat Clementiger.
Education
Ph.D. Biomedical and Biological Sciences, Cornell University, 2017
DVM, Veterinary Medicine, Cornell University, 2014
B.S. in Biological Sciences, Cornell University, 2010
Research Interests
Erin has contributed to research projects examining the genetics of body size diversity in the domestic dog and horse, mechanisms of X-Chromosome Inactivation in mouse embryonic stem cells, and maternal factors contributing to embryonic development. These experiences have developed a strong interest in epigenetics and the regulation of gene expression. Erin's current research in the Soloway lab focuses on the RNA-mediated epigenetic regulation of an imprinted locus.
Publications & Presentations
Taylor DH, Chu ET, Spektor R, and Soloway PD. (2015). LncRNA regulation of reproduction and development. Molecular Reproduction and Development 82: 932-956.
Guyochin A, Maenner S, Chu ET, Hentati A, Attia M, Avner PR, and Clerc P. (2014). Live cell imaging of the nascent inactive X chromosome during the early differentiation process of naïve ES cells towards epiblast stem cells. PLoS ONE, 9(12): e116109.
Makvandi-Nejad S, Hoffman GE, Allen JJ, Chu E, Gu E, Chandler AM, Loredo AI, Bellone RR, Mezey JG, Brooks SA, and Sutter NB (2012). Four loci explain 83% of size variation in the horse. PLoS ONE 7(7): e39929. doi:10.1371/journal.pone.0039929.
Brooks SA, Makvandi-Nejad S, Chu E., Allen JJ, Streeter C, Gu E, McCleery B, Murphy B, Bellone RR, and Sutter NB (2010). Morphological variation in the horse: defining complex traits of body size and shape. Animal Genetics 41: Suppl 2:159-65. doi: 10.1111/j.1365-2052.2010.02127.x.