Scholarship Honors Two Outstanding Mentors
Robert W. Kirk DVM '46 and Dr. William E. Hornbuckle Scholarship Fund Challenge
Your gift could help mold the next Bob Kirk, DVM or "Horn" at Cornell. In celebration of the opening of the College's Small Animal Community Practice in 2018, the College's Alumni Association offered a matching challenge grant – dollar for dollar up to $20,000 – to alumni to create a permanent scholarship in honor of mentors Robert W. Kirk DVM '46 and William E. Hornbuckle. 
This scholarship honors the outstanding teaching and mentoring provided by Kirk and Horn, as they were affectionately known, over six decades, and provides financial assistance to students interested in practicing primary care.
This Fund will become a permanently endowed fund when $100,000 is raised. The Cornell Veterinary Alumni Association pledged $20,000 toward this effort, asking each alumnus who benefited from the practical training of Drs. Kirk and Hornbuckle.
Ready to make a gift? Click here.
For more information on how to participate or to share stories about these mentors, contact the Development Office at 607.253.3745 or petfriends@cornell.edu.
A Tale of Two Veterinarians: Dr. Robert Kirk and Dr. William Hornbuckle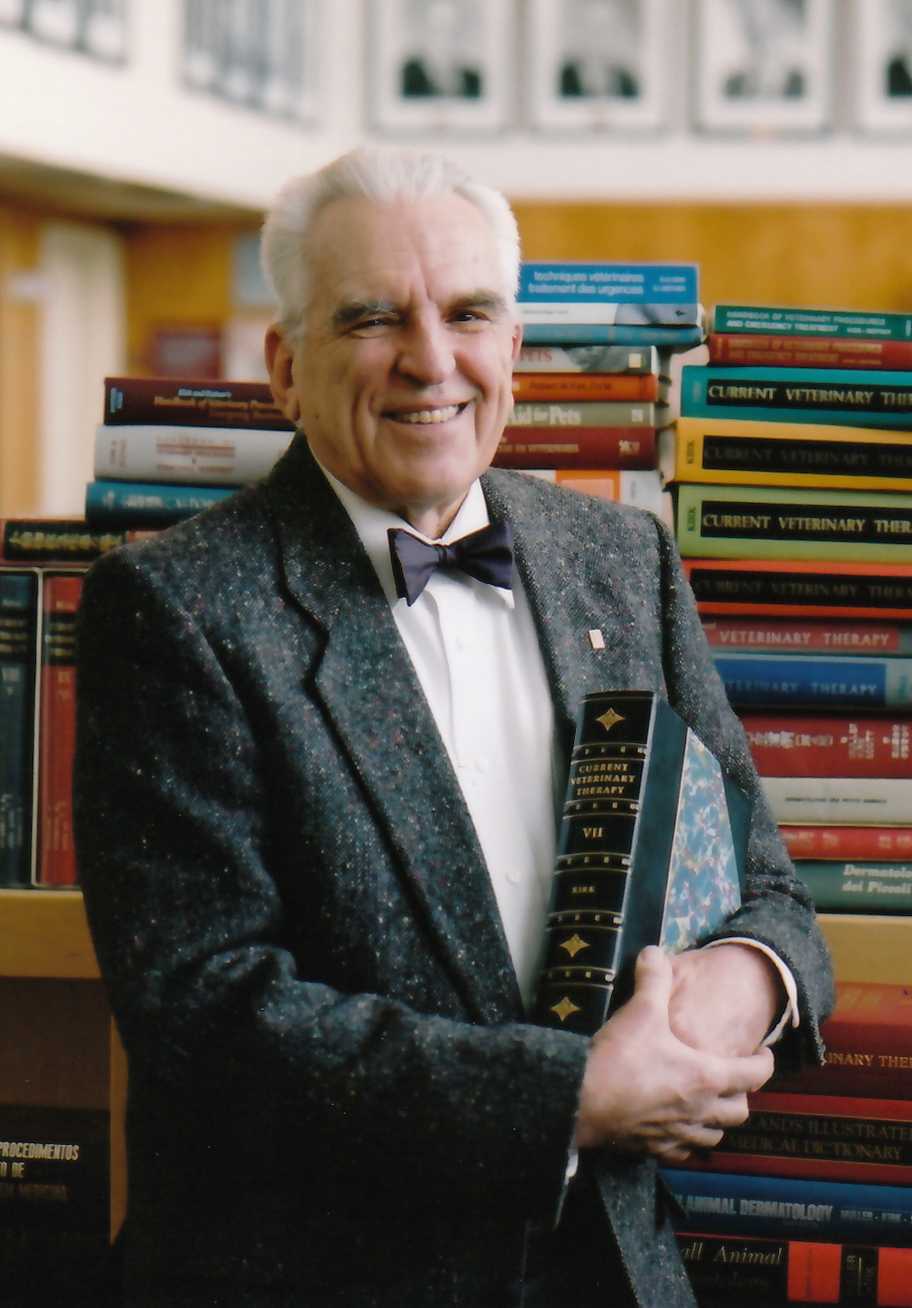 Two men with extremely different personalities and teaching styles, equally passionate about veterinary medicine, whose careers overlapped for a brief time in the tiled halls of the old small animal clinic during the 1980's, both provided a continuum of learning for those students blessed to have called them mentor and friend.
It seems only fitting for the Cornell University College of Veterinary Medicine Alumni Association to announce the launch of the Robert W. Kirk DVM 1946 and Dr. William E. Hornbuckle scholarship. This permanently endowed fund, upon being fully funded, will provide financial assistance to students pursuing the DVM degree at Cornell's College of Veterinary Medicine who have demonstrated financial need and an interest in practicing primary care.
Veterinary medicine was a different world back in the years between 1952 and 2013, the span of which includes the start of Dr. Kirk and the retirement of Dr. Hornbuckle.
Robert Warren Kirk sought to elevate veterinary medicine from  "farm doctoring" to the profession it is today, with significant contributions in public health, internal medicine, dermatology, veterinary research and pet owner education. Both professor and practitioner, he insisted on only the highest level of performance. He cut a stiff, severe formal appearance in his starched white clinic coat and bow tie and military-cut hair, yet was always approachable and eager to teach students. He commanded deep respect and honor from veterinarians worldwide. To us, his Cornell veterinary family, he was our hospital director, a founding member of ACVIM, prolific author of Current Veterinary Therapy, Small Animal Dermatology and the Handbook of Veterinary Procedures and Emergency Treatment… and he walked on water. We spoke in hushed tones in his presence and listened intently to his advice.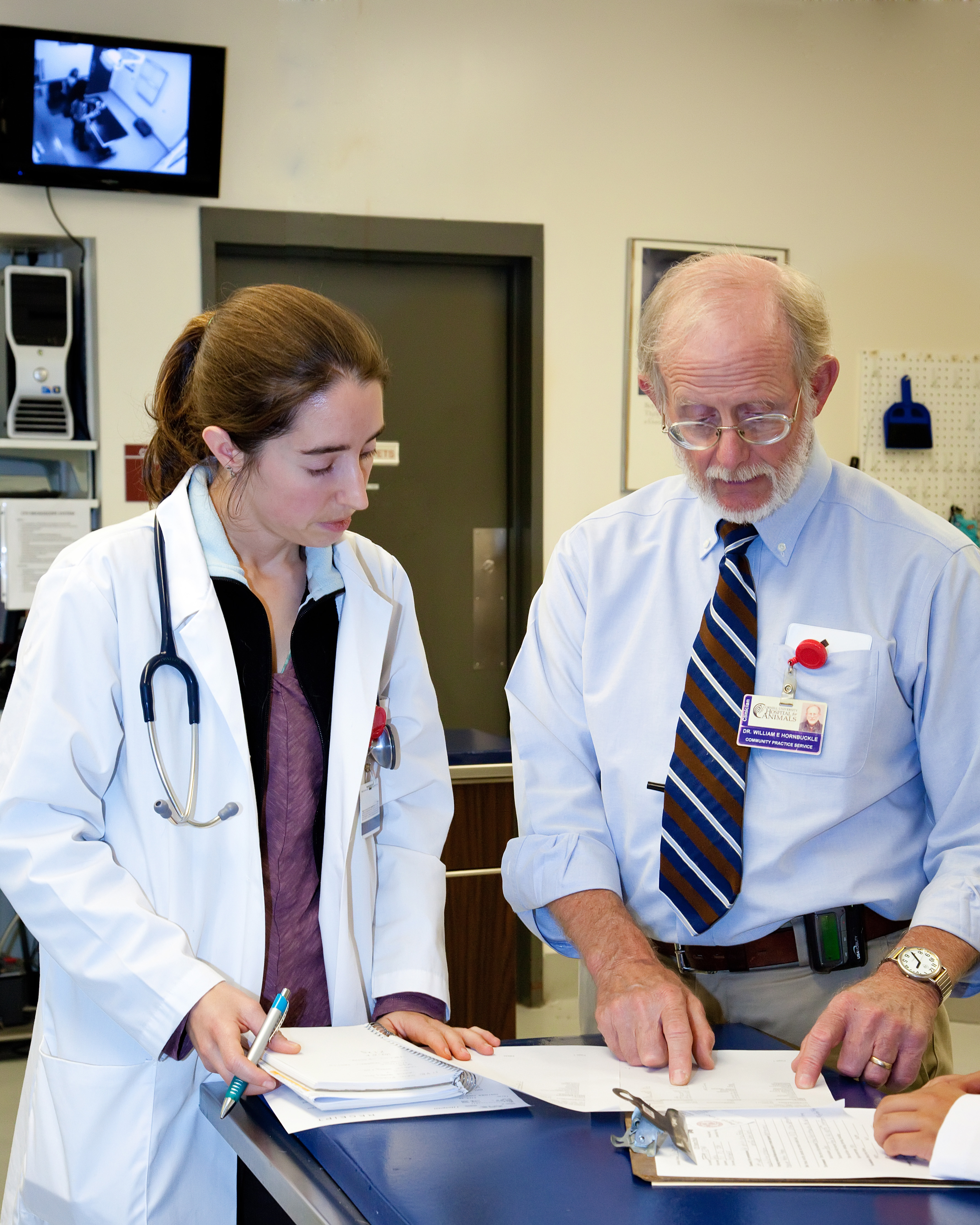 William E. Hornbuckle took a different approach--more student-centered and experience-focused. Quiet and humble, gentle and patient, "Horn" gave his students tools and strategies that transformed their "book learning" into diagnostic experiences. Calling himself a facilitator and collaborator, and always crediting his dedicated colleagues and staff for success, Bill himself was an immensely approachable educator, with a warm, friendly demeanor that built confidence and inspired curiosity in his students. Through development and expansion of CPS, he transformed a purely observational service into a fully engaged experiential learning program. Students were fully immersed in primary veterinary care, seeing appointments, taking histories, communicating with clients, performing exams, palpating and cystocentesing among the best, conducting discharge and follow up appointments. Allowing each student to problem solve and learn in their unique way, he transformed student into clinician with his gentle encouragement and unfailing support. His legacy is an undying devotion and love from the countless students he touched.
I invite you to consider making a donation in honor of these two giants of our alma mater today.     We hope that this scholarship will encourage all alumni to express their enthusiasm in honor of the two namesakes of this endowment.
--Dr. Susan Ackermann '86
President, Veterinary Alumni Association Executive Board