Cardiology
Canine, Feline, Exotics/Wildlife
The clinical cardiology program at the Cornell University Hospital for Animals provides the most current diagnostic and treatment options for small animal patients. Local, national, and international collaborations with researchers and clinicians at Cornell and at other leading institutions have improved patient care in the field of veterinary cardiology and continue to keep our service at the forefront of the diagnosis and treatment of heart disease in companion animals.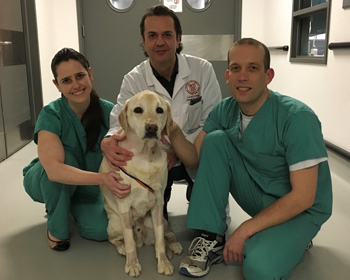 The Cardiology Service offers dedicated consultations and treatment in our state-of-the art facility. The most advanced diagnostics in veterinary medicine are provided, including echocardiography, electrocardiography, radiography, 24-hour electrocardiographic monitoring (Holter monitoring), laboratory work, and angiocardiography. In addition to the most current medical therapies, our service provides a number of interventional therapies including, but not limited to, pacemaker implantation, occlusion of patent ductus arteriosus, balloon valvuloplasty for pulmonic and subaortic stenosis, cardioversion of atrial fibrillation and radiofrequency catheter ablation of arrhythmias.
In the day to day care of patients in our hospital, we are keenly aware of the owners' concern for their pet, and we give our full attention to each person and animal that we are fortunate enough to meet. Moreover, we respect the fact that our clients have often taken time from their lives to drive a long distance to give to their animals the best care and we will do everything we can to meet and exceed these expectations.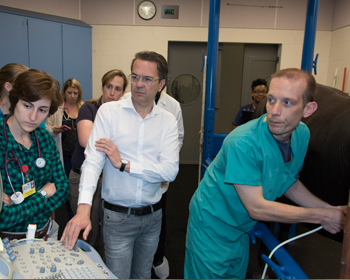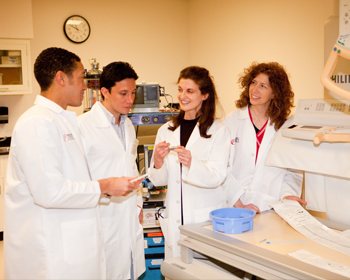 What to Expect During Your Appointment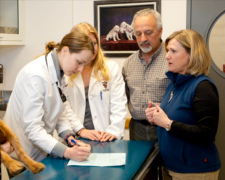 Your scheduled visit to the Cardiology Service at the Cornell University Hospital for Animals begins with check in at the reception desk. Following completion of a small amount of requisite paperwork, you will be greeted in the waiting room by one or two students currently on their Cardiology rotation, and brought with your pet to a private examination room.
The student(s) will then inquire about your pet's history and perform a physical examination of your pet. This experience is invaluable to the education and development of our students, and we appreciate your patience and understanding in allowing these future veterinarians to interact with you and your pet.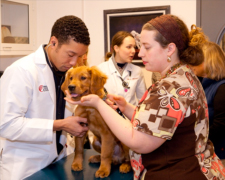 The student(s) will then excuse themselves and consult with either a cardiology resident or cardiologist on service regarding their recorded history, physical examination findings, and recommendations for case management. A cardiologist or cardiology resident will then accompany the student(s) back to your examination room and, after introducing themselves, will examine your pet and discuss their initial findings and recommendations for management of your pet's case.
In most cases, you will be asked to leave your pet in the care of the student(s) after this initial examination so that we may begin appropriate diagnostic testing, which commonly includes: electrocardiography, echocardiography, thoracic radiography, and noninvasive blood pressure measurement.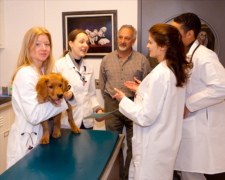 Given our busy schedule and requisite interaction with other services in the care of your pet, you will most commonly be asked to return to discuss our findings and recommendations in the afternoon. Please understand that our primary concern is the well being of your pet, and that although we will always strive to minimize the duration of your stay, we do not wish to compromise patient care, and this may take some time. If minimal diagnostics are required, we may be able to significantly shorten the duration of your visit.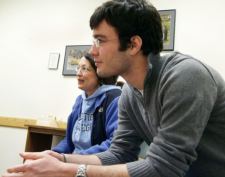 When you return to pick up your pet, you will meet with the cardiologist/cardiology resident and the student(s) who received you and your pet and discuss their findings and therapeutic recommendations (if any). In most cases, therapy will be in the form of medication that you can administer at home. In some cases, your pet may require hospitalization for supportive care and/or diagnostics, and the rationale and logistics of this recommendation will be discussed in depth upon your return. In the event that your pet requires an elective interventional procedure, the rationale, logistics, and risks associated with the procedure will be discussed at this time, and the procedure can often be scheduled either at the time of discharge or within 24 hours of discharge.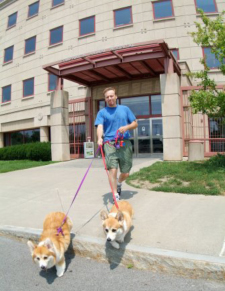 Prior to your leaving the Hospital, you will receive a copy of the cardiology report, which outlines the findings and recommendations for management of your pet's case using some medical terminology that you may not be familiar with. Your referring veterinarian (who will be more familiar with terminology used) will also receive a copy of this report via mail. You will also receive a copy of discharge instructions, which outlines our findings and recommendations in more vernacular terms, and we will strive to make sure that we have answered any and all questions that you may have prior to your departure.
Medical Conditions
Arrhythmia Mapping and Ablation
Cardiac mapping and ablation (also called catheter ablation; radiofrequency ablation) is a procedure used to diagnose and treat abnormal heart rhythms (arrhythmias). It consists in finding (mapping) the precise location of the source of the arrhythmia with catheters that are threaded through blood vessels and guided into various areas of the cardiac chambers. The abnormal heart tissue is then destroyed (ablated) using radiofrequency energy (heat).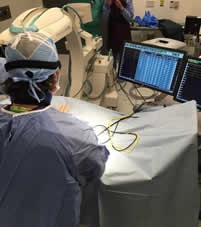 This technique is used to treat arrhythmias that cause rapid heart rates. It is an alternative to antiarrhythmic drugs, when these medications fail to control an arrhythmia or when they are associated with side-effects. Catheter ablation can be curative.
How do I know that my pet is a candidate for an ablation procedure?
Currently cardiac ablation is only performed in dogs. Dogs with arrhythmias that can be treated with this procedure might experience episodes of weakness or fainting, exercise intolerance and extended periods of panting, and even heart failure. Because not all arrhythmias can be treated via cardiac ablation, several diagnostic tests, performed by a board-certified cardiologist are necessary to determine if your pet is a candidate.
Which arrhythmias are treatable with cardiac ablation?
The arrhythmias that are treatable with this procedure are called tachycardia because they are responsible for rapid heart rates, on occasion above 300 beats/minute. Most of these tachycardias originate from the upper portion of the heart, above the ventricles, and are called supraventricular tachycardias. They include: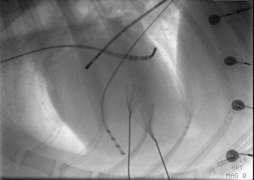 Accessory pathway-mediated tachycardia (atrioventricular orthodromic reciprocating tachycardia)

Common in Labradors and Boxers
>90% success rate with ablation

Focal atrial tachycardia

55% to 60% success rate with ablation

Atrial flutter

Common in Bernese Mountain dogs and Dogue de Bordeaux
60% to 95% success rate depending on the type of atrial flutter

Persistent atrial fibrillation
Some specific forms of ventricular tachycardia, that occur in English bulldogs, can be treated with cardiac ablation.
Which tests are required to determine if my dog can be treated with this technique?
In order to determine if your pet can benefit from cardiac ablation, the following tests need to be performed:
An electrocardiogram (12-lead ECG)
An echocardiogram, which is an ultrasound of the heart
A 24-hour Holter, which is a 24-hour recording of an ECG
Blood tests

What should I expect when I bring my dog to Cornell?
Your pet will usually be hospitalized the day before and will be able to go home the day after the procedure. Blood tests will usually be performed at the time of admission. The day of the procedure, your dog will be placed under general anesthesia and hair will be clipped in various areas of his body. Catheters will be inserted into veins from the neck and groin regions. Continuous X-ray imaging, called fluoroscopy, will be used to guide the catheters into various areas of the cardiac chambers. Once in place, the catheters will be used to record the electrical activity of the heart and trigger the arrhythmia using specialized equipment. Finally, radiofrequency energy will be delivered from a catheter where the arrhythmia is originating from to destroy the abnormal heart tissue. The procedure takes 3 to 4 hours. Your dog's recovery will be monitored overnight in the intensive care unit.
Are there risks associated with this procedure?
Cardiac ablation is generally safe. We will discuss with you some rare complications:
Bleeding where the catheters are inserted
Anesthetic complications, adverse drug reactions
Fluid around the heart (cardiac tamponade)
Damage to the normal cardiac electrical conduction system, causing slow heart rate (bradycardia) and requiring pacemaker implantation
Damage to the heart valves, walls and large vessels
Ventricular fibrillation

Are rechecks needed after the procedure?
In order to confirm that the ablation was successful, we recommend that you bring your pet back to Cornell for a recheck evaluation approximately 1 month after the procedure. An echocardiogram, a 12-lead ECG and a 24-hour Holter are performed at the time of the visit. If it is not possible for you to come back to Cornell, these tests can also be done by your local board-certified cardiologist, who will share the results with us.
When can cardiac ablation be performed on my pet?
We are currently not able to perform cardiac ablations year-round. In 2021, we will perform ablations during the following weeks:
8/30/21 - 9/17/21
11/1/21 - 11/19/21
Always have your veterinarian first contact us before referring you and your dog to the cardiology service at Cornell University Hospital for Animals for an ablation procedure.
Holter Monitoring
Holter monitoring is a noninvasive method of assessing the heart's rhythm and rate. It is a 24-hour electrocardiogram that is recorded while the animal is "wearing" a recorder. This permits an analysis of the rhythm and rate of the heart throughout the day and night of the dog with activities documented in a diary by the owner. Your veterinarian may recommend this diagnostic procedure for the following reasons:
an arrhythmia is suspected in your pet
your pet exhibits signs of weakness, dizziness, lethargy, excessive panting and agitation, or even collapse or fainting episodes
to monitor drug therapy and effects on the heart rate and rhythm
to monitor programming effects if your pet has an implanted pacemaker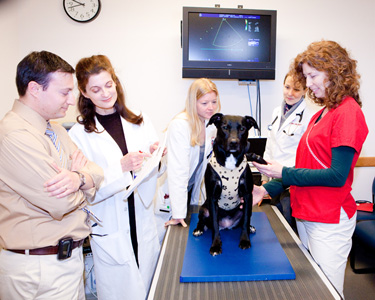 After clipping away some fur and cleansing the skin, several electrode patches are adhered to the skin over the right and left chest areas and along the sternum. The Holter monitor is a small digital unit with a main cable and 7 wires. The wires snap onto the electrode patches. It is then wrapped up with soft bandage materials around your pet's ribcage. If an appropriately sized vest is available, your pet will be outfitted with a vest over the wrap.
The technician will communicate with you on the removal procedure. A daily log will be your homework. Recording your pet's activities during the 24 hours is extremely important and will help correlate daily activity with the heart's rhythm and rate. The ECG data is not sent out to a human medicine lab but is meticulously edited by our cardiology technical staff and reviewed and interpreted by the clinicians who will make therapy recommendations based upon the results.
Success Stories
Vet College now one of only two schools to offer 'ablation' to cure dogs' racing hearts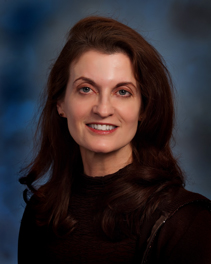 Taking advantage of a feat that synthesized human and veterinary medical procedures and united cardiologists from two continents and four medical institutions, a 2-year-old Brittany spaniel has a new outlook on life, renewed energy and an insatiable appetite.
Jay, the spaniel, arrived at Cornell's Hospital for Animals (CUHA) as an emergency patient with a heart rate of 380 beats per minute. His medical history revealed an ongoing battle with cardiac arrhythmias (abnormal heart beats) and symptoms that suggested congestive heart failure. Freddy Brewer, a cardiology veterinary resident, slowed Jay's heart rate to a normal sinus rhythm with medication and released him the following morning with a note of caution: Jay's type of arrhythmia could be difficult to control. A week later, Jay returned to Cornell.
"The medical treatment was going to have limited success in treating this arrhythmia, known as a bypass-tract tachycardia," said N. Sydney Moise, chief of cardiology at CUHA. "We suggested to the owners a procedure that could potentially cure the life-threatening arrhythmia."
In the proposed procedure, called an ablation, which had never been done at CUHA, the cardiologist would use a special catheter to deliver energy that creates controlled lesions on the heart and ultimately focal scar tissue. This eliminates the abnormal pathway of electrical conduction and permits only the normal conduction. The specific abnormal pathway that caused Jay's heart to beat too fast had never been successfully ablated before.
Jay's only chance, according to Moise, was a team approach -- an all-hands-on-deck spirit -- and equipment that was pieced together and borrowed from a Katrina-flooded hospital, Weill Cornell Medical College and corporate partners.
"We divided the labor, with each of us having a designated role," said Moise, indicating that this is now a jointly offered service at Cornell and Louisiana State University (LSU) , the only university veterinary hospitals to provide the service. "None of us could have done it alone."
The team included:
Pramod Deshmukh, a cardiologist who practices in Sayre, Pa., and has spent his career using insights from the study of dogs to heal humans. Deshmukh assisted during the electrophysiologic testing and ablation;
Roberto Santilli, a veterinary cardiologist in Samarate, Varese, Italy, with experience performing this procedure in dogs in Europe, who mapped Jay's heart with a catheter, millimeter by millimeter, to find the area that needed to be ablated;
Romain Pariaut of LSU's School of Veterinary Medicine and a former veterinary resident in cardiology at Cornell, who provided LSU equipment and operated the stimulator to test the heart during the procedure;
Moise, who orchestrated the team effort and guided Brewer in the catheter placement during the procedure;
Bruce Kornreich, a Cornell veterinary cardiologist and electrophysiologist, who worked with Jason Cole from BioPac to ensure that the diagnostic intracardiac recordings were pristine during the procedure;
Robin Gleed and Monique Pare, veterinary anesthesiologists, who kept Jay safely anesthetized and monitored vital signs during the procedure;
Cornell veterinary cardiology technicians Shari Hemsley and Sarah Miller, who ensured that the details of catheters and supplies were ready at a moment's notice.
Now active and alert, Jay has gained three pounds and his beating heart is no longer racing.
"It takes a lot of energy for a heart to beat as fast as Jay's was," said Moise. "Every morsel of food he ate was going toward that end. Now, when he eats, he's nourishing his body. This is one of the very special procedures we do in that it's novel and curative. Jay came to us as a very young dog. I fully expect that he'll live a long and healthy life."
---
When nature needs a little help...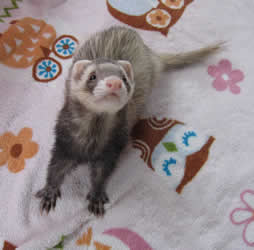 For nearly six years, Buddy was an active, healthy ferret. But when the ultimate power outage occurred – the natural electrical system in his heart stopped functioning properly – his heart rate became too low, a potentially life threatening condition. With the natural rhythm gone awry, owner Tara Fish looked to experts at the Cornell University Hospital for Animals for a man-made cadence.
Drs. Jamie Morrisey and Ricardo DeMatos, from the Exotics Service, and Dr. Marc Kraus from the Cardiology team, diagnosed the three-pound family pet with a third-degree heart block. Considered to be a complete obstruction, Buddy's failing heart was responsible for the once spry ferret's current difficulty completing simple tasks, like walking and breathing. Effectively, Buddy's heart was beating at only 30 percent of what it usually would, making it difficult for Buddy's brain and organs to get the blood and oxygen needed for optimal functioning.
"It happened so suddenly," said Fish, who is a lab technician with the USDA. "He was playing as he usually did, and collapsed without warning. He was breathing very fast, so I knew something was wrong."
With the initial diagnosis, medical and surgical treatment options were discussed with the owner. Considering the high risk of pacemaker implantation and novelty of the procedure in the species, the team and Fish decided to treat medically, administering medicine and observing. For a few months, Buddy's heart rate was manageable and he was holding his own, according to Fish, but then, just as unexpectedly, the sable bundle of fur took a turn for the worse and surgery was scheduled. A team of veterinarians, including exotics specialists, cardiologists, and surgeons worked together to implant a pacemaker that was originally designed for a human and is the size of a silver dollar.
"The first 24 hours after the surgery were a bit rough, but Buddy is a fighter," said Fish, who was able to visit him in the recovery area and took him home to his sister, Bella, two days later. "There were definite risks involved, and I knew it could have gone either way." Buddy loves his life, so I decided to give him that chance. Who wouldn't do that for someone they love?"
Fish has seen the wire from the pacemaker that is directly linked to Buddy's heart and the generator in his belly on the x-rays. Listening to his heart beat with her stethoscope – something she does regularly – is the ultimate reassurance, though.
"I'm thankful that there are people who realize life-saving surgeries and treatments should not just be for people," said Fish. "I will continue to do whatever I can for both of my ferrets. They're my babies"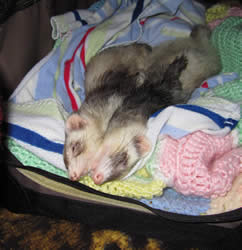 Indeed, this wasn't Buddy's first surgery with Cornell. In July of 2010, he had an adrenal gland and his spleen removed. Currently, Buddy's sister is undergoing chemotherapy treatment for intestinal lymphoma. Bella was first diagnosed in June of this year, after emergency surgery for an intestinal rupture and peritonitis. So far she is doing quite well.
"It's been quite an emotional roller coaster over the last year or so, and I have had to make some very difficult decisions for Buddy and Bella, but I am so thankful for the caring, and professional staff at the Cornell University Hospital for Animals, especially the Exotics department; they been very helpful, for sure," said Fish.
Some people might ask: Why ferrets? The answer comes easily to Fish: "They have taught me so much, and they bring a level of quality and joy to my life. Their heartwarming personalities are amazing. It doesn't matter what kind of day I'm having, as soon as I see their curious, bright eyed, little faces, it makes me smile. They really do leave tiny pawprints on your heart."
Cardiology Related Information