Orthopedic
Equine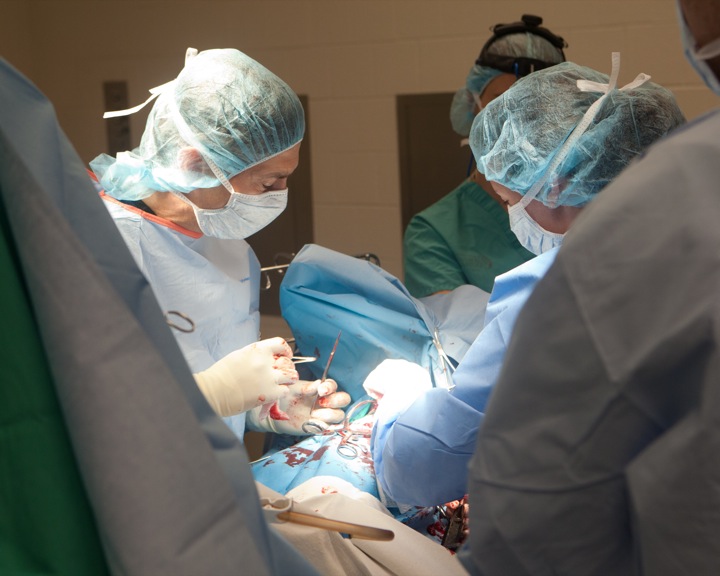 The Orthopedics Service at Cornell University Hospital for Animals is nationally and internationally recognized as a leader in the treatment of musculoskeletal conditions in horses. Our staff includes board-certified veterinarians who have pioneered many of the approaches used for diagnosis and treatment of joint and bone disorders. We also offer regenerative medicine treatments including stem cells and platelet rich plasma to compliment traditional orthopedic treatments.

Our service offers advanced diagnostic techniques and cutting-edge treatments in a contemporary facility designed to maximize the safety and care of your horse. We offer post-operative surgical care 24 hours a day in a special orthopedic ward and our staff is trained specifically to care for orthopedic conditions.

We work in a collaborative environment that brings together a diverse group of veterinary specialty services including Anesthesiology, Internal Medicine, Farrier Services, Imaging, and Clinical Nutrition to provide comprehensive veterinary care for your horse. 
Advanced Techniques
Advanced cartilage repair techniques including cartilage reattachment and grafting procedures.
Regenerative medicine for tendon and suspensory ligament tears. We offer both stem cell and platelet rich plasma based therapies.
High resolution MRI and CT imaging of feet and joints.
The latest technology for arthroscopy and fracture repair.
Orthopedic medical conditions
Osteochondritis Dissecans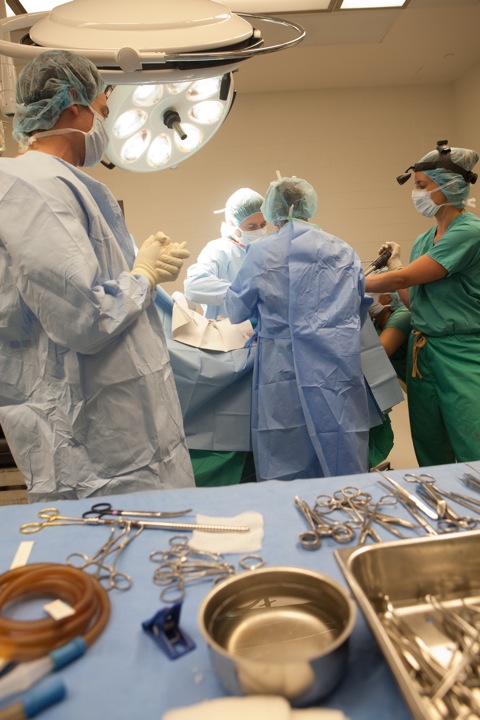 Osteochondritis Dissecans, or OCD, is a joint disorder in which cracks form in the articular cartilage and the underlying bone. Common in young horses, OCD causes joint swelling and often lameness. OCD can be treated by removal of the bone fragment though minimally invasive arthroscopy. In more severe cases, the cartilage can be repaired or cartilage grafting procedures might be performed to optimize your horse's prognosis for sound athletic function.
Bowed tendon or suspensory ligament tearing
Athletic horses of all types can injure either a tendon or ligament resulting in swelling and lameness. An ultrasound examination of the tendon reveals the severity of the tear. Depending on type of tear your horse has, physical therapy alone or in conjunction with regenerative medicine such as platelet rich plasma or stem cells will be recommended.
What to Expect During Your Appointment
Your scheduled visit to the Orthopedic Service at the Cornell University Hospital for Animals begins when you pull up to the circular driveway in front of the equine hospital. Please park your vehicle, come into the reception area, and check in at the front desk. After a small amount of paperwork, a veterinary student will help you unload and walk your horse to its assigned stall. 

We offer free long-term parking where overnight parking for trucks and trailers if needed.

Once your horse is situated in a stall, a senior veterinary student will ask about your horses past medical, surgical, travel and vaccination history and perform a basic physical examination. Then, the surgery resident and faculty member will join the student to conduct a full orthopedic examination. Students observe and participate in this examination, which is invaluable to their education and development. We appreciate your patience and understanding in allowing these future veterinarians to interact with you and your horse.

After the physical examination, our veterinarians will discuss their findings and treatment options, including cost. Together, you will develop plan for further diagnosis and treatment of your horse. 

When the diagnostic tests are completed, you will meet with the veterinarian and the student working with your horse to discuss their findings and therapeutic recommendations. 

Horses that require a surgical procedure are typically admitted, and their surgery will occur the following day. Horses that do not require surgery will be discharged with a plan for rehabilitation and pain control, if necessary. You and your regular veterinarian will receive a copy of discharge instructions, which outlines our findings and recommendations. We will strive to make sure that we have answered any and all questions that you may have prior to your departure.
Related Info
American College of Veterinary Internal Medicine
A non-profit board created to enhance animal and human health by advancing veterinary internal medicine through training, education, and discovery.
Fortier Laboratory
Dr. Lisa Fortier's laboratory investigates the underlying cellular and molecular mechanisms involved in the development of arthritis and tendonitis with the goal of identifying finding new ways to treat and prevention arthritis.
Comparative Orthopedics Laboratory
Dr. Alan Nixon's laboratory is dedicated to the study of the basic mechanisms of orthopedic diseases and the development of innovative therapies.