Hometown heroes: Dr. Garrett Archie Singleton and the Alpha Phi Alpha fraternity
Wednesday, February 15, 2023 - 10:46am
In our third installment of the College of Veterinary Medicine's Black History Month series, we highlight the college's second Black graduate, Garrett Archie Singleton, D.V.M. 1914, whose family was instrumental in the launch of a foundational Greek society — with roots in Ithaca that soon spread across the country.
Garrett Archie Singleton, D.V.M. 1914, is the first graduate in this series to have been born in Ithaca — on July 14, 1889. He was the only child from the marriage of Archie Singleton and Rebecca Brown. The couple separated and each eventually remarried, his mother to a man named Frank Spencer, and his father to Anna "Annie" Fagin in 1904. The latter two had a daughter, Mary Singleton, soon thereafter.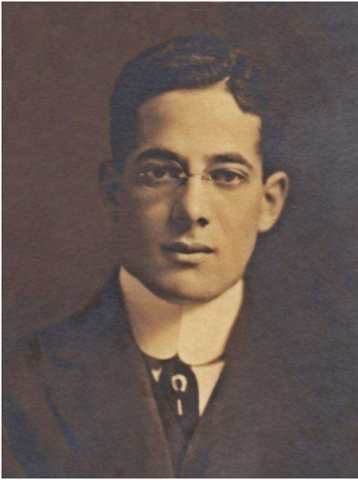 At the time, the veterinary program at Cornell was three years long. Garrett Archie Singleton enrolled in 1911 after doing his preparatory work at Ithaca High School. To be admitted to the program, students either had to have a Regents diploma with 72 academic counts, pass an entrance exam, have a certificate for one year of freshman college study — or already hold a bachelor's degree. It is most likely that Singleton had one of the first two options. While at Cornell, Singleton met and married Jewett Lane. Before their divorce, they had two children, John and Jean.
After Cornell, different employment opportunities took Singleton across the country. First, he went to St. Paul, Minnesota, where he worked as a veterinary inspector for the U.S. Department of Agriculture's Bureau of Animal Industry. After a few years there, Singleton moved to southern California for a job with the Department of Health in Los Angeles. Around this time, he also opened a small animal clinic and worked as a humane officer in Venice, California, where he was a member of a local symphony orchestra. He would stay in California until at least the mid-1930s.
A job with a fellow Cornellian drew Singleton back east, however. He moved to New Rochelle, New York, to work in private practice for Jules Werner, D.V.M. '36, at the Abbey Dog and Cat Hospital. There he would stay until moving back to his hometown of Ithaca in the early 1940s. Once in Ithaca, Singleton was employed at the Hermann M. Biggs Memorial Hospital as an attendant. Originally a tuberculosis sanatorium, the hospital was transferred from the state to Tompkins County in 1956 so it could be converted into a general hospital.
An enriching atmosphere
Singleton spent formative years of his youth in Ithaca among its tight-knit Black community. In the early 1900s, he lived with his father and stepmother Annie Singleton at 411 East State Street, and they often took in Black students, who weren't allowed to live in university housing at the time.
In 1905, a group of Black Cornell students met every two weeks at this house for what they called Social Study Club. It was there they decided to establish a formal Greek fraternity: Alpha Phi Alpha. Officially founded Dec. 4, 1906, the fraternity was the first of its kind and remains the oldest Greek fraternity for Black men in the United States.
Singleton would have been approximately 15 years old at the time when the fraternity's seven founders — known as the Seven Jewels — established the organization while using the Singleton house as their meeting space. These founders were Henry Arthur Callis, Charles Henry Chapman, Eugene Kinkle Jones, George Biddle Kelley, Nathaniel Allison Murray, Robert Harold Ogle and Vertner Woodson Tandy. Ogle actually rented a room from the Singleton family during his time at Cornell. The organization soon evolved in both mission and scope, expanding to defend the rights of Black people through social action on a national level.
Singleton's father passed away in 1924, but his stepmother Annie was such an influential force among this group of scholars that she was formally recognized in 1939 as Mother of the Alpha Phi Alpha Fraternity. At her death in 1960, at least 50 fraternity members came to her graveside in the Forest Lawn Cemetery of Buffalo, New York. On the fiftieth anniversary of her death, the fraternity dedicated a new headstone in her honor.
The historic house on State Street was demolished in the 1960s. In 2022, the plot of land was donated to Alpha Phi Alpha by the president of Travis Hyde Properties, Frost Travis.
Singleton himself passed away July 5, 1969 at age 79. He is buried in Ithaca's historic Lake View Cemetery.
Researched by Susanne Whittaker
Written by Melanie Greaver Cordova
We encourage you to read through the additional resources below to learn more about Singleton, his family and their impact.
1900 Census. Ithaca Ward 2, Tompkins County, New York.
1905 NY State Census New York State Archives; Albany, New York; State Population Census Schedules, 1905; Election District: E.D. 03; City: Ithaca Ward 02; County: Tompkins.
1910 US Census. Ithaca Ward 5, Tompkins County, New York.
1920 US Census. Ithaca Ward 4, Tompkins County, New York.
"Alpha Phi Alpha." Wikipedia.
"Annie C. Singleton (1872-1960)." Find A Grave Memorial.
"Archie Singleton at 411 East State Street as Steward." Norton & Goodhue's Ithaca City Directory for 1909.
"Black History Month: African-American Veterinarians at Cornell 1910-1920." Veterinary Legacy. February 2, 2011.
"Catalogue of Students." Announcement of the New York State Veterinary College 1910-11. May 1, 1911.
"Catalogue of Students." Announcement of the New York State Veterinary College 1936-37.
"Considered the 'Mother of Alpha Phi Alpha Fraternity.'" Buffalo News. November, 17, 2011.
Contributions to Cornell History: Portraits, Memorabilia, Plaques and Artists. Cornell eCommons, 1990.
"Cornell Alumni Directory." HathiTrust Digital Library, 1922.
"The Cornellian." HathiTrust Digital Library, 1936.
"Deaths: Werner, Dr. Jules." The New York Times. July 5, 2006.
"The Founding of Alpha Phi Alpha." Alpha Phi Alpha Fraternity.
"Garrett A. Singleton Obituary." The Ithaca Journal. July 7, 1969.
"Garrie Archie Singleton." Cornell Class Book: A Record of the Class of 1913, 1913.
The History of Alpha Phi Alpha: Origins of the Eastern Region. The Foundation Publishers, 2017.
"The Ivy Influence: Cornell Connection." The Ivy League: the Official Home of Ivy Athletics. July 28, 2017.
"Mary S. Hummons." Find-a-Grave.
"Nation's Oldest Black Fraternity Honors Its 'Mother.'" Journal of Blacks in Higher Education. November, 24, 2011.
New York State Department of Civil Service, State Employee History Cards, 1894-1954. New York State Archives.
"Origin of Alpha Phi Alpha: 411 E. State St." Cornell University Library.
"R. L. Polk's St. Paul City Directory." R.L. Polks Co., 1917.
"A Veterinary Student's Contribution to the History of African-American DVM Education." Perspectives in Veterinary Medicine. February 6, 2014.
World War II Draft Registration Card, 1942. Ancestry.