The 2020 Salmon Award for Distinguished Alumni Service
Written by Melanie Greaver Cordova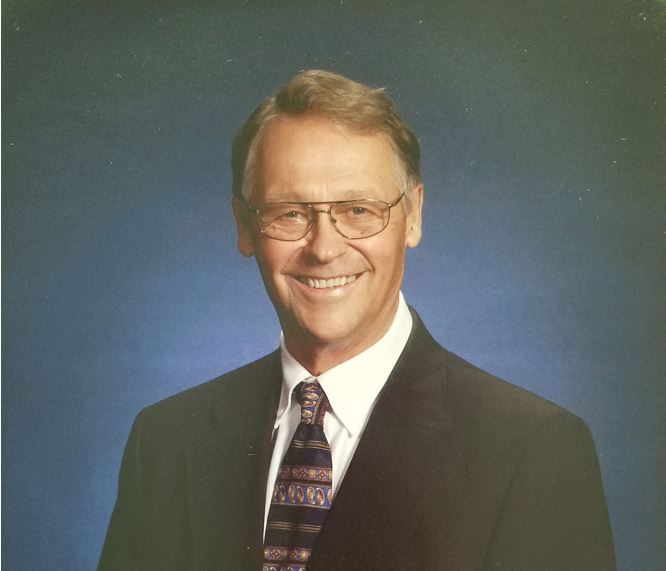 The Cornell College of Veterinary Medicine (CVM) has had its fair share of luminaries — in everything from basic scientific research to clinical care and standout educators. This year's recipient of the college's highest alumni honor has pushed the equine medical field forward in each of these ways: John Lowe, D.V.M. '59, M.S. '63.
Lowe, known as "Jack" by friends and family, is the 34th recipient of the prestigious award. "I had no expectations, of course, and no way of knowing I had been nominated," he says. "It's been a wonderful surprise."
The Daniel Elmer Salmon Award for Distinguished Alumni Service honors veterinary graduates who have distinguished themselves in service to the profession, their communities or to the college. It was established by the CVM Alumni Association in 1986 and named in honor of Cornell — and the country's —  first D.V.M. graduate. Salmon is best remembered for his pioneering work in controlling contagious animal diseases in the early 20th century, and the bacteria salmonella was named in his honor.
"Jack has spent his entire professional career at the Cornell College of Veterinary Medicine enthusiastically contributing to the teaching, research and service missions of the college for many generations of veterinarians and horse owners," says Dr. Susan Fubini, associate dean for academic affairs and one of Lowe's nominators.
Equine medicine marvel
Lowe first studied at Rutgers University for his bachelor's in dairy science before coming to Cornell, where he earned a D.V.M. in 1959 and an M.S. in veterinary pathology in 1963. He went on to complete an internship and residency in surgery at CVM before becoming assistant professor in 1963.
Since then, Lowe's contributions to veterinary medicine are countless. He developed many milestone techniques still in use today. He worked for over 20 years with Herbert Schryver, D.V.M. '54, and Harold "Skip" Hintz, M.S. '61, Ph.D. '64, who was inducted into the Equine Research Hall of Fame in 1990. With Schryver, Hintz and other collaborators, Lowe published many technical and research articles during his prolific career. These include numerous publications on intestinal motility in horses and the association with colic, the effect of hypothyroidism on physiologic changes in mares, including pregnancy, and the confirmation of black walnut toxicity as a cause of laminitis.
"Jack has published landmark discoveries, and he was the go-to surgeon for many owners of horses and farm animals," says Fubini.
Lowe has been a member of numerous veterinary associations, and for most he also dedicated time as either an executive board member or president. Among these groups is the American Horse Shows Association (AHSA). He served on the AHSA's drug control committee for over 40 years, nine of which as chairman. In this role he helped develop many of the drug control policies for the horse show industry. He also originated and continues to work on the United States Equestrian Federation Equine Health Research Fund. His pioneering work has garnered him many honors, including Horseperson of the Year Award from the New York State Horse Council.
Lowe's commitment to animal health was evidenced by this longstanding involvement with the racing industry and horse shows. "He was frequently the veterinarian for many top hunter jumper horse shows, providing emergency care and serving as an ambassador for the college," says Fubini. "Jack represented Cornell at some of the largest events in the Northeast."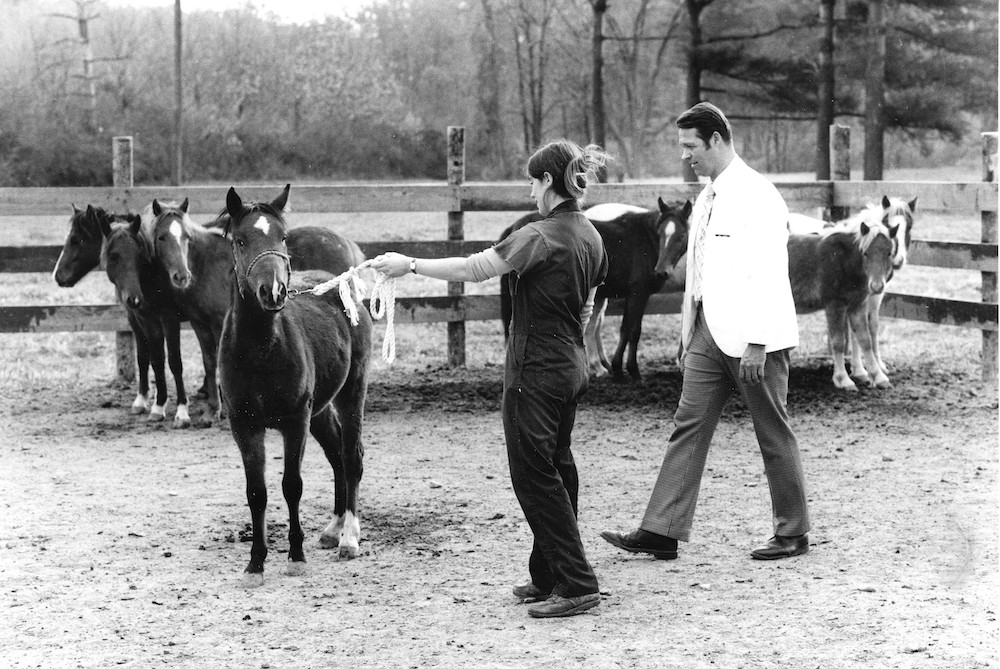 Leading by example
While at Cornell, Lowe taught surgical techniques to veterinary students and house officers who went on to be leaders in the profession, both in practice and academia. He initiated the large animal survival surgery course and was its solo instructor for five years. He lectured in the large animal surgery lab, the equine course in animal science, was an instructor in the necropsy room and initiated the equine lameness course, which he taught for 10 years, among many other extension teaching sessions and courses at Cornell and around the state.
Among his many notable roles was director of the Cornell Equine Park. "With lots of help from many fine people, I was lucky to develop the park and its annex from the ground up," notes Lowe, who worked as director for 13 years.
The park originally started in 1974 as a research facility for equine nutrition, drug testing, reproduction and infectious disease. Its first herd of horses came from a donor, who gifted the college a stallion and 20 mares. "It grew from there," says Lowe. "People continued to donate their horses. This made the park a great place for equine research and a great place for teaching, too."
Park-based projects fundamentally changed equine health and husbandry; groundbreaking nutritional research conducted by Lowe and his colleagues Schryver and Hintz yielded vast improvements in equine health and nutritional requirements now used by the United States Department of Agriculture.
The Cornell Equine Park still flourishes today, housing teaching and research animals and a respected reproduction program with several standing stallions and breeding and foaling services. It is a critical resource for the medicine, surgery and theriogenology sections of the Cornell University Hospital for Animals. Many hands-on equine laboratories take place there.
"Jack" of all trades
Although best known for his equine work, Lowe's expertise is versatile. He pioneered techniques like the right paramedian abomasopexy for left displaced abomasum in dairy cattle, a procedure adapted at Cornell and other farm animal practices. "It is still in wide use today," noted Fubini, "which is a testament to the impact Jack has had in large animal surgery."
After his retirement in 1991, upon which he was granted emeritus status by the college, Lowe continued to advance animal health in other capacities, including his continued work as the official veterinarian at horse shows and routine work at his son and daughter-in-law's public stable. Notably, Lowe was one of many American veterinarians who assisted the United Kingdom during its foot and mouth disease crisis of 2001. He became a temporary member of the Royal College of Veterinary Surgeons to assist with the outbreak, which cost the country's agriculture and outdoor industries billions of dollars. In recognition for this work, Lowe earned the Group Honor Award for Excellence from the United States Department of Agriculture in 2002.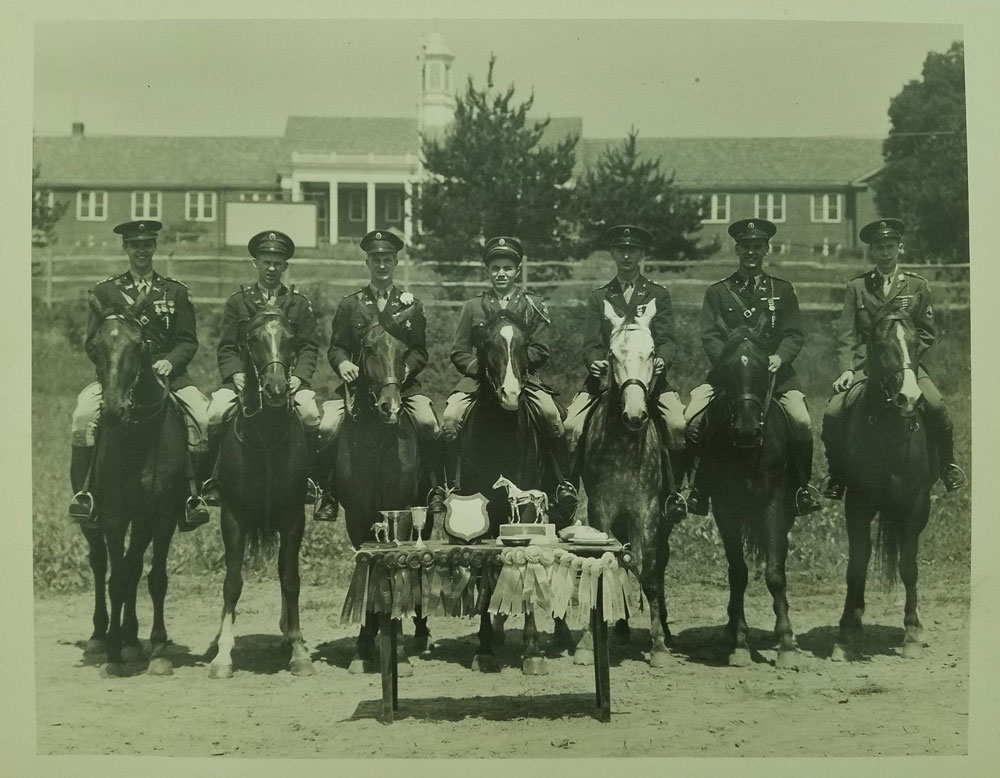 Persistence and a bit of luck
Lowe recalls his life as a student at Cornell with fondness. He mentions one subject in particular that was a challenge for him: bacteriology. "It was a very dry subject for me," he says. "Of course I tried to pay attention, but sometimes I dozed off." Luckily, Lowe succeeded in the lab portion of the course. "That really saved me from getting into a heap of trouble!"
Even before he arrived at Cornell, Lowe had a history of working with animals. He was in the 102nd New Jersey National Guard Cavalry Mechanized Unit's youth program, the Junior Essex Troop, until he graduated high school, and although he didn't start out with much love for horses, that time in his life helped him grow into the veterinarian he is today. "I went from being afraid of riding horses to serving as squadron major. I learned a lot about animals that way, and a lot about leadership," he says.
Luck has played a large part in his life, too. He advises students to make the most of it when they can. "You can push your way past bad luck, but if you don't take advantage of the good luck that comes your way you won't progress as you like," he says. Most importantly, he says to students, "Never give up. Never, ever give up! Persistence and energy are extremely important. And it doesn't hurt to have common sense on top of that."
Funding the future
By educating veterinarians, future veterinarians and horse owners across the country, Lowe has inspired others in his dedication to animal health. In fact, the Jack Lowe Equine Health Fund, established in 1998, was created by an anonymous client and friend of Lowe who wanted to honor him and his work. It was an endowed fund created to benefit horses, and Lowe was given direction to recommend projects for the fund's use, in consultation with members of the equine section of the college.
"The fund has supported a variety of activities," he says. "I'm gratified and grateful for that."
So far, it has raised considerable funds for equipment at the Cornell Equine and Nemo Farm Animal Hospitals, and at Cornell Ruffian Equine Specialists — Cornell's satellite hospital in Elmont, New York. These include a shock wave unit, dynamic endoscope, stocks for working on draft horse feet, a surgical trocar, regenerative laser, a horse trailer, farrier shop items and many more.
"This support is invaluable to so many programs," says Fubini.
The fund has also acted as a starter grant for many equine research projects, including some that garnered further funding from the National Institutes of Health to investigate important horse problems like equine motor neuron disease.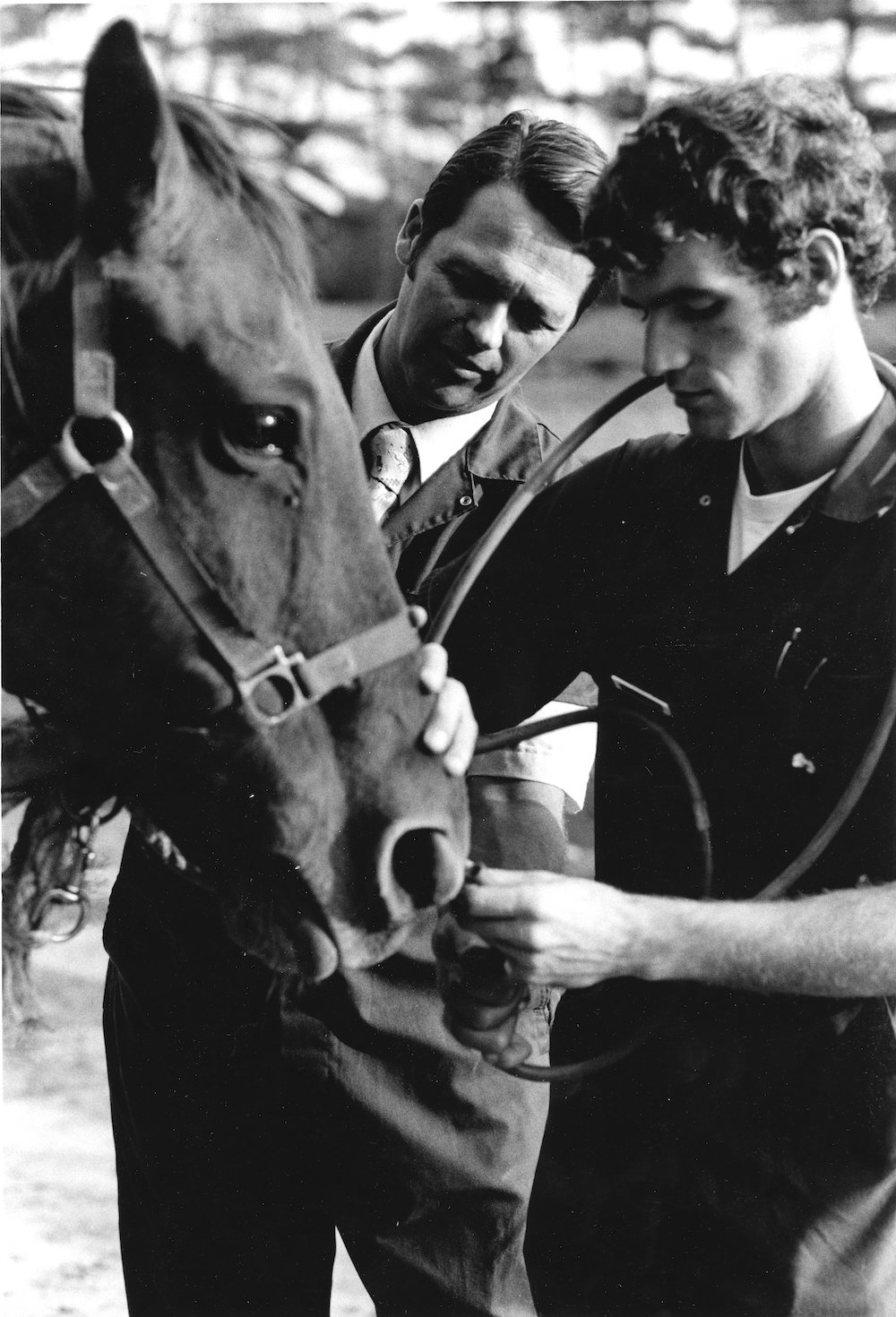 Additionally, Lowe himself is involved with several fundraising projects at CVM that advance the animal health, service and education missions of the college.
Take-home truths
When Lowe was a student, the veterinary student body was primarily comprised of men, but now women make up most classes at CVM, at approximately 80%. Just as he has seen this and other momentous changes in veterinary medicine over his career, Lowe says that there's still much on the horizon for the field at large.
"Some diseases have been in place for a long time without adequate safety nets. And viruses are adaptable," he says, noting the similarities between veterinary and human medicine, and how the fields will work together to get through today's challenges.
Even so, the biggest take-home truth for veterinarians in our digital age is deceptively simple, says Lowe. "Know the animal," he says. "You have to know the animal. That is crucial when you are making a diagnosis. An accurate physical diagnosis can save the individual animal but it can also save the owner thousands of dollars (even if euthanasia is the conclusion)."
He's not all business all the time, however; Lowe spends much of his personal time cooking, these days on a smoker/slow cooker, which is mounted on a trailer his son built for him many years ago. The idea originated from D.J.'s Cowboy Barbeque, which Lowe enjoyed while working at the Eerie County Fair and Horse Show. It can smoke/slow cook two fresh turkeys, ten pounds of boned prime rib, one hind quarter of venison and one loin of pork at the same time. He does this each year for the Ithaca City Club Annual Summer Picnic at Taughannock State Park. Between 60-70 members and guests attend, though not this year because of the coronavirus. He has a new "Oklahoma Joe's" smoker/cooker (high-tech as it is) at home, which he has great fun using to cook for family and friends. He is also an avid hunter, fisherman and gardener.
Says Lowe, "I'm looking forward to seeing what new changes the future brings. Life is never dull, even at 85 years of age." •