D.V.M. Students

Pre-veterinary students
Programs & Resources
High school summer program: We work with high schools around the state and country to recruit under-represented minority students to the veterinary profession, connecting high school students with veterinary student ambassadors.     
Virtual roundtables/discussions: Prospective veterinary students from under-represented populations have the chance to attend roundtables and presentations to learn more about veterinary medicine and meet CVM faculty, staff and students.
PreVet Newsletter: Interested students may get regular information and updates about Cornell's D.V.M. program, veterinary medicine and the student experience at CVM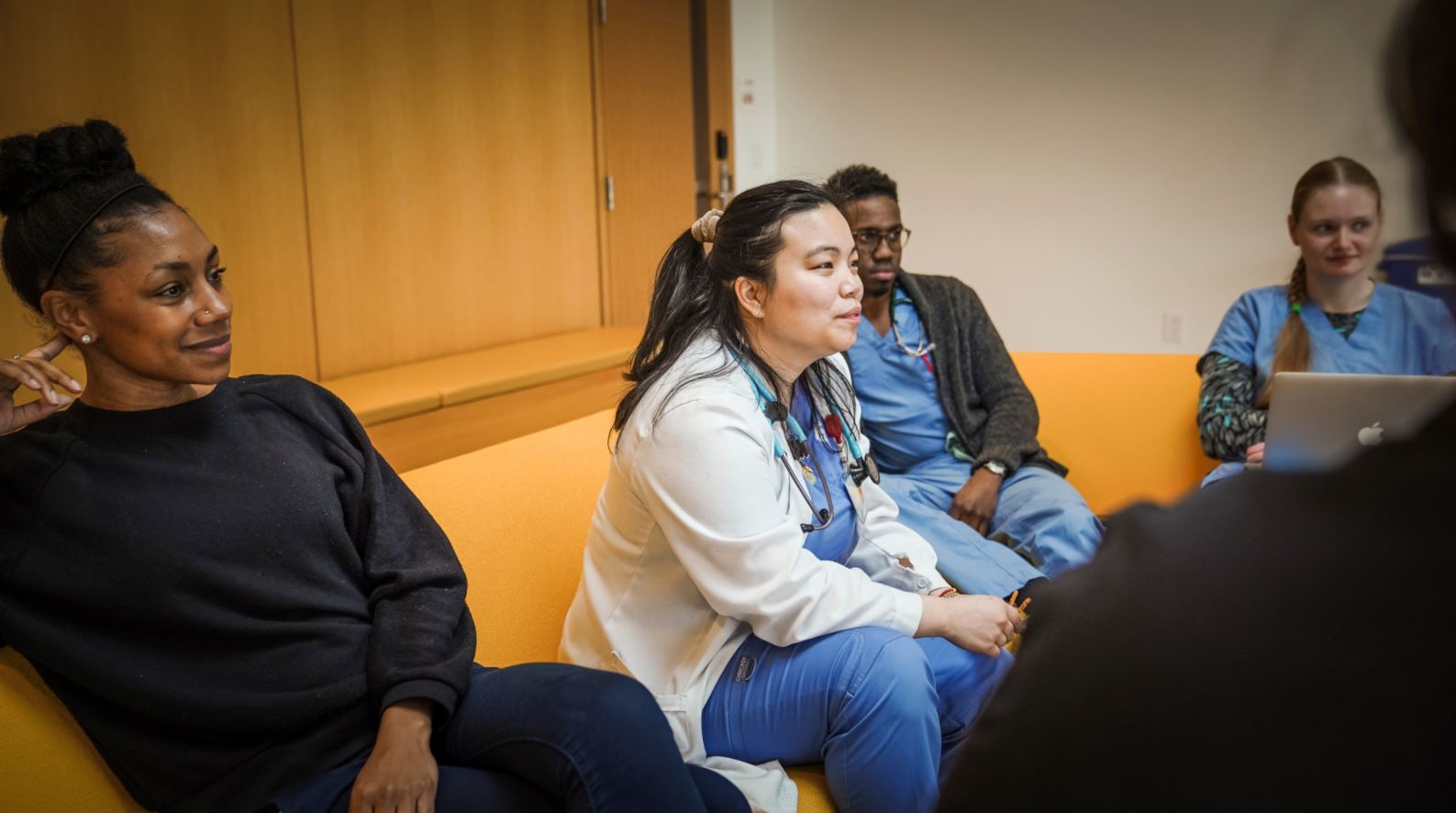 Veterinary students
Programs & Initiatives
More Information
CVM no longer requiring GRE scores as part of D.V.M. application, increasing diversity of applicant pool
Student Advisory Group on Diversity, Equity and Inclusion: Meets monthly with the dean to share perspectives and discuss approaches for diversity and inclusion

All members of the College's DVM Admissions Committee engage in discussions of unconscious bias every year in advance of their review of applications

Peer mentor program: All incoming students matched with a peer mentor. 
Antiracist book read: All students provided with a free copy of 'How to be an Antiracist' by Ibram X. Kendi and participate in a faculty-facilitated discussion of the book 
Diversity certificate: Interested students are sponsored to enroll in the Purdue Diversity Certificate Program
URM Alum mentoring:  CUeLinks- facilitated  student-alumni mentoring/networking program 
URM Alumni Speaker Series:  Speakers present on diversity and inclusion topics each month starting Autumn 2020
Outreach Opportunities
Scholarships, fellowships and programs
Dean's Leader Program: Available on a competitive basis to D.V.M. students who have applied for and been offered Fall admission to CVM, this program is designed to enhance diversity in the veterinary profession through community-building, well-being support and mentorship, along with academic, professional and leadership development. 
SUNY Underrepresented Minority Fellowships: Offered to URM students accepted into the Cornell DVM program.
To learn more about eligibility for these and other college scholarships, please contact:
Kristin Pennock, Director, AFC ®
phone: (607) 253-3766
email: vetfinaid@cornell.edu
The Consult: Featuring the Anna and Hyman Greenberg Scholarship
Student Clubs
 
Several student clubs focused on DEI initiatives These clubs organize and sponsor programming and speakers on a wide range of DEI topics ranging from unconscious bias, intergroup dialogue projects, how to be an effective ally and more.
More Information
The goal of the AAVMP is to inspire, support, and amplify the voice and visibility of Asian Americans and Pacific Islanders (AAPI) in the veterinary profession and advocate for greater general diversity in the veterinary profession. We hope to achieve this goal by, among other mission activities, providing professional, educational, and cultural resources to AAPI veterinary students and collaborating with similarly aligned diversity initiatives and affinity groups.
Broad Spectrum's goal is to support, advocate for, and celebrate Cornell CVM's LGBTQ+  community (students, faculty, and staff). Our events span from educational lunch talks, to casual social gatherings, to hosting an annual drag show.
We are the first chapter of the newly formed national organization of LVMA. Our goal is to increase visibility of Latinx veterinarians and vet students at Cornell CVM through events such as guest lectures by Latinx vets both in English and in Spanish, and veterinary Spanish language workshops (helpful for large animal medicine, working with Latinx clientele, or trips to Latin-American countries), and cultural celebrations through food/dance etc.    
The primary purposes of VOICE is to: a) articulate and promote the professional, academic, and personal needs and goals of multi-ethnic veterinary students, and b) promote and foster cultural diversity both in the veterinary college itself as well as in the profession as a whole. VOICE has a listserv that informs its members about cross-cultural events taking place around the university and current local, national, and international issues. It organizes guest lectures on a wide variety of topics, and social events such as ethnic potluck dinners and movie nights. 
The mission of BlackDVM Network is to create a space for Black veterinary professionals, build community and increase exposure to diversity in the veterinary profession.The purpose of the chapter is to provide support and community to Black students at CUCVM, to maintain strong relationships with Black alumni, and to offer opportunities for Black and minority pre-veterinary students to better understand the field.
 
WVLDI's mission is to support women in seeking and achieving leadership, policy, and decision-making positions within all areas of professional veterinary activity. WVLDI's vision is to develop leaders for the benefit of the profession and to deliver on the promise of veterinary medicine to society.
Stories