Camuti Consultation Service
Have a specific question about the health and/or care of your cat? Why not take advantage of our Camuti Consultation Service? This unique fee-based service puts you in contact with one of our outstanding veterinary consultants, who will discuss your cat's condition and/or care with you.
The quality, accuracy, and efficiency of our services are reliant upon the information that our consultants receive prior to contacting you.
Our hours of operation are Monday, Wednesday, and Friday from 10am - 12pm and 2pm - 4pm EST
Please contact our intake associate at (800-548-8937 or fhc_consultation@cornell.edu) to supply the necessary information (medical history, pertinent lab data, images) to a consultant in preparation for a return call. To expedite this service, please feel free to fill out the Camuti Intake Form, save it to your desktop, and provide it to the intake associate at the above email address. 
A consultant will contact you within 48 hours of your call
If a consultant is unable to reach you after attempting to do so three times over a period of 48 hours, your case will be transferred to inactive status; please contact us at your earliest convenience to reactivate your consultation 
We ask that you do not contact us regarding the status of your consultation unless 48 hours have lapsed since initial contact or reactivation
Feline Health Center members receive a 20% discount on general consultations along with other benefits of being an FHC member. See our membership page to apply and receive a discount on your general consultation. Payments can be made by American Express, Discover, MasterCard or Visa.
General Consultations
FHC Member - $44
Non-Member - $55
Cardiology Consultations - $75
Oncology (Cancer) Consultations - $75 
Behavior Consultations - $115
A Feline Behavioral History Form must be completed and emailed to fhc_consultation@cornell.edu
 
One follow-up consultation may be requested for a period of four weeks following your initial consult without additional fees, provided that it is in reference to the health issue originally addressed in the individual cat/group of cats that was/were discussed during the initial consult. Any consults subsequent to your initial consult that occur more than four weeks after the initial consult will incur a new consultation fee.
Meet our Camuti Consultants!
General Consultants:
Dr. Brian Collins
My passion for animals began like many kids from my era—on the family farm.  Cows, pigs, chickens, dogs, cats, and more all influenced my decision to pursue becoming a veterinarian -- before I really even knew what they did!  After obtaining a bachelor's degree in biology and psychology I worked at a wildlife sanctuary and then managed an animal shelter.  I began my veterinary education at Cornell in 1990 where I enjoyed learning about every species. Upon graduation in 1994 I joined a mixed animal practice where I divided my time working with both small animals and farm animals. My next position was in a small animal practice, focusing mostly on cats and dogs, but also birds and pocket pets, and the occasional wild animal. Along the way I have also worked in shelter medicine, spay/neuter clinics, and emergency medicine. Since 2011 I have been a faculty veterinarian in Cornell's Small Animal Community Practice, where I mentor veterinary students in primary care medicine and surgery. In 2013, to help indulge my love of cats, I joined the Camuti Consultation Service. Currently, I share my home with numerous cats, dogs, mice, chickens, and honeybees. 
Dr. Catherine Cortright
My education all took place in the great state of Ohio. I did my undergraduate studies at Ohio Wesleyan, graduate school at Case Western and veterinary school at The Ohio State University. My internship was at Purdue and then I came to Cornell for my Internal Medicine residency, where I met my husband and decided to make a home in Ithaca. Aside from being an Internist at a local practice, I also guest lecture at the College of Veterinary Medicine on internal medicine. I am most often to be found being a mom to our two children and our three "fur babies": 1 cat, a Labrador and a Boston Terrier.
Dr. Mia Slotnick
Dr. Slotnick  graduated from Rutgers University with a BS in Animal Science.  She obtained her Master's degree in Animal and Nutritional Sciences from the University of New Hampshire, and her Doctor of Veterinary Medicine degree from The Ohio State University.  She has an interest in small animal nutrition and preventative medicine.  She has an interest in small animal nutrition and preventative medicine.  She enjoys cycling, running, gardening, playing piano, baking, and spending time with her husband and 3 grown up boys.
Dr. Paul Maza
I am on the faculty at the College of Veterinary Medicine, teaching anatomy, concentrating on feline anatomy.  In addition to a DVM, I have a PhD in Science Teaching.  One of my very favorite current activities is doing feral cat TNR clinics locally and setting up spay/neuter clinics in communities all over the world through my non-profit group FARVets. Read more about FARVets on our NEWS page. 
Cardiology Consultations - $75
Heart disease is, unfortunately, relatively common in cats, and we are happy to offer consultations with a board certified veterinary cardiologist. Relevant data (i.e. echocardiography reports, electrocardiography reports, blood work, radiographs) may be forwarded to the Feline Heath Center's Consultation Client e-mail address prior to your consultation. After receiving intake information and data, a veterinary cardiologist will contact you within 48 hours.
Dr. Bruce Kornreich
Dr. Kornreich is a board certified veterinary cardiologist who has broad experience in clinical cardiology, basic science, and veterinary education. He has practiced both private and academic clinical medicine, has undertaken basic scientific research in the fields of cardiology and neuroscience, and has been recognized as an outstanding teacher of students ranging from elementary school children to veterinary students. Dr. Kornreich received both his DVM and PhD from Cornell, and has been a dedicated member of the Cornell Community since 1988
Oncology (Cancer) Consultations - $75
Oncology consults often require additional information in the form of images such as radiographs, CAT scans and/or MRI images, and these may be forwarded to the Feline Health Center's Consultation Client e-mail address along with other data such as medical records, blood work, or imaging reports. The same parameters for call back times apply for consultations with our resident in oncology.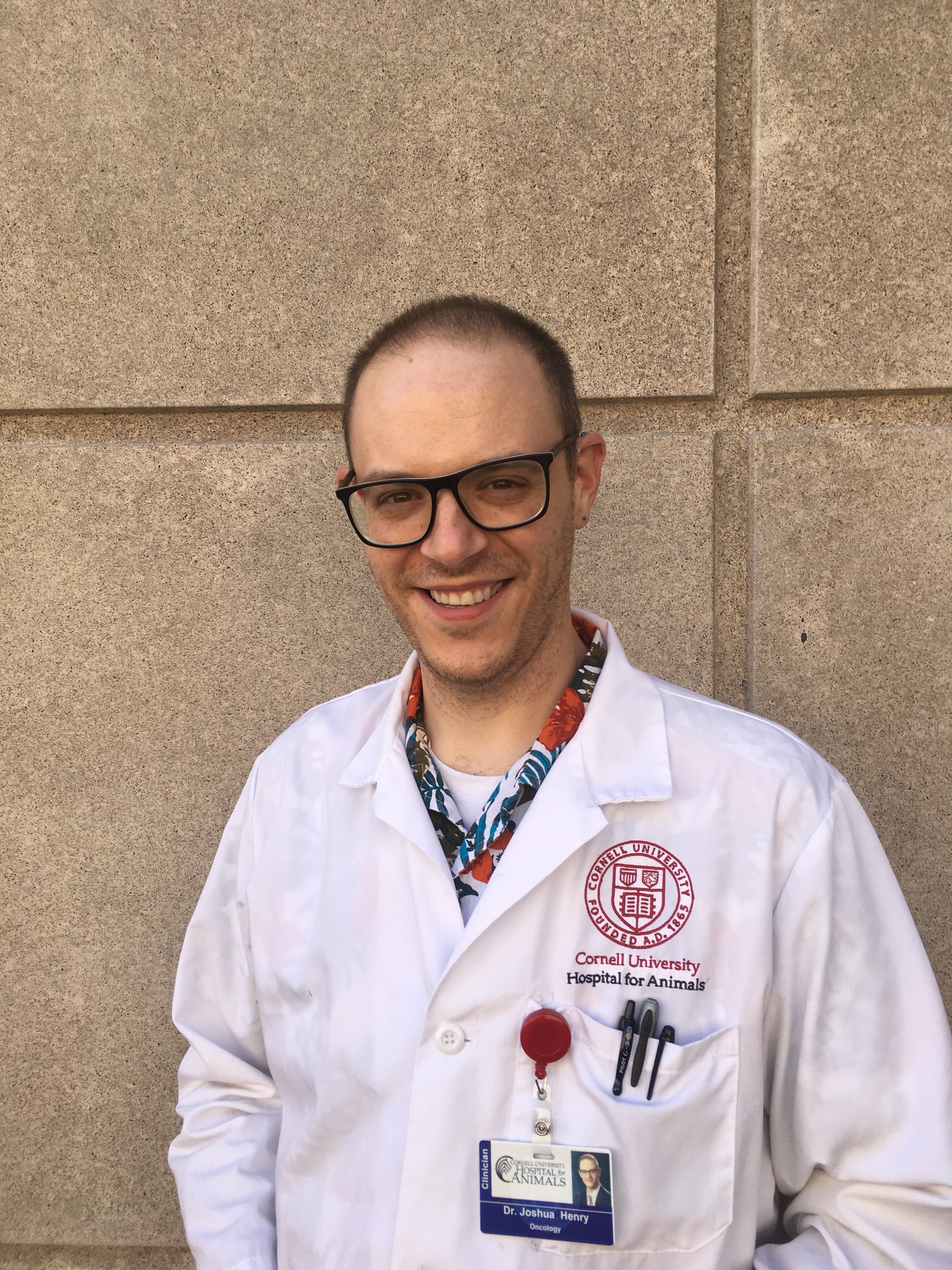 Dr. Joshua Glenn Henry
My first memories of cats were of my grandmother complaining about the neighbor's outdoor cats peeing on her front porch. I thought I wasn't a "cat person" based on these early experiences but that changed when I fell in love with my first cat, Sneakers. Now, a fully-fledged crazy cat guy, I love the companionship and joy that cats bring to my life. I am a graduate of Ross University and completed by clinical year training here at Cornell. Following veterinary school, I completed a rotating small animal internship at the University of Pennsylvania. After a couple of years working as an emergency veterinarian outside of Philadelphia, I returned to Cornell for a residency in Medical Oncology. Following my first residency, I was given the opportunity to stay at Cornell as a Clinical Fellow in the Sections of Medical and Radiation Oncology. This position has allowed me to continue to explore all aspects of cancer care and pursue a second residency in Radiation Oncology. Hearing that your beloved feline companion may have or has cancer is heartbreaking news, but my hope is to empower pet parents with information, resources, and support so that they can make the best decisions for them and feline friends.
Behavior Consultations - $115
After obtaining some basic information from you, a detailed behavior consultation form will be sent to you. Please complete the form and return it to the Feline Health Center's Consultation Client e-mail address. After reviewing the behavior consultation form, a veterinary behaviorist will contact you within 48 hours.
Dr. Pamela Perry
Dr. Perry earned her DVM and PhD from Cornell University; her graduate research evaluated the effects of enrichment on behavior, welfare, and adoptability of shelter dogs.  She has lectured extensively on Animal Behavior and Welfare topics, and she currently is a Senior Veterinary Behavior Resident at Cornell University Hospital for Animals, a Behavior Consultant for the Camuti Consultation Service, and the course instructor for Small Animal Behavior Problems at the NYS College of Veterinary Medicine.  She also conducts behavior consultations at veterinary referral hospital in Williston, VT.
---
In most cases, a consultant will contact you within 48 hours of receiving requisite data where needed. Please make every attempt to provide contact information that will facilitate easy communication, as we are eager to answer your questions in a timely fashion. We realize that in today's hectic world, there may be times when you may not be able to answer a return call from our consultants. If, however, a consultant is unable to reach you after attempting to do so three times over a period of 48 hours, your case will be transferred to inactive status.
We appreciate your patronage, and we trust that the information that we provide will assist you and your feline friend(s) in whatever manner necessary. It is important to point out, as mentioned above, that consultation with our service is not a substitute for having your cat(s) examined by a veterinarian, and all cats should see a veterinarian for regular check ups and any time they are showing signs of illness. Given the fact that our consultants do not meet your cat in person, it is not possible for our consultants to render second opinions regarding specific diagnoses.