Client Information Brochures
Introducing our newest brochures: 
The Cornell Feline Health Center produces informative pamphlets that provide concise summaries of a variety of feline health issues, including medical conditions, behavioral issues, and general husbandry topics such as preparation of the home for a new kitten. Brochures are available to purchase for a small fee which covers production of the resources, and are available to Feline Health Center members at a discount. See our full list of our client information brochure topics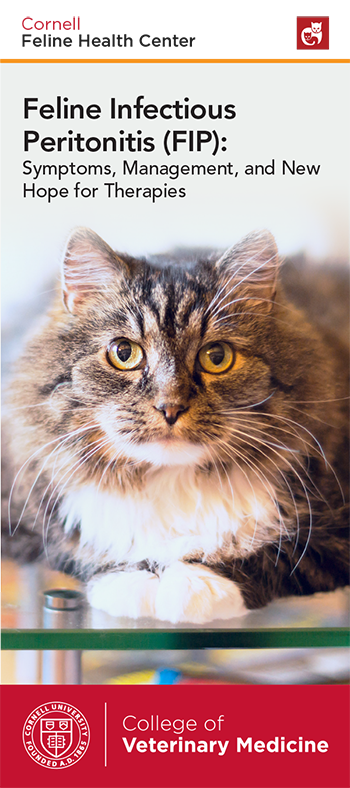 We are happy to announce the most recent update and release of our brochure on feline infectious peritonitis (FIP), produced in collaboration with Dr. Gary Whittaker, the College's preeminent expert on the molecular mechanism of this dreadful disease.
In addition, we recently created these two new brochures: What to Expect When Adopting a Feline Friend, and Destructive Behavior. These brochures highlight some of the natural behaviors of cats, common health issues to be aware of, and the responsibilities of cat ownership, so that those considering adopting a feline friend can be better prepared when taking this important, loving step. 
Thanks to generous support from an estate gift, we were able to provide these two specific brochures free of charge to over 200 humane shelters across all 50 US states. Please let us know if you are aware of other shelters that may benefit from these informative brochures, as we would be happy to provide them pro bono for as long as supplies last.
We apologize for any inconvenience as we work through some difficulties with our online ordering form. For ordering information, please contact fhc@cornell.edu.