BBS Symposium - August 17, 2023
Welcome to the 22nd annual Biomedical and Biological Science (BBS) Symposium at Cornell University.
Every year, the BBS PhD Program holds a symposium in conjunction with an orientation session for new Ph.D. students. This symposium allows PhD and DVM students as well as post-doctoral fellows the opportunity to present their research both in oral and poster presentations. This year, the BBS Symposium is organized by the Office of Graduate Education the 2023 BBS Symposium Student Planners
Oluwafemi Adu, Maya Craig, Anna Schumann, Melia Matthews, Kayleigh Morrison, Leah Simon, and Richard Adeleke!
The Douglas D. McGregor Research Lecture
The annual BBS Symposium's Keynote Address is named for the Baker Institute's own Dr. Douglas D. McGregor. Dr. McGregor served as Director of the Baker Institute from 1976-1991, and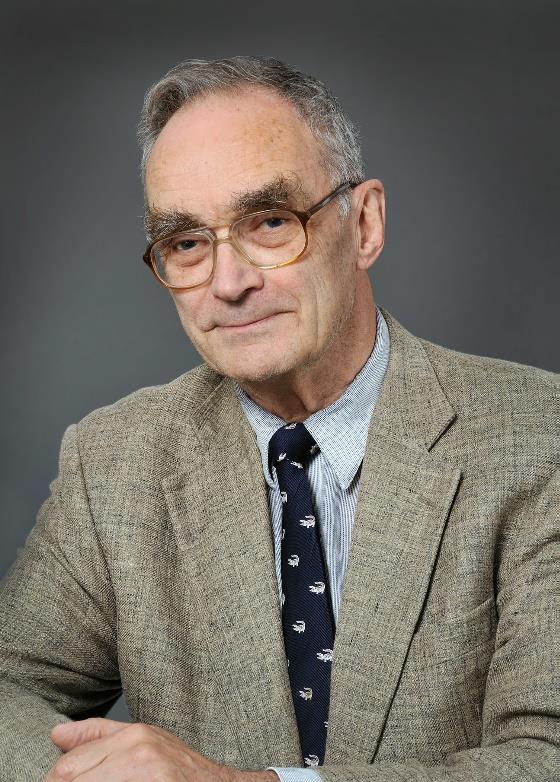 subsequently served as Associate Dean for Research and Graduate Education for ten years.  Dr. McGregor received his M.D. from the University of Western Ontario and earned his D. Phil. from the University of Oxford. He was awarded an honorary Doctor of Veterinary Science Degree from the University of Sydney in 2007, and in 2012 was named Honorary Associate of the Royal College of Veterinary Surgeons.
During an active research career, spanning over four decades at Cornell, Dr. McGregor conducted research aimed at elucidating the role of lymphocyte subsets in the initiation and expression of immunity to infectious agents and intracellular bacterial parasites in particular.
Throughout his career, but especially during the past two decades, he became intensely interested in implementing and evaluating strategies for research training and promoting the career progression of individuals who aspire to discovery-based careers and careers as public health professionals. He secured funding for the NIH Comparative Medicine Training Grant to create and direct the Cornell Leadership Program for Veterinary Scholars. This program provides an intensive, research-oriented summer experience for veterinary students who seek to broadly influence the veterinary profession through a science-based career.
Thursday, August 17, 2023
11:00 AM
Lecture Hall 1

Opening Remarks 
Drs. Lorin Warnick & Robert Weiss

Lab Coat Ceremony

Three Minute Thesis Competition

12:00 PM
Lecture Hall 1

Keynote Address: Functional and Tunable Biomimetrics for Reproductive Tissue Engineering
 

Speaker: Ariella Shikanov, PhD
Associate Professor of Biomedical Engineering & Macromolecular Science and Engineering
University of Michigan

1:15 PM
Various Spaces

Concurrent Lunch Sessions

Scientist Toolkit Workshop
Presenter: Robin Gee and Sarah Wright

PhD Career Panel
Panelist: Christopher Blackwood, Casey Cazer, and Sabrina Solouki

Did That Just Really Happen?: How to Navigate Microaggressions as a Graduate Student
Presenter: Te-Wen Lo

2:15 PM
Lecture Hall 1

Diversity Equity and Inclusion Keynote Address:  Science is for Everyone- Easier Said Than Done

Speaker: Te-Wen Lo, PhD
Associate Professor of Biology
Ithaca College

3:15 PM 
Lecture Hall 1

Journey through Science: Lessons Learned 

Speaker: Ariella Shikanov, PhD
Associate Professor of Biomedical Engineering & Macromolecular Science and Engineering
University of Michigan

4 - 5 PM 
CVM Atrium 

Poster Session

Poster Session Booklet 

(available soon)
Meet Our Speakers
Ariella Shikanov, PhD
Associate Professor of Biomedical Engineering, University of Michigan
In Shikanov laboratory we are interested in creating artificial constructs that direct tissue regeneration and restore biological function by combining approaches from engineering, materials, chemistry and life sciences. The clinical problem we want to solve is premature ovarian insufficiency (POI), which is a common outcome of anticancer treatments in young girls and women. POI causes sterility and complications related to absent ovarian endocrine function such as premature osteopenia, muscle wasting, impaired cognitive development, and accelerated cardiovascular disease. We aim to engineer a biomimetic environment that promotes in vitro growth of immature follicles and integrates cellular, molecular and physico-chemical properties with a structural design that allows studying the bi-directional interactions between the follicles and the support cells. Engineered ovarian tissue with controlled physical and biological properties provides supportive environment for ovarian follicle survival and development, graft remodeling and longevity after transplantation. Our lab is also interested in molecular mechanisms involved in early stage development of ovarian follicles, development of novel 3D culture systems and immunoisolating hydrogels for ovarian follicles.
Te-Wen Lo, PhD
Associate Professor of Biology, Ithaca College
Te-Wen Lo is an Associate Professor in the Biology department at Ithaca College.  She received her BA in Psychology from New York University.  During college, she became intrigued by the power of genetics and received her Ph.D. in Genetics from Yale University.  Currently at Ithaca College, Te-Wen splits her time between the classroom and her research lab where she strives to increase accessibility and inclusion, especially in terms of research and research related opportunities.  She is the co-organizer of the NIH funded Developmental Biology New York conference for undergraduates and has mentored over 50 undergraduate students in her lab over the past ten years.  In addition to serving as the biology department DEI committee chair, Te-Wen also serves as the Faculty Fellow in IC's Office of Access, Opportunity, and Achievement.  Through this office, Te-Wen is the co-PI on two grants that support and promote the success of previously excluded individuals in STEM (NSF LSAMP grant and a William T. Grant Foundation grant).
In recognition of Te-Wen's efforts at Ithaca College she was one of the 2019 Faculty Excellence Award winners, one of the 2020 IC Women of Distinction recipients, and a nominee for the 2023 Shirley M. Collado Faculty Award for Outstanding Contributions to the Ithaca College Community.
Beyond Ithaca College, Te-Wen works towards making science more accessible and inclusive.  She has served on the Genetics Society of America Education Committee and is currently on the BREWMOR Steering Committee, two committees whose efforts are to improve undergraduate education.  More recently, Te-Wen became an editor for Coursesource, an open-access journal of peer-reviewed teaching resources for undergraduate biology and physics. 
Christopher Blackwood, PhD
Lead Reviewer/Chemist at FDA- Center for Device & Radiological Health (CDRH)
Chris obtained his Bachelor of Science in biology from Clark Atlanta University (CAU). At CAU, he was awarded the MARC fellowship and worked under the supervision of Dr. Kimbro in the department of Biological Sciences. There he studied the effects of estrogen using cancer cell lines. After CAU, he was awarded a NIH Postbac fellowship to the NIH and worked with Dr. Sullivan. There he discovered novel taste cell receptors, Gpr113 and Trcg1, which are critical G-proteins couple receptors involved taste perception. After his postbac, Chris went on to receive his Ph.D. from Cornell University in pharmacology with a minor in neurosciences under the supervision of Dr. Lin. His dissertation was entitled "The Role of Jagged1 in the Subventricular Zone during Late Embryonic Development." https://www.vet.cornell.edu/christopher-blackwood. He is also ranked as one of the top 1000 inspiring black in America. https://crosstalk.cell.com/blog/100-inspiring-black-scientists-in-america

Chris's postdoctoral research was performed in the Molecular Neuropsychiatry Research Branch at NIH/NIDA (National Institute on Drug Abuse) under Jean Lud Cadet. focused on the identification of pharmacological targets for opioid use disorder using oxycodone self-administration rat models. He discovered that long-term, but not short-term oxycodone exposure caused an increase in escalation and drug craving. Moreover, he found that long-term exposure leads to the selective activation of signaling pathways in the dorsal striatum. His main objective was to identify molecular mechanisms and gene targets that play a role in opioid use disorder.

Chris's current role at FDA involves the review of quality, clinical, scientific, and other data submitted in support of a variety of medical device and radiological health programs. The purpose of the review is to make decision to permit medical technology on the US market, ensure the continued safety of products once on the market, evaluate changes to technology and its use, and ensure safe products to consumers.
Casey Cazer, DVM, PhD
Assistant Professor in the Department of Clinical Sciences and Associate Hospital Director of the Small Animal Community Practice
Casey received her DVM from Cornell's College of Veterinary Medicine in 2016.  She completed her PhD under Dr. Yrjo Grohn  My research interests are broadly in the epidemiology of zoonotic diseases, evidence-based medicine, and One-Health. Recently, I have been developing methods to improve antimicrobial resistance surveillance and track multidrug resistance. I use classical statistical methods, mathematical modeling, and machine learning to answer research questions. 
Sabrina Solouki, PhD
Medical Science Liaison at Sanofi
Sabrina Solouki, PhD, is a medical science liaison who works in the respiratory and immunology therapeutic field. Previously, she earned her PhD in Immunology & Infectious Disease at Cornell University under the supervision of Dr. Avery August. Her dissertation focused on adaptive immunity where she explored different parameters responsible for modulating CD8+ memory T cell development. During her time in graduate school she served as President of the Advancing Science and Policy student organization and was active in the science communication, intellectual property, and science policy tracks. Prior to starting her role as a MSL, Sabrina worked as a technical advisor at the patent law firm Ropes & Gray where she assisted with both the litigation and transactional practice groups. Outside of work you can find her at the gym boxing, salsa dancing, or hanging out with her two nephews.