Student Organizations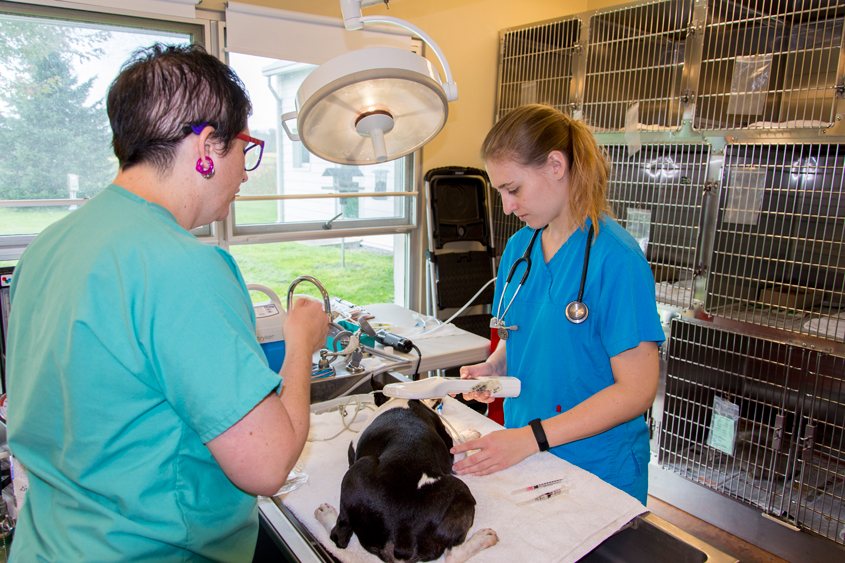 Despite their demanding academic schedules, our students are involved in a wide range of veterinary and non-veterinary extracurricular activities. Participation in organizations and clubs is an integral part of the student experience at the College. Participation in organizations and clubs is an integral part of the student experience at the College of Veterinary Medicine and provides an excellent opportunity for networking, making friends, developing leadership skills and/or learning about specific topics in veterinary medicine.
Student American Veterinary Medical Association (SAVMA)
The Student Chapter of the American Veterinary Medical Association serves the student body in several different capacities. It represents the national AVMA  and publicizes the benefits of AVMA membership for the profession. The majority of their energies are directed toward operating a student government that addresses the needs of the College's students. The student government acts to identify and resolve any problems that may exist between the student body and the administration and aims to continually improve the quality of veterinary education. SAVMA organizes social events for the whole school to attend, such as the Fall and Spring Picnics, the Auction to send students to SAVMA symposium, and receptions for the Dance Collective Showcase and Misster Cornell. 
SAVMA officers are elected in the late fall and serve terms from January to December. The board consists of a President, a Vice-President, a Treasurer, a Secretary, one Class Representative per class, two Social Chairs, a Retail Committee, an Intramural Sports Chair, two Alumni Chairs, two Philanthropy Chairs, an IVSA Representative, two Public Relations Chairs, two Fundraising Chairs, a Webmaster, a GPSA Representative, the members of the Honor Board and the Curriculum and Admissions Committees, two NYSVMS delegates, and two SAVMA delegates. SAVMA delegates are elected for a two-year term, and they represent Cornell at the national SAVMA and AVMA conferences. 
American Association of Bovine Practitioners (AABP)
The student chapter of the AABP serves to expose its members to the wide range of opportunities available in bovine practice. Lectures as well as hands-on wet labs encourage student learning and promote interest in the study of the bovine species. In the past, lectures have covered topics such as production medicine, nutrition, parasite control, dairy barn design, and DHI records analysis. Popular wet labs include dehorning, hoof trimming, and venipuncture. The AABP encourages anyone interested in cattle and bovine medicine to participate. 
Association of Avian Veterinarians
SCAAV works to enhance the educational opportunities of the veterinary students in the NYSCVM in regard to avian welfare and healthcare, specifically by informing students about veterinary problems and diseases, husbandry issues, preventative medicine, and scientific research currently encountered in dealing with both captive and wild birds.
American Association of Equine Practitioners (AAEP)
The student chapter of the AAEP is devoted to presenting equine topics of interest to the members of the veterinary college. The AAEP offers activities designed to appeal to both those with very little equine experience and those who have been around horses their entire lives. The opportunity to learn/practice a variety of skills needed in equine practice is offered in wet labs which have in the past included: shoeing, venipuncture, vaccination, endoscopy, nasogastric intubation, teeth floating, restraint, lameness examinations, rectal palpation, prepurchase examinations, and joint injections. 
Lecture/discussion topics may include the presentation of research done by both Cornell faculty and those working outside the college, information sessions on new equine products, and other topics of interest, such as breeds and colors, race track practice, equine nutrition, the role of women in equine medicine and the relationship between veterinarians and farriers. The AAEP is a large and active club at Cornell. It exists to serve the needs of those students who might be interested in entering equine or mixed practices (or anyone with an interest in horses). Activities will be tailored to the needs of its members as much as possible. 
American Association of Small Ruminant Practitioners (AASRP)
For those who don't have much experience with large animals, AASRP is a great way to ease into the farm animal world! AASRP is a club devoted to teaching students of all interests about the care of goats, sheep, llamas, and alpacas. Activities include various lectures on sheep/goat management, hoof trimming, sheep sheering, wet labs, venipuncture labs, and visits to local sheep, goat and llama farms. They welcome anyone interested in learning more and interacting more with small ruminants which are rapidly becoming more popular as dairy animals and as pets. 
American Association of Feline Practitioners
The Student Chapter of the American Association of Feline Practitioners (SCAAFP) is a student organization dedicated to promoting interest in feline medicine and surgery. Through lectures, wetlabs, field trips and community service activities, we hope to increase awareness of all feline-related issues.
American Association of Veterinary Parasitologists
The purpose of AAVP is to share knowledge about the types of parasites veterinarians will encounter in their clinics and beyond. We also allows students interested in the profession to network with one another.
American Society of Laboratory Animal Medicine
The purpose of the Student Chapter of the American Society of Laboratory Animal Practitioners is to foster educational activities in the veterinary specialty of Laboratory Animal Medicine and to familiarize the members with standards, regulations and techniques pertaining to this discipline.
Animal Behavior Club
The goals of the Animal Behavior Club are to promote the importance of animal behavior in veterinary medicine and other animal-related professions through educational opportunities in relation to animal behavior. Throughout the year, lectures and behavior rounds will be conducted, as well as workshops and hands-on trainings, providing valuable continuing education to students in the field of veterinary behavior.
Black DVM Network
The mission of BlackDVM Network is to create a space for Black veterinary professionals, build community and increase exposure to diversity in the veterinary profession.The purpose of the chapter is to provide support and community to Black students at CUCVM, to maintain strong relationships with Black alumni, and to offer opportunities for Black and minority pre-veterinary students to better understand the field.
Broad Spectrum
CVMBS strives to support, represent, and advance the interests of lesbian, gay, bisexual, transgender and nonbinary, questioning, intersex, asexual, and otherwise gender/sexuality-marginalized (LGBTQIA+) students, faculty, and staff affiliated with Cornell College of Veterinary Medicine (CVM). We aim to foster inclusivity for LGBTQIA+ persons within the CVM community by organizing safe-space social gatherings, hosting speakers and educational events, advocating for LGBTQIA+ needs within the context of CVM, and collaborating with Broad Spectrum National and other Broad Spectrum chapters to discuss the broader status of LGBTQIA+ individuals in veterinary medicine.
Cardiology Club
The purpose of Cardiology Club is to organize cardiology rounds, lectures, and wet labs for veterinary students and other interested graduate students to get more exposure in the cardiology service.
Christian Veterinary Fellowship
Christian Veterinary Fellowship is a place where students gather together to grow in their faith, profession, studies and relationships with Christ. They are challenged in their worldview of veterinary medicine, how to implement their faith with their career, living out God's call and serving others.
Dance Collective
The purpose of the CUCVM Dance Collective is to bring together the dance community within the Cornell University College of Veterinary Medicine by celebrating our enthusiasm for art, music, and dance. As a non-audition based dance group open to students of any level and style of dance, we serve as a creative outlet for students who would like a fun and casual way to express movement and meet others with similar interests during our bi-monthly open classes. In addition to this, the CUCVM Dance Collective also offers performance opportunities to those students who would like the chance to choreograph and perform. Such opportunities include our annual Spring Showcase, which provides student choreographers a venue where they can present their work to the entire community.
Feline Club
The Feline Club is the student chapter of the American Association of Feline Practitioners. Each year Feline Club sponsors speakers from around the country to lecture and give wet labs on specific feline topics. They also sponsor a fun cat show each year called "The Feline Follies". They run a volunteer project with the Tompkins County SPCA which entails weekly visits to the shelter to perform physical exams and FeLV blood tests.
Guiding Eyes for the Blind (GEB)
Guiding Eyes for the Blind at CVM (GEB@CVM) provides Cornell Veterinary students and affiliated members of the veterinary community (faculty, staff, graduate students) with training and direct experience handling, puppy sitting, and raising guide dog puppies in pre-training for Guiding Eyes for the Blind. GEB@CVM works closely with our sister undergraduate organizations to support the socialization of the puppies on program in the Guiding Eyes for the Blind Finger Lakes Region. By connecting the CVM community with GEB, we aim to promote awareness of the human animal bond and experiential learning of applied canine behavior through positive reinforcement training of future guide dogs. This link also serves to provide valuable skills and networking opportunities for veterinary professional development in relation to non-profit service animal organizations.
Integrative Medicine Club
The HVMC is a student chapter of the American Holistic Veterinary Medical Association (AHVMA). We aim to inform our colleagues in the veterinary school about the different treatment modalities available to them when they begin to practice veterinary medicine. Our mission is to increase awareness to medical modalities that are not considered conventional medicine, and to educate ourselves, the community, veterinarians, and technicians about these modalities so we can make educated decisions. To this end, we organize speakers to talk to veterinary students about the modalities they have used to treat their patients. Some of these modalities include acupuncture, chiropractic, massage, herbal medications, homeopathy, etc. It is our belief that we all should be educated on alternative/complementary/holistic medicine, so we can better inform our clients and offer them advice on different therapies.
Nutritional Opportunities in Veterinary Medicine (NOM)
The focus of NOM is to present nutritional information from various experts, teaching students the value of nutrition in veterinary medicine, promoting interest, research, and career opportunities, and maintaining a non-biased open-mind by imparting knowledge on a variety of topics, ideas, and species
Shelter Medicine Club
Founded, in 1998, the Shelter Medicine Club's mission is to expose veterinary students to the myriad of issues surrounding animal sheltering and animal welfare issues. They conduct weekly visits to our local SPCA to conduct physical exam on shelter animals, giving students hands-on experience in shelter medicine while practicing their diagnostic skills. They host speakers on a wide range of subjects ranging from careers in animal sheltering medicine, humane animal handling, rescuing animals during disasters, animal behavior, and pet over-population. They often work together with other clubs on animal welfare related topics, and we'll also be hosting brown bag discussions on various issues. With one of the highest memberships in the veterinary school, our club welcomes all students who want to learn, have fun, and make a contribution to the community and to animals all at the same time. 
Society for Veterinary Pain Managment
As a student chapter of the International Veterinary Academy of Pain Management, we hope to familiarize students with the multi-faceted world of pain management, as it will be an integral part of their careers and lives.
Zoo and Wildlife Society (ZAWS)
ZAWS is the Cornell Student Chapter of the American Association of Zoo Veterinarians, and is the umbrella organization for the student chapters of the Association of Avian Veterinarians, the International Association of Avian and Aquatic Medicine and the Association of Reptile and Amphibian Veterinarians. Their goals are to further our knowledge of zoo, exotic and wildlife species medicine and to provide a forum for career guidance in this field.
The club presents lectures and wet labs on relevant topics and occasional field trips to zoos, aquaria or wildlife preserves. In addition, they host a biannual "Special Species Symposium" featuring a wide spectrum of topics presented by renowned authorities in zoo, wildlife, exotic and aquatic animal medicine. 
Student Chapter of the Veterinary Emergency and Critical Care Society (SVECCS)
The Student Chapter of the Veterinary Emergency and Critical Care Society is dedicated to providing greater exposure to the specialties of veterinary emergency and critical care. Their focus is in-depth lectures and hands-on wet labs giving students basic and advanced skills needed in many emergencies. In addition, Trauma Team allows students to volunteer in ICU and assist in emergency situations. 
Small Animal Clinical Skills Club (SACS)
The Small Animal Clinical Skills Clubs (SACS) at Cornell is devoted to the improvement of clinical skills students have limited opportunities to practice. To this end, we host lectures and wet labs; for example, in previous years have had labs on dental radiography and dental techniques such as scaling and nerve blocks. All of the labs are hands-on and allow students to practice skills on cadavers, and are taught by residents or technicians in the hospital. Perhaps our most important events are vaccine and SNAP test clinics that we host in the fall and spring. These are open to students, staff, and faculty of the vet school and usually draws in about 60 animals per clinic. Club members and volunteers run the entire clinic, from vaccine administration to blood draw, under the supervision of our trusted advisers, Pati Kirch, LVT/Teaching Support Specialist, and Carolyn McDaniel, VMD/Senior Lecturer, Department of Clinical Sciences.
Sports Medicine Club
The Sports Medicine Club provides education and information in various aspects of prevention, recognition, care and rehabilitation of injuries within equine and canine sports medicine and to promote the human-animal bond through activities that get people outside and working with their dogs. These activities may include agility, hiking, herding, tracking, Canine Good Citizen training and testing, and others as chosen by members. All breeds, mutts, sizes, ages, and fitness levels are welcome! Activities will be scheduled to provide students with a variety of dog-friendly options for relaxation and exercise. Lectures will focus on canine and equine athlete maintenance, training, and injuries.
The Pet Loss Support Hotline
The Cornell University Pet Loss Support Hotline was established in 1996. The hotline is staffed by volunteers, both veterinary students and other members of the Cornell community, who are trained by a professional grief counselor.
Members regularly attend discussion meetings with faculty advisors who assist hotline volunteers in dealing with the personal responses to grief and educate them to better serve the needs of callers.
Dealing with pet loss and grief will most certainly be a part of every clinician's job. The hotline not only helps those callers who are grieving over the loss of their pet, but it also helps us as students to become compassionate clinicians. Training sessions for new volunteers are held twice a year, at the start of each semester, so be on the lookout for posters announcing our introductory meeting. 
Veterinarians Internationally Developing Animal Health (VIDA)
VIDA is an organization aimed at furthering the interests of students who wish to work internationally. VIDA hosts presentations throughout the year from students who have worked abroad during the previous summer. It also hosts speakers from national organizations that fund projects involved in international veterinary medicine and animal health.
Veterinarians as One Inclusive Community for Empowerment (VOICE)
The primary purposes of VOICE is to: a) articulate and promote the professional, academic, and personal needs and goals of multi-ethnic veterinary students, and b) promote and foster cultural diversity both in the veterinary college itself as well as in the profession as a whole. VOICE has a listserv that informs its members about cross-cultural events taking place around the university and current local, national, and international issues. It organizes guest lectures on a wide variety of topics, and social events such as ethnic potluck dinners and movie nights. 
UltraSound
UltraSound is the vet school's very own a cappella singing group. For the past four years, UltraSound has been providing a creative outlet for singing enthusiasts. There are no auditions and rehearsals are held once a week for two hours. Their repertoire ranges from contemporary tunes by Billy Joel, Doran Doran, and Van Morrison to Doo-Wop to Jazz. UltraSound has performed at several college functions. 
The Cornell Veterinary Players
Welcome to the only veterinary college with an active theater company. The Cornell Veterinary Players is a combination of students, staff, faculty and friends who have a penchant for theater and enjoy having a good time. They organize every aspect of a musical production, from lights to costumes, from set building to make-up, from singing to dancing to playing in the pit orchestra. After a string of popular musicals, they performed their first ever musical revue, Broadway Unleashed, in the spring of 2000. Auditions take place in late fall and performances usually coincide with the vet school's Open House in April. The Veterinary Players is a great way to have fun, take a break from academics and meet new people. 
Phi Zeta
The Alpha Chapter of Phi Zeta was established in 1925 as the first chapter of the Honor Society of Veterinary Medicine. Chapters have now been established in all veterinary colleges. The purpose of Phi Zeta is to promote, acknowledge, and reward scholarship in the profession of veterinary medicine. Membership includes students and faculty. Third-year students ranking in the top 10% of the class and fourth-year students ranking in the top 25% of the class are invited to become members. In the past, the Alpha Chapter has sponsored research poster competitions and a book drive to send textbooks to third world veterinary schools that don't have many books for students to use. Both active and honorary faculty memberships are available.
Phi Zeta sponsors both a local chapter and national post-graduate manuscript competition annually. An annual banquet is held each April to welcome new members. Each year, the Alpha Chapter recognizes the highest ranking second-year student at the Honor Day Banquet in May with the annual Phi Zeta award. 
Omega Tau Sigma (OTS)
OTS is the largest coed professional veterinary fraternity at Cornell University, and serves many valuable functions for members. It provides a social outlet for stressed-out students, throwing parties throughout the year. In addition, OTS is a great way to meet members of other classes, which is often not so easy due to everyone's different schedules. Finally, and most importantly, OTS allows students to get out into the community with various philanthropy/community service projects each semester such as our regular blood drives ad our annual Charity Ball. The Omega Tau Sigma (OTS) house is located at 200 Willard Way and up to 12 members can live in the house. 
Southside Community Center
The Southside Community Center Healthy Pet Clinic is a community service program that is organized to provide fee-reduced, healthy-pet veterinary care to individuals who could otherwise not afford these services. It also provides veterinary students with the opportunity to develop client communication skills, to practice the physical examination, and to become familiar with vaccination protocols and other aspects of routine pet health maintenance. The project is arranged through the collaborative efforts of the Southside Community Center, the staff of the Community Practice Service (CPS), and the veterinary school's student body. Since November 1996, Southside has provided veterinary services on the second and fourth Wednesday of every month by appointment. Southside also runs a healthy pet clinic each fall and spring in varying locations around New York State. Currently Southside provides vaccinations and addresses basic health maintenance issues such as deworming, nutrition, dental care, and flea control.  
Theriogenology Club
The Student Chapter of the Society for Theriogenology is an organization for students who are interested in the study of reproduction in animals. In particular, it hopes to acquaint the student with the varying aspects of reproduction as it pertains to veterinary medicine - disease prevention, diagnosis, treatment, surgery, research, and related fields.
Veterinary Business Management Association (VBMA)
Ever wonder how you'll find your first job as a veterinarian? How you will balance work and home? How you will find a summer job? How you are going to haul yourself out of debt? Whether you should become a specialist? VBMA was founded specifically to address "any issue vaguely related to money." The club's goal is to to educate fellow students on the "other" aspects of being a veterinarian such as finances, practice management and career exploration. 
Veterinary Community Sustainability Club
The purpose of this club is to educate and promote sustainable practices among veterinary students and other community members at the Cornell University College of Veterinary Medicine through lectures, labs, documentaries, and student events.
Veterinary One Health
The objectives of the organization are as follows: 1) to provide veterinary students with educational opportunities in the one health aspects of veterinary medicine; 2) to aid in the career development of students by informing them of the opportunities available in the one and public health sector; 3) to enhance leadership characteristics and skills; 4) to increase awareness of disease and biosecurity as it pertains to food safety, environmental health animal health, and public health; and 5) to host an annual Veterinary One Health Symposium.
Open House
Open House is a day-long event held each April that is run by students. Exhibits and information booths are set up to educate the public about animals in general, pet care, wildlife, and just about anything else that related to veterinary medicine. The Open House Committee is composed of second-years, but the responsibility to prepare and staff the exhibits falls on the first-year students. Popular attractions include the painted horse and cow, large animal exercise treadmill, cow milking, baby animals, and many others. There are already posters and other materials available from past years, but anybody with a particular interest is encouraged to design a new display.
Open House attracts thousands of people from the surrounding area. It is a great public relations opportunity for the College and the veterinary profession. The public is enthusiastic about the exhibits and enjoys learning and interacting with the students. If your family and friends are looking for a special time to come visit, recommend Open House weekend. For additional entertainment, the Veterinary Players usually hold their annual musical on Open House weekend.
Tabletop Vets
Tabletop Vets is a graduate/professional school organization founded to foster an environment in which all members of the Cornell Community may safely gather to play tabletop games. Members play a variety of games, including board-, card-, and pen & paper- games, in a setting which encourages social interaction and positive mental well-being.
Veterinarians Eating Tasty Snacks
Our mission is to offer the veterinary community a chance to learn and enjoy the culinary arts. Food offers a chance for education, self improvement, sharing of cultures and reduction of stress. Additionally we hope to promote both mental and physical wellbeing through healthy eating.
Women's Veterinary Leadership Development Initiative
The purpose of this organization shall be to achieve leadership excellence in every sector of veterinary medicine that fully reflects the diversity of the profession and society. This organization shall support women in seeking and achieving leadership, policy, and decision-making positions within all areas of professional veterinary activity. This organization shall provide support and opportunities for students to learn leadership skills, and develop mentoring relationships
World Aquatic Veterinary Medical Association
The Mission of the Chapter is to provide Cornell University College of Veterinary Medicine students with information on aquatic veterinary educational, career and other opportunities, and to develop programs useful for the World Aquatic Veterinary Medical Association to help increase the knowledge, skills and involvement of veterinary students at CUCVM, and elsewhere, in aquatic veterinary medicine.