Education
Fred Scott Feline Symposium - The preeminent conference on feline health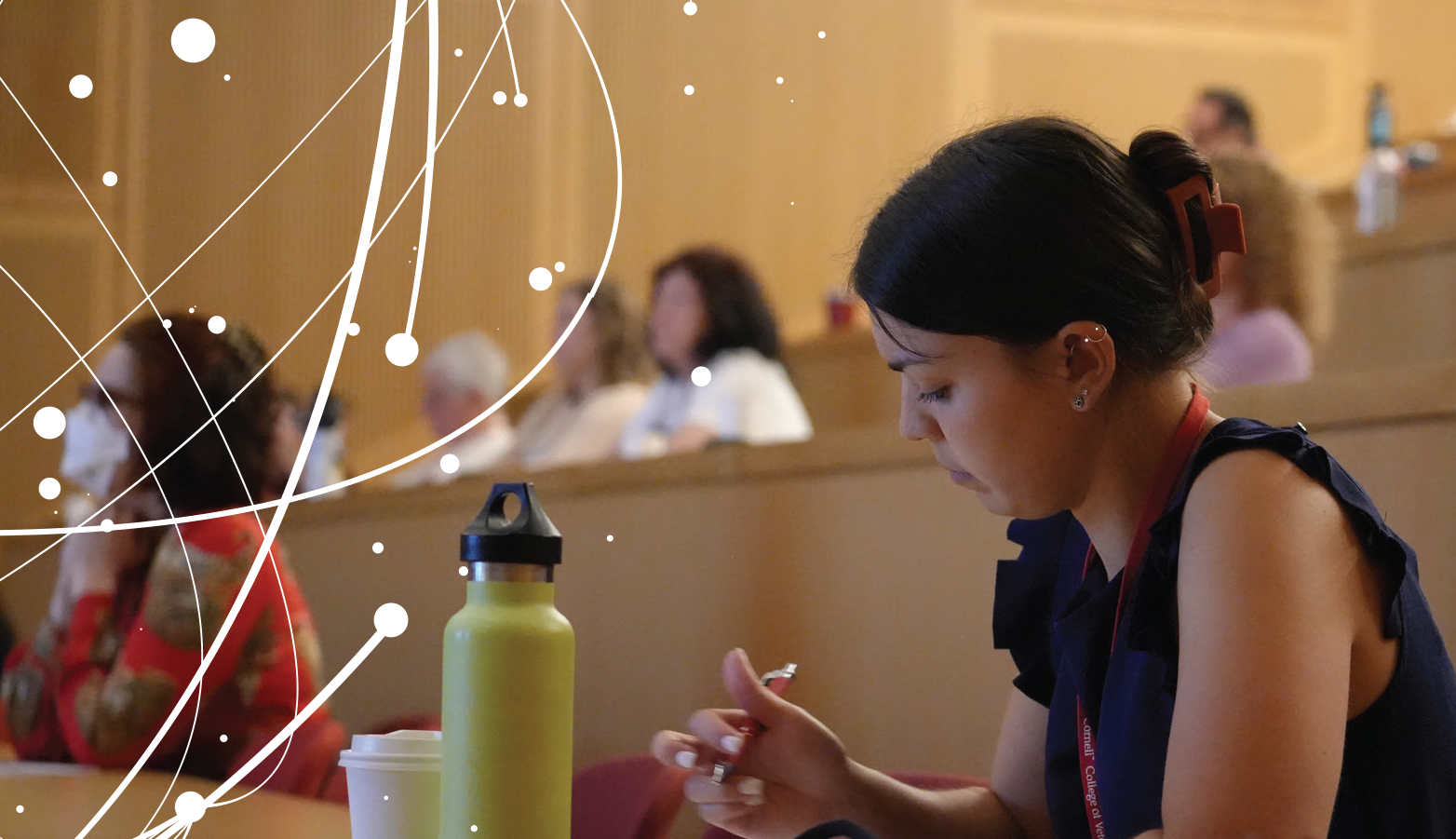 The Fred Scott Feline Symposium has been a highly anticipated event on the Cornell University College of Veterinary Medicine campus for well over three decades. The 34th installment of this well-known professional development symposium, which is presented by the Cornell Feline Health Center, completed its three-day run during the last weekend of July 2022.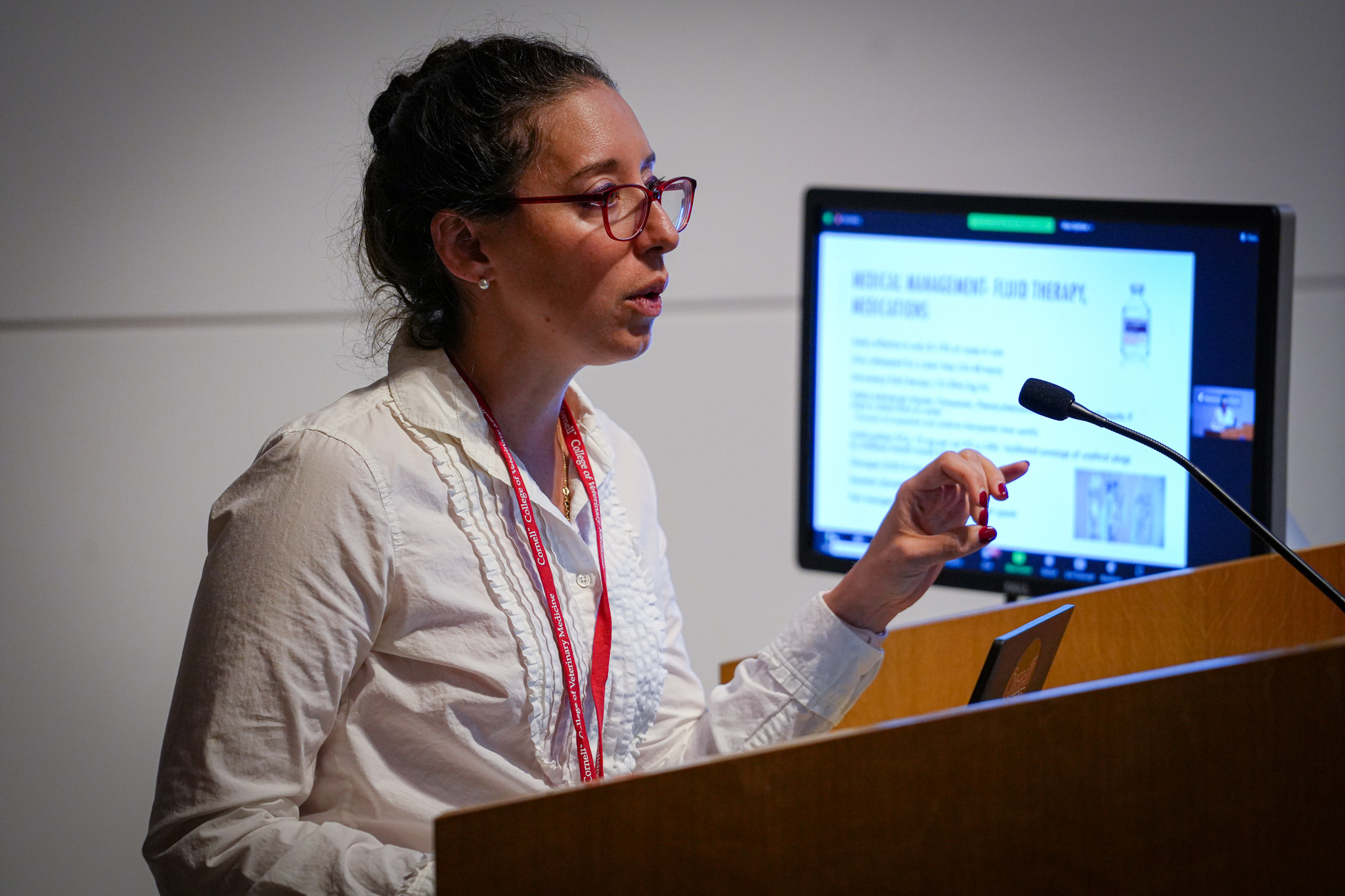 Symposium attendees had the opportunity to learn and engage with leaders in the field of feline veterinary medicine, including faculty members from within the Cornell community and experts from across the globe. Topics covered included acute feline pain management, emerging feline viruses, aortic thromboembolism, feline urethral obstruction and wound management, among others. 
"It was wonderful to see veterinary professionals back here at the college for the first time since the beginning of the COVID-19 pandemic," said Dr. Bruce Kornreich, D.V.M. '92, Ph.D. '05, a veterinary cardiologist and director of the Cornell Feline Health Center. "This year was a great example of how technology can bring people from all over the world together to learn, connect and enjoy each other's company."
The event's return to Ithaca marked the first time since 2019 that attendees could attend in-person, with the last two events occurring exclusively in a virtual setting. This year also represented a technological milestone, as the symposium was presented in the first-ever hybrid format offered by the Cornell College of Veterinary Medicine.
"It was incredibly inspiring to have our virtual attendees join us as we were educated both virtually by internationally recognized experts who presented from London and Hong Kong, respectively, and in-person by outstanding faculty members here at Cornell," said Kornreich. "Speakers and attendees could hear each other, see each other and learn and laugh together. I was humbled to learn how technically challenging such an event is to carry out."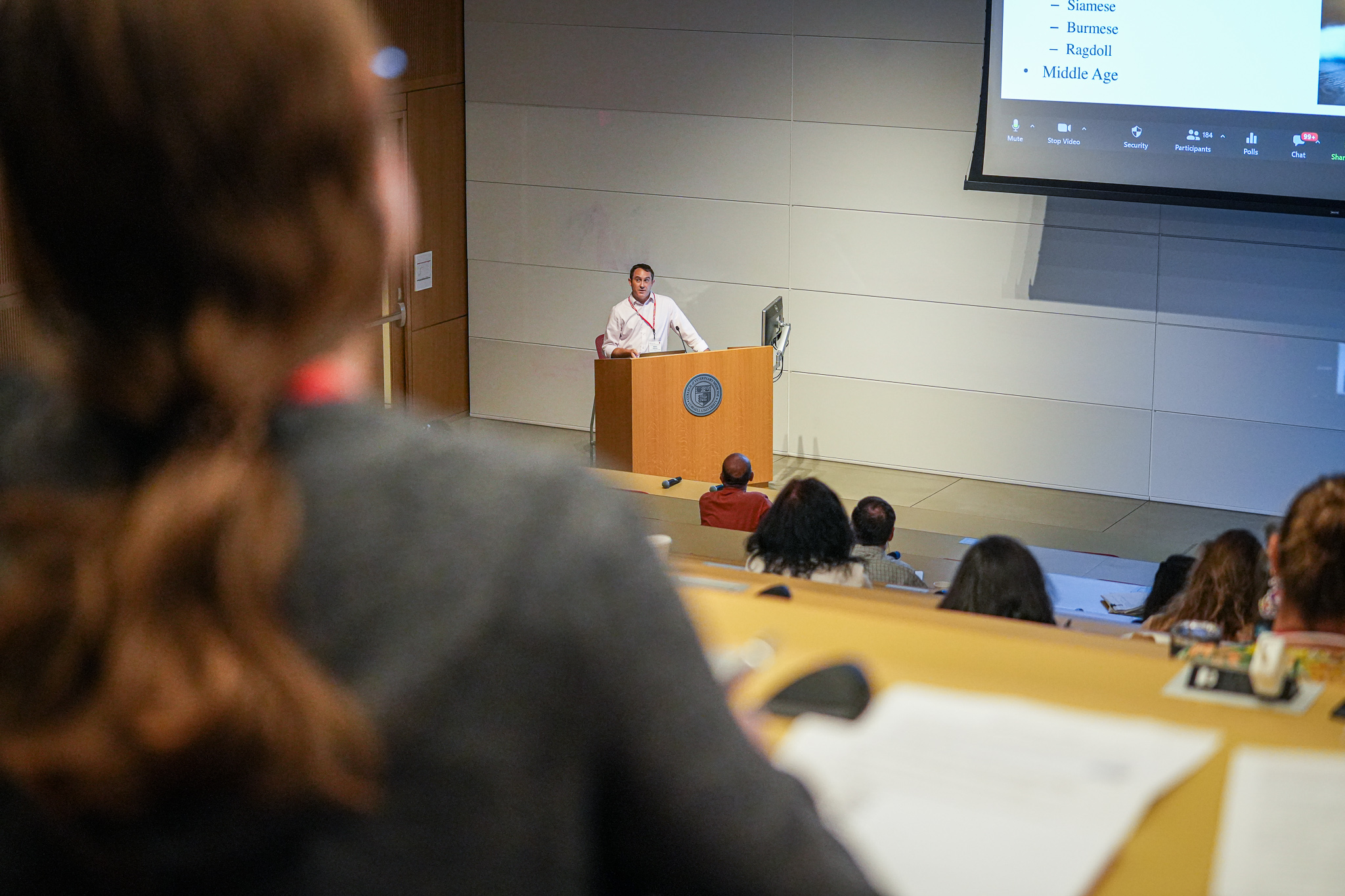 Most of those technical challenges, along with the overall event coordination and execution, were managed by the office of Continuing Education within the College of Veterinary Medicine.
"Planning a hybrid event is no easy feat but our small, dedicated planning team (Dave Frank, Justin Limper and Vanessa Maley) worked diligently for many months together to prepare," said Nahla Minges, Event Manager in the office of Educational Support Services. "I am happy to share that we were able to continue the legacy of producing a fun, high-quality continuing education event in this new format."
This 2022 symposium reached over 350 participants virtually, with attendees joining from as far away as Japan, Singapore, Canada, Hawaii and Austria. Sixty-five guests joined on site, including Fred Scott, the symposium's namesake and founder of the Cornell Feline Health Center. The combination topped last year's virtual-only offering by over 100 participants, and eclipsed 2019's in-person attendee total by nearly 150 participants.
"At our 2020 and 2021 virtual symposiums, we were able to reach an international audience and offer free registration to veterinary students here in the United States, as well as around the world," said Minges. "Many of our audience members said that they hoped we would continue offering virtual access, so that was a priority for us."
While the primary focus of the gathering was the sharing of knowledge and the advancement of feline health, attendees were also able to pair this serious business with social events throughout the weekend. Along with a BBQ and wine tasting that bookended each full day, those in physical attendance were also able to benefit from onsite message therapists at the conference's "Kneading Station". Guests were also able to enjoy guided virtual yoga sessions over the first two days of the event, and live music during the BBQ on Saturday evening.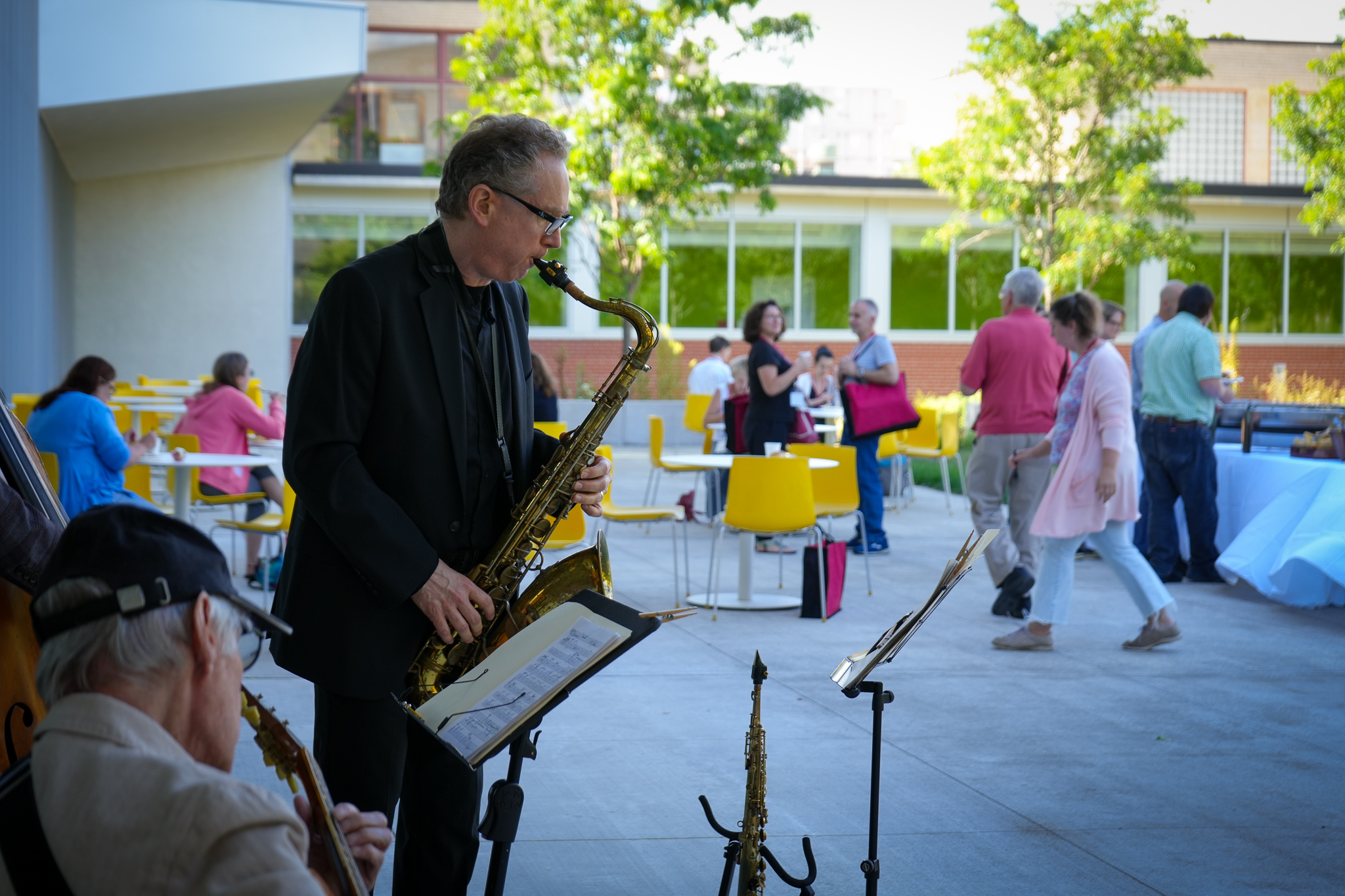 "From an attendee perspective, if you come onsite you get to really immerse yourself into the experience; I think people have a lot of fun that way and it's more memorable," said Minges. "If you want to attend online, you enjoy the flexibility of joining from home or from your office. That can save time and money, but you miss the interaction, networking, catering and other great activities that happen onsite."
Like previous years, attendees represented a wide range of specialties within the field of veterinary medicine. Guests consisted of veterinarians, veterinary technicians and veterinary students. One of these (virtual) guests was Dr. Susan Ackermann, a 1986 graduate of the Cornell College of Veterinary Medicine and current veterinary practitioner in the Lehigh Valley area of Pennsylvania.
"The Fred Scott Feline Symposium is an excellent continuing education program featuring cutting edge material presented by passionate and engaging speakers," said Ackermann. "While nothing can replace the collegiality of in-person attendance, I found Cornell's virtual format to be interactive, enjoyable and easy to navigate, providing the flexibility of satisfying continuing education requirements from my home or office. There is no other veterinary conference that compares in value or content."
Given the overall success of the event, it's not a surprise that the organizers of the Fred Scott Feline Symposium are optimistic about the hybrid format moving forward. Minges believes hybrid events will now be the standard, and Dr. Kornreich agrees. Since arriving as a veterinary student on campus in 1988, Kornreich has witnessed the growth of the Fred Scott Feline Symposium since its inception, and he has contributed to this growth substantially since being appointed associate director of the Center in 2012 and then its director in late 2019.
"Given the effectiveness and potential for expansion and improvement of this novel format, we look forward to offering all future Fred Scott Symposia in a hybrid setting. This will allow us to welcome our friends back here at the college each year, while reaching an international audience to best achieve our mission of educating veterinary professionals worldwide."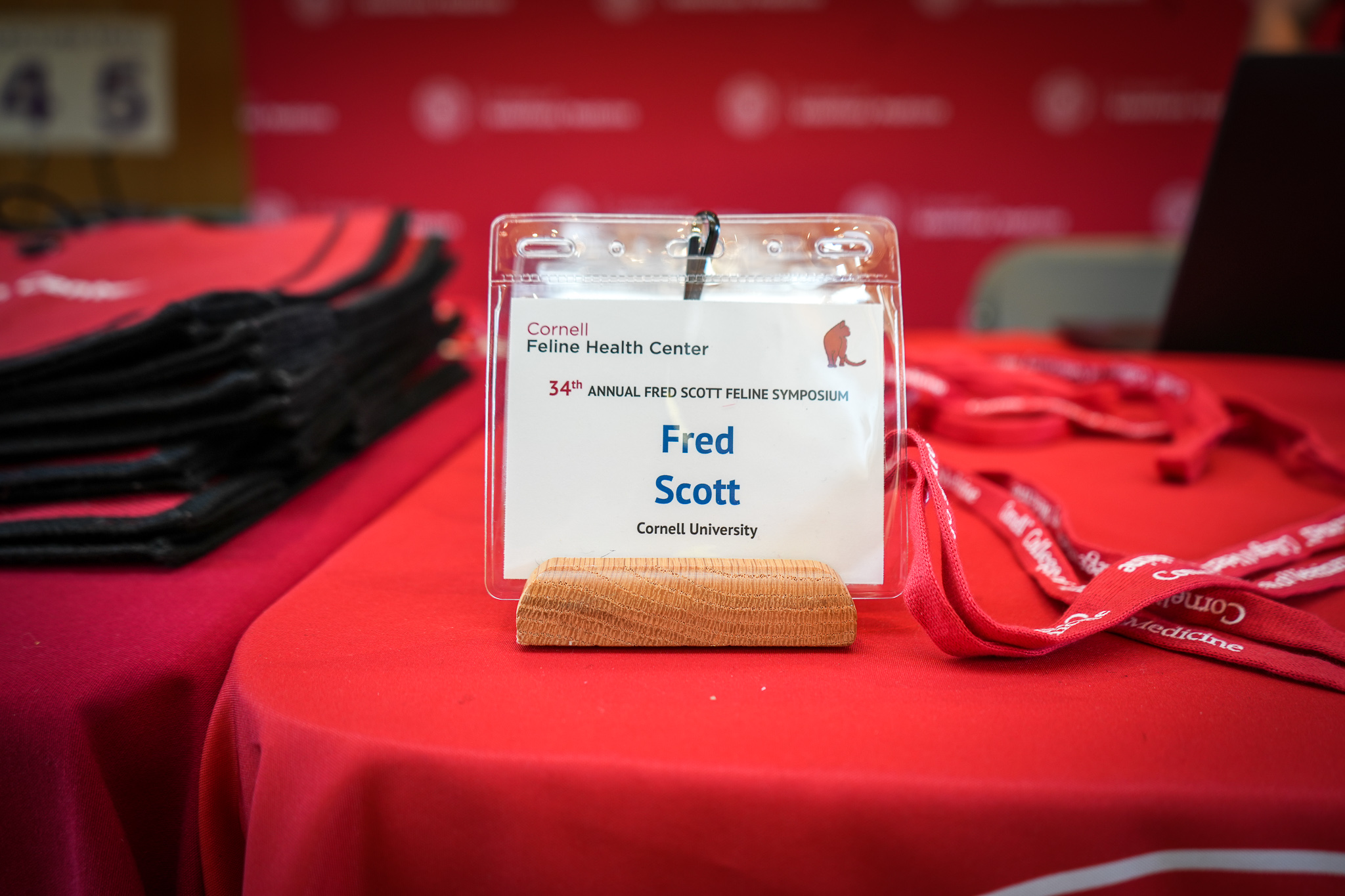 Article written by John Enright