Residencies & Internships
Internships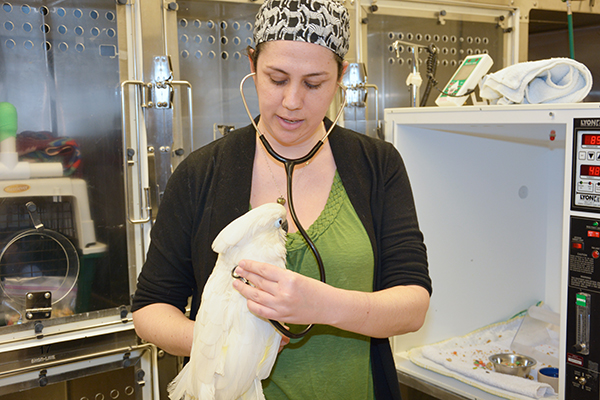 Internships are one year, non-degree programs that provide training for practice, clinical teaching, and specialty-board eligibility. Generally, a one-year rotating internship in medicine and surgery is a prerequisite for our residency programs and for board certification. Cornell University Hospital for Animals offers internship programs in the following disciplines:
Small Animal Medicine/Surgery
Residencies
Residency programs provide the resident with a high level of clinical proficiency in a specific clinical discipline. Each program allows the resident to meet the postgraduate education requirements of the specialty board related to that discipline as well as to gain experience in professional veterinary medical education and in teaching. Cornell University Hospital for Animals offers clinical residency programs in the following areas:
*Indicates that opportunities for obtaining an advanced degree are available.
**Not part of matching program; see anatomic pathology website for application procedure and deadlines.
Cornell University is a member of the American Association of Veterinary Clinicians (AAVC) which sponsors the Veterinary Internship and Residency Matching Program (VIRMP).
Please note that advertisements for programs noted above may be revised for next year. 
During the program, approximately 70 percent of time is devoted to clinical training and service, while approximately 30 percent is spent in academic pursuits, including research and didactic teaching opportunities.
During clinical training periods each resident is supervised by the chief of the service to which the resident is assigned. Academic training is supervised by the section coordinator and designated faculty of the section representing the academic discipline. For descriptions of specific residency programs see contact information below.
Application Procedures & Requirements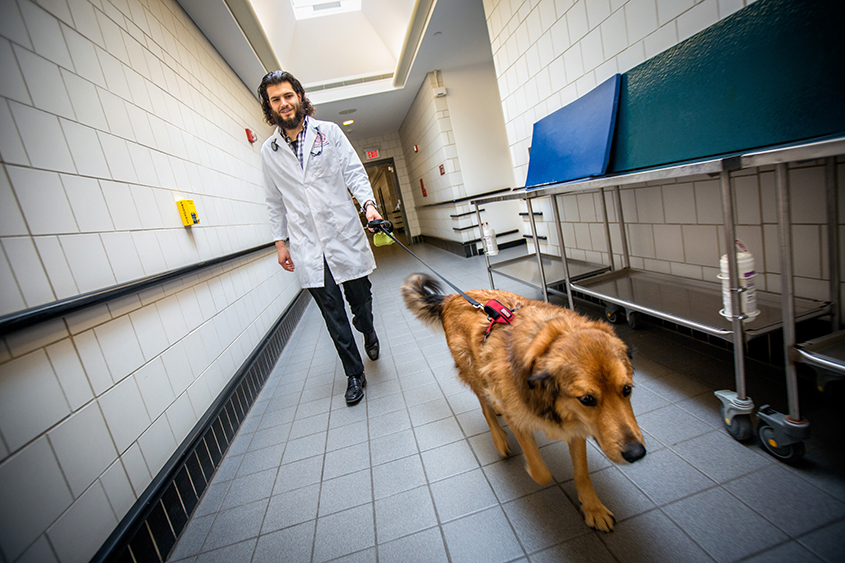 Applicants from both foreign and American colleges of veterinary medicine are welcome to apply. Preference is generally given to applicants who have graduated from colleges of veterinary medicine accredited by the American Veterinary Medical Association (AVMA). Foreign national applicants must be prepared to supply English language official test scores and work authorization documentation, should they be accepted. Demonstrated competence and proficiency in both spoken and written English language skills are required to facilitate the educational process and client communications.  Please note that licensure is recommended, but not required as long as you are a graduate of a school of veterinary medicine accredited in any state or country.  We do not require that you provide proof of NAVLE, PAVE or ECFVG in order to apply.
For the selection of interns and residents for the Cornell University Hospital for Animals, the college subscribes to the American Association of Veterinary Clinicians (AAVC) Internship and Residency Matching Program. Internship and Residency applicants are asked to rank veterinary schools in order of their preferences; schools are then asked to review applications and rank applicants. The AAVC Matching Program uses a central computer facility to match prospective interns and residents with the programs available. The final selection process is performed automatically by the AAVC Matching Program; therefore, there is no guarantee that either an applicant or an institution will receive their priority choices.
A directory of available residencies is published on-line by the AAVC each year; typically, these advertised positions are salaried. To obtain application forms and further information, please visit the AAVC's VIRMP web site at http://www.virmp.org and create an applicant account via contact information below.
Application Deadlines
The deadline for receipt of applications for internship programs that begin in June and for residency programs that begin in July is early December of each year. (Applicant rank order lists must be submitted online at the VIRMP web site by mid January.)
Contact Information
For additional information on the Internship and Residency Programs:
Veterinary Internship & Residency Matching Program (VIRMP)
Sponsored by: American Association of Veterinary Clinicians (AAVC)
Phone: 614-358-0417
Fax: 614-241-2215
Email: support@virmp.org

College of Veterinary Medicine
Cornell University Hospital for Animals
Attn: Amanda Hakes
Program Coordinator, Professional, Clinical & International Services
Cornell University, College of Veterinary Medicine
930 Campus Road, CVM Box 37 - Office S2-013 Schurman Hall
Ithaca, NY 14853-6401  
T: 607-253-3495  
E: cvm-profservices@cornell.edu