Semester: interrupted
By Lauren Cahoon Roberts, with additional reporting by Melanie Lefkowitz and Krishna Ramanujan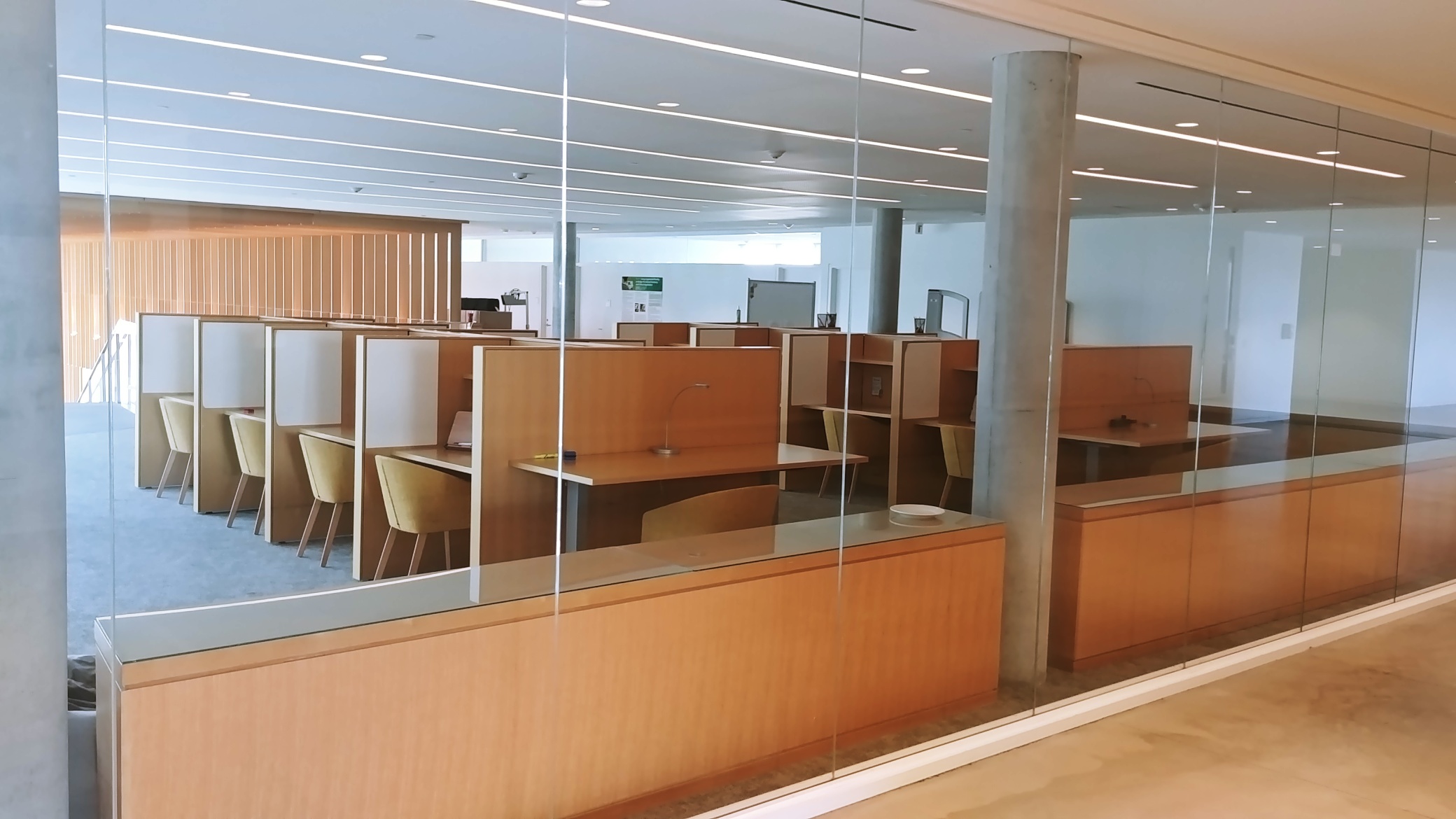 What happens when a school known for hands-on, in-person learning must suddenly go without it? For the Cornell College of Veterinary Medicine (CVM), students, faculty and support staff had to quickly answer that question and adjust to that new reality.
In March of 2020, Cornell announced it would halt all in-person classes due to the COVID-19 pandemic. Students were sent home. Faculty suddenly went from in-person instruction to adapting complex courses to online formats. Major events were postponed or moved online. The unprecedented circumstances called on both instructors and students be creative, resilient and flexible, working at a speed no one could have predicted. "Everyone, especially students, have been remarkably patient and flexible," says Katherine Edmondson, M.S. '85, Ph.D. '89, assistant dean for students and instruction.
Canceling plans
Flashback to early spring 2020. As COVID-19 made its way across the oceans and into American metropolitan areas, Cornell University was on the alert, preparing to shut down activities should the situation worsen. However, one treasured tradition managed to squeak in before fate took its course — the White Coat Ceremony, which was held on March 7, just three days before all on-campus programs were cancelled.
Lorin D. Warnick, D.V.M., Ph.D. '94, the Austin O. Hooey Dean of Veterinary Medicine, greeted attendants, acknowledging the ongoing global concerns around COVID-19. "While this is a celebratory event, I also want to acknowledge that we are in the midst of a challenging global disease outbreak that has caused serious suffering, disruption and anxiety," he said at the event, adding that the crisis is a timely reminder of how important veterinarians are to the health of society.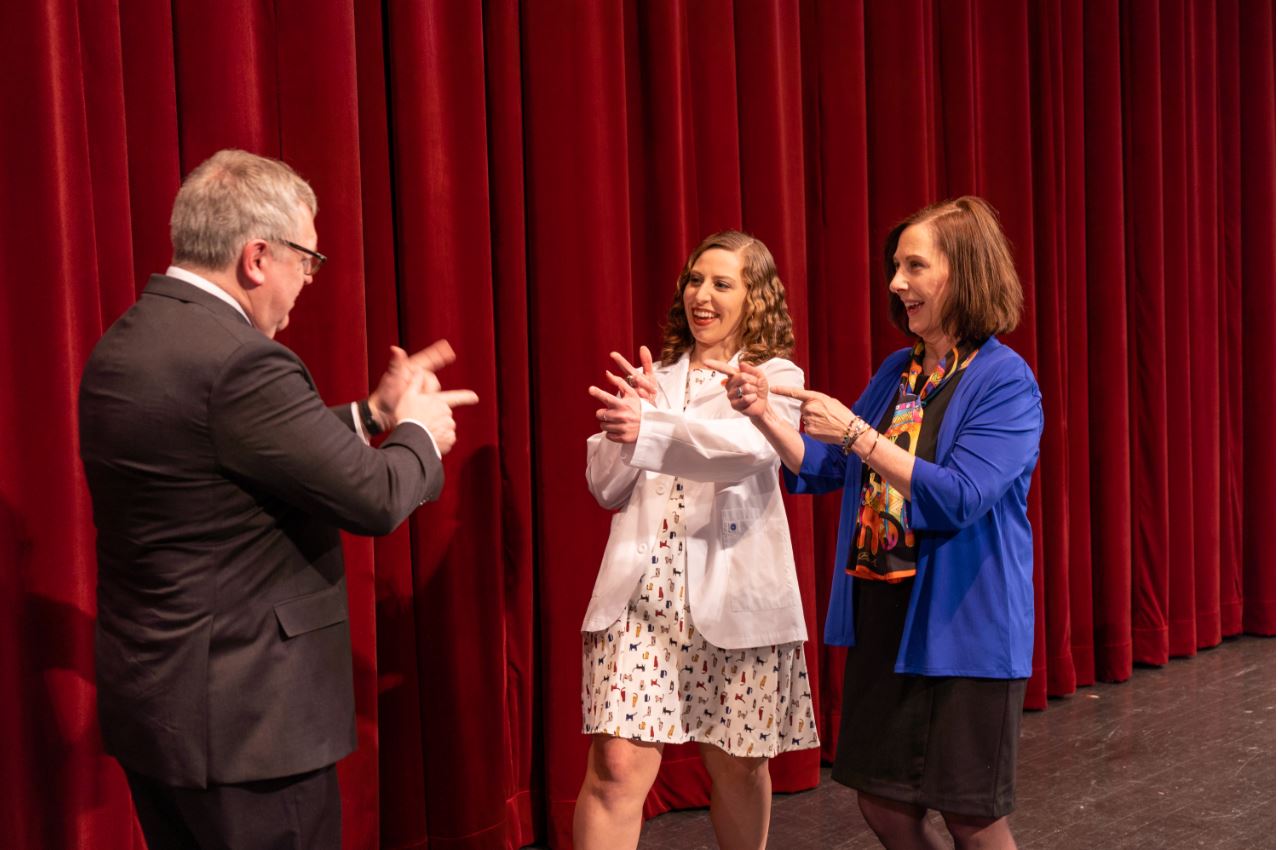 Before the Cornell campus completely shut down, university leadership initially put a moratorium on all gatherings of over 100 people to stem the tide of COVID-19 transmission. This would shatter plans that many dedicated CVM students had been working on for over a year: hosting the annual Student American Veterinary Medical Association (SAVMA) symposium at Cornell.
SAVMA comprises 36 student chapters and represents over 16,000 veterinary student members. Each year, the organization holds an annual symposium by one of the chapters. For the first time in more than two decades, Cornell was named the host.
CVM students began planning as early as spring of 2018 for the event that would bring hundreds of students from across the country to the campus for three days of programming that would include lectures, wet labs, social mixers, meals and competitions. The planning committee, along with dozens of dedicated student volunteers, spent the next 18 months arranging lectures, caterers, registration, activities, fundraising, sponsors and more. "It was going to be chaotic and crazy and awesome," says SAVMA president Xanth El-Sayed, D.V.M. '21.
Then on a fateful day in mid-March, the planning committee members were called into a meeting with college administration: The likelihood for holding the symposium was slipping away as the threat of the pandemic loomed closer to Cornell's campus.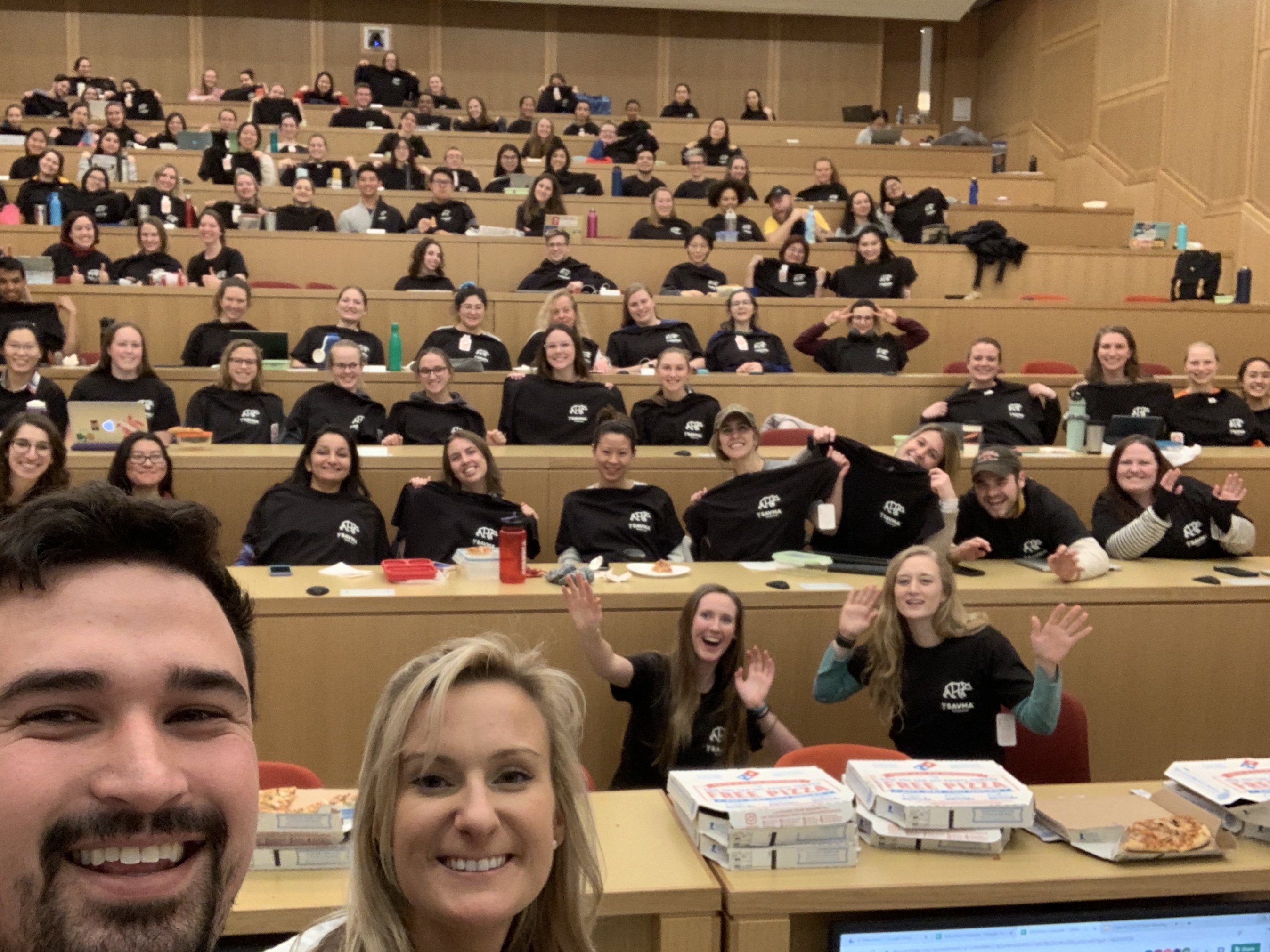 "We went into that meeting ready to fight it," says El-Sayed. "But, by the end of the meeting, it was very clear to everyone in the room that it was irresponsible to move forward with holding the event." With the decision made, the CVM administration took on the burden of notifying all symposium participants, vendors, hotels and other business partners in order to allow the students to focus on upcoming finals.
Canceling the long-awaited event affected students in different ways. "There was a lot of emotion, there were a lot of tears, a lot of disbelief and not processing," says El-Sayed. "I don't think I processed the cancellation until spring break, where I got to see one of my fellow SAVMA presidents from another vet college and we were able to cry a little bit together."
Despite the heartache, the experience came with some silver linings. "I walked away with really close friendships," says El-Sayed. "Those of us on that core planning group really grew and learned how to communicate with different personalities — all of those skills you want out of planning an event like this, we still got. I would have still done it, even knowing the outcome."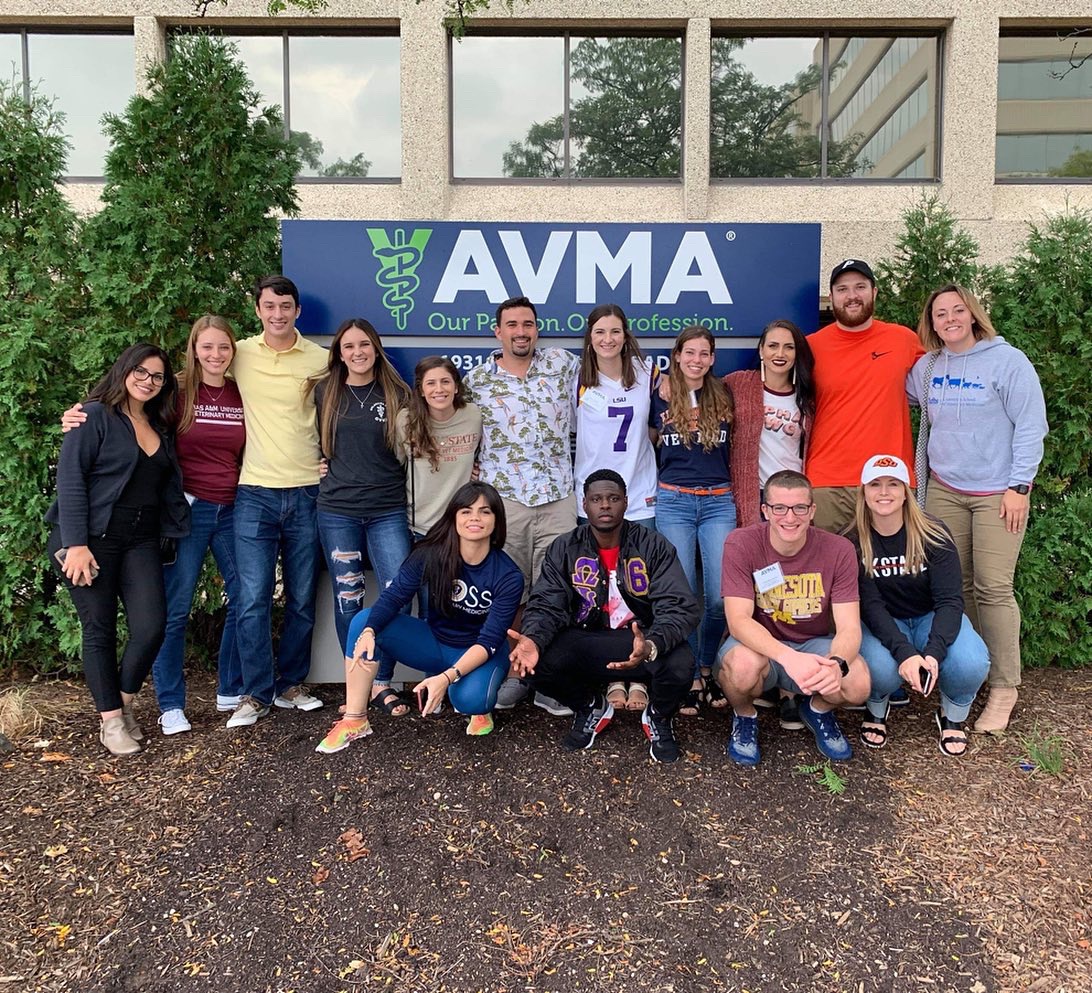 As the symposium fell, so did all other beloved student gatherings at CVM. The annual Open House, student-run and held every year at CVM since 1966, was lost as well. Student clubs, such as the college-based a capella group Ultrasound and the Veterinary Dance Collective, cancelled their end-of-year performances. Courses, including Senior Seminar, in which fourth-year D.V.M. students present on unusual or intriguing clinical cases, went completely online with Zoom talks instead of in-person presentations.
As the spring 2020 semester progressed, it became clear that even university commencement and the college's Hooding Ceremony would be added to the list of cancellations and postponements — sending CVM seniors off to the profession without the traditional pomp and circumstance.
"They lost the chance to celebrate four years of very hard work," says Jai Sweet, Ph.D. '96, senior director of student development and academic services. Nevertheless, graduating students, including those in the Master of Public Health (M.P.H.) and Ph.D. programs, were able to commemorate the moment with online gatherings. Graduating D.V.M. students gathered on Zoom with over 400 participants — including family, friends, CVM staff and faculty. The occasion gave graduates a moment to reflect on their time at CVM.
"The College of Veterinary Medicine and the Cornell University Hospital for Animals are made of amazing, passionate, driven people who funnel their energies into training us to become the best possible veterinarians, and I feel their support as I head out into the world," says new graduate Olivia Lenz, D.V.M. '20. "I was expecting to feel anxious about life after graduation, but instead I feel prepared."
In turn, college staff and faculty gave their well wishes and farewells in a first-of-its-kind video montage for the class of 2020.
"It's been a fantastic journey and I have loved every single one of you," said Dr. Noha Abou-Madi, associate clinical professor and section chief of zoological medicine, in the video. "You have brought so much to my life and really have taught me more than you can imagine. It's been a privilege and a joy to teach you and be a part of your life."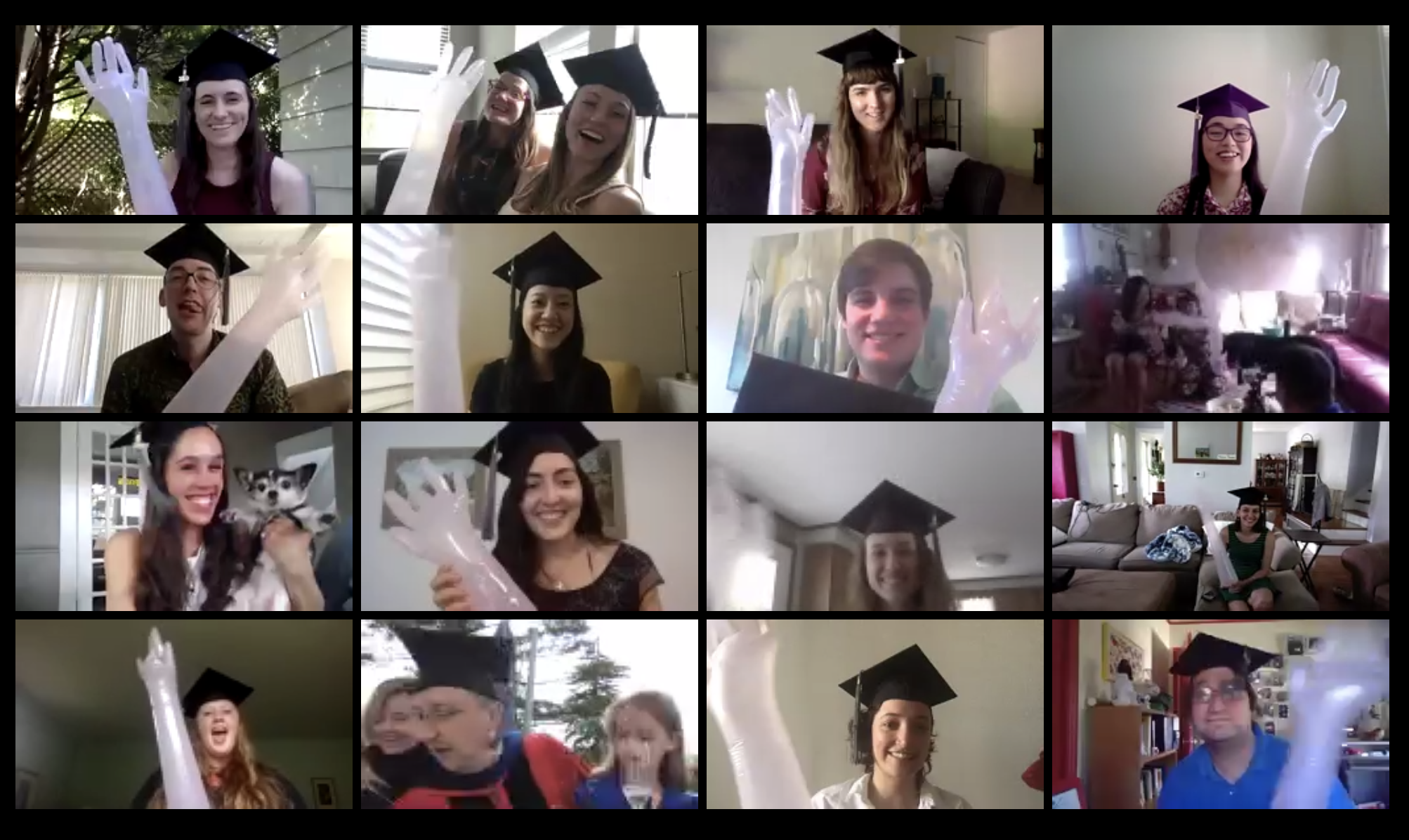 Shifting to remote instruction
While canceling events such as the SAVMA Symposium and Hooding presented mostly emotional hurdles, canceling on-campus instruction — and switching to online classes — presented a unique set of challenges.
Fortunately, the college was able to leverage the expertise of the Educational Support Services (ESS) team. The group, comprised of 12 members with expertise in areas such as instructional design, educational software development, videography, and medical illustration and animation put their skill set to use to rapidly adapt in-person courses to online instruction. "We simply could not have transitioned to remote instruction as quickly and effectively as we did without the talent and support of the ESS team," says Jodi Korich, associate dean for education. "This team are some of the many behind-scenes-heroes who made it possible for our students to continue their education during the COVID pandemic." The scope of the effort was unprecedented. "We went from having no online foundation courses at the college, to having all of them online in the span of only a few weeks," says Andrea Beukema, director of educational design and development for the ESS team. The team worked closely with faculty to re-create 14 D.V.M. courses in an online format, including moving problem-based learning tutor session online using a variety of web-based applications and tools to allow small group learning to continue uninterrupted.
The team then moved on to an even bigger challenge: designing and developing a novel 11-week clinical course for fourth-year students who could not start their clinical rotations in the summer due to the New York State shutdown. A group of clinical faculty partnered with the ESS team to develop the Transition to Clinical Practice course, which featured a wide variety of small group learning, faculty mentoring sessions, and competency exercises designed to better prepare students when they returned to the teaching hospital in August. "The course was a tremendous success," says Korich. "It's incredible what our faculty and staff were able to accomplish with this course."
Long-planned-for curricular improvements were fast-tracked during the pandemic, including embedding clinical reasoning, evidence-based practice, communications, and financial and organizational management competencies within the medicine and surgery topics. Students also had  opportunities throughout the course to apply their clinical knowledge in case-based exercises and get feedback from clinicians.
"Student feedback on the course was very positive, with many students reporting that they felt very well prepared to jump into clinics and hit the ground running," says Korich. "Although the Transition to Clinical Practice course was originally a one-time only course, it was so successful that  we're planning to re-purpose the course and incorporate aspects of it into the clinical curriculum."
Across the college, many faculty and staff worked hard to make the transition to remote instruction as smooth as possible for students. Gen Meredith, associate director of the M.P.H. program, notes how dedicated their team was on this front. "Our student services team and faculty all came together to ensure students had all the information and resources they needed to stay healthy, both mentally and physically during this epidemic," she says. "It was amazing to see everyone jump into action and have health and safety their number one priority."
Instructors get creative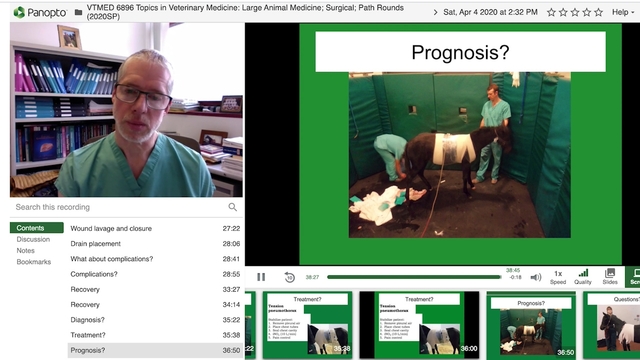 The constraints of online instruction have led to inventive solutions in some cases. Dr. Erin Epperly, assistant clinical professor in diagnostic imaging, translated her ultrasound class to online using a livestream feed off the ultrasound machine through Zoom.
Kelly Lyboldt, D.V.M. '05, lecturer in physiology, serves as course leader for the course Function and Dysfunction, which operated problem-based-learning tutorial groups through several online platforms. These included Canvas for tutor group homepages; Zoom for live lectures, laboratories and discussion; Zoom whiteboard and Google Docs for sharing notes and sketches; Lucidchart for building flowcharts in real time; and Articulate Rise to deliver online, interactive modules, and pre-lecture materials.
"I had minimal exposure to Zoom, Panopto or Canvas prior to the switch to online courses," says Dr. Teresa Southard, associate clinical professor and section chief of anatomic pathology. "I think for many of us, this experience has expanded our teaching repertoire, and we have learned new skills and strategies we will continue to use when the students return to campus."
Epperly agrees that her skills have been expanded. "The biggest challenges for me were the short timeline to course development, loss of hands-on labs and implementing technology," she says. "While I believe we pulled it off successfully, I have learned a lot! Having a really clear syllabus and making sure students are familiar with the technology are critical to future implementation. Especially during this time, anything unclear only adds to students' anxiety unnecessarily." 
"I think for many of us, this experience has expanded our teaching repertoire, and we have learned new skills and strategies we will continue to use when the students return to campus."
Dr. Teresa Southard, associate clinical professor and section chief of anatomic pathology
The college also did its best to recreate the clinic experience, creating "virtual rounds" using a combination of recorded lectures, detailed photographs, notes and videos from past cases, and live Zoom sessions with clinicians in the veterinary hospital to prepare students as fully as possible.
Southard used photos of and video clips of a goat necropsy along with a series of "solve this mystery" videos for students to follow. 
"Incorporating photos and videos of clinical cases was very effective," said Dr. Rolfe Radcliffe, senior lecturer in large animal surgery, who presented to students about the case of a foal impaled on part of a fence, injuring its thorax and abdominal cavity. "We had really good timelines and a very good documentation for that case."
Building time for questions and comments for students into Zoom sessions helps approximate the back-and-forth of an in-person conversation, Radcliffe said. Curating past cases exposes students to a comprehensive range of large animal conditions, symptoms and treatments.
Real life lessons
For the M.P.H. program, faculty also had to transition their lectures and coursework to online. But this pivot to new platforms also introduced new educational topics — the COVID-19 pandemic itself. "I did three online lectures on the public health aspects of COVID-19 during a course called Public Health Foundations II, which is mandatory for all Cornell first year M.P.H. students," says Dr. Isaac Weisfuse, adjunct professor in the program.
"The pandemic has influenced our students in a myriad of ways," Weisfuse adds. "Some see it as a transformative event in their education, career and lives. Nearly all were gratified with the foundational public health course work they had. Many seemed to use their knowledge to educate those around them, especially their families on how to stay safe."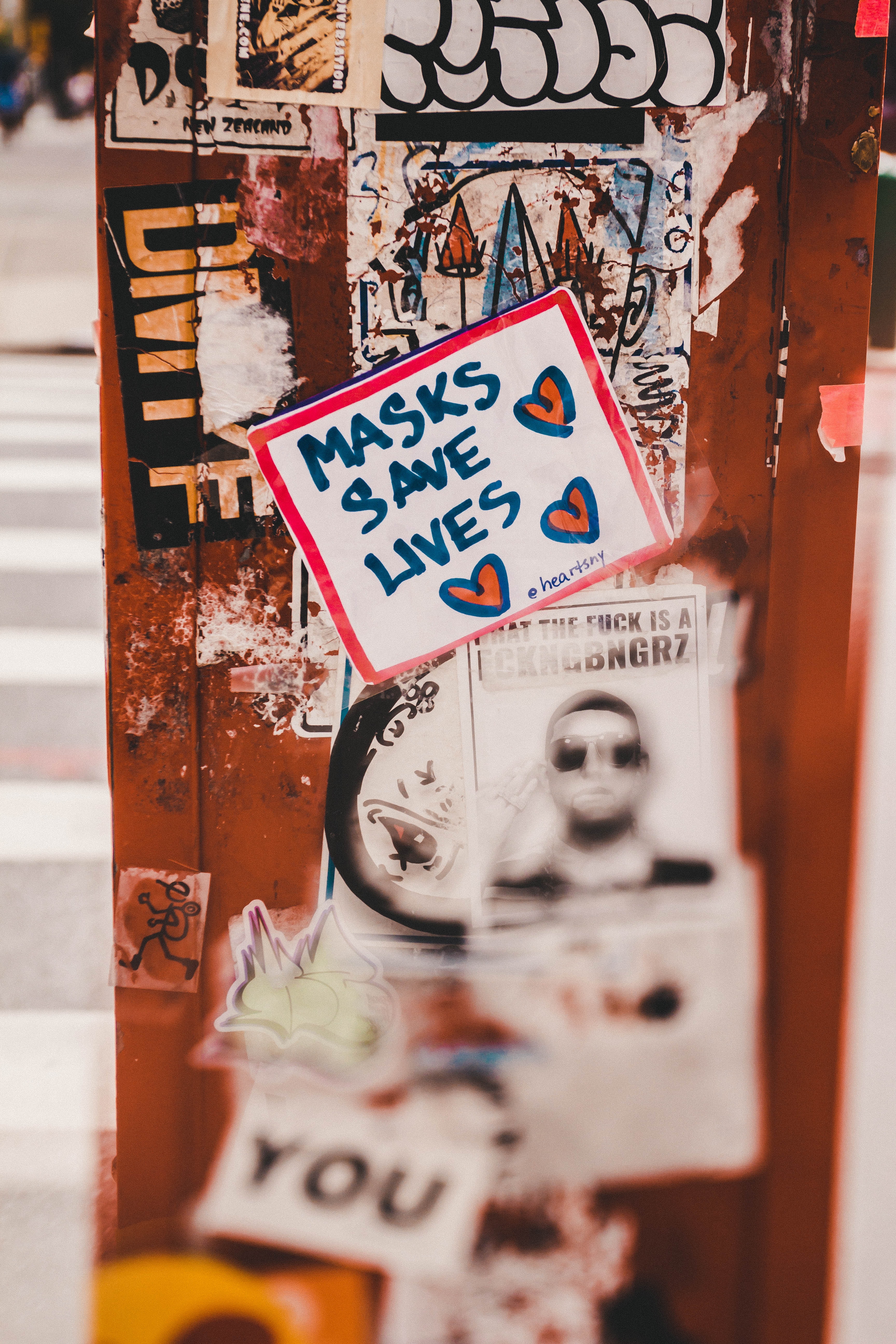 Specifically, M.P.H. students were asked to develop a policy analysis and advocacy brief related to COVID-19 impacts in their communities. They developed op-eds or letters to decision makers encouraging specific policy actions.
M.P.H student Relicious Eboh adds that incorporating the science and policy aspects of COVID-19 into her public health coursework has been engaging. "I like how the classes have integrated what's going on in our current environment. We're learning about how different aspects of coronavirus affect different communities."
Many M.P.H. students have engaged with applied opportunities during the pandemic thanks to Lara Parrilla '99, M.P.H. community and academic partnership manager, who recruited and trained students to volunteer with Cayuga Health Partners COVID-19 Call Center. Student volunteers have been working remotely making the initial call to patients who had been tested for COVID-19 in order to review the requirements associated with home isolation, to ensure they had a primary care provider to contact in case of worsening symptoms, and to make sure patients could obtain food, water and medications while on home isolation.
Parrilla has also brought many students on to her summer projects, which aim to address the ongoing inequities further illuminated by the disproportionate impact of COVID-19 on minoritized and low income communities. Moving forward, the public health surveillance efforts for Cornell campus and Tompkins County will also provide even more hands-on, meaningful activities for students to apply their learning for the good of the community.
Navigating disappointment
While the college faculty and staff did all that they could to create an online substitute for in-person instruction, the switch from hands-on to distance learning was bound to cause disappointment.
"It was a crushing blow," says Lili Becktell, D.V.M. '21. "When you spend three years in this very, very difficult curriculum, clinics is the light at the end of the tunnel. My learning disability kept me from excelling in the didactic setting, but this is the part of the curriculum where I knew I would shine."
She was not alone in her disappointment. "Being in the clinic is what I have been looking forward to for all of vet school, and to have it delayed has been very disappointing and disheartening," says Michaela Fontaine, D.V.M. '21. "I know my classmates share my sentiments of disappointment over the delay of clinical rotations and the difficulty that online learning poses."
"Our classes are meant to be more in-person and collaborative," says Eboh, who was finishing up her first year at the colleges' M.P.H. program. "I learn better when I go into a different environment to focus, and I can't do that now — so there's a bit of a writer's block I have to deal with. I have to dig for inspiration in different ways." Fontaine, Becktell and their fellow third-year students were particularly impacted by the shutdown by losing some of the hands-on time they had been looking forward to for so long, as well as canceled externships and the disruption of personal plans built around completely rearranged academic responsibilities. "I think the most challenging part of this experience has been accepting that our clinical year is going to look much, much different than any of us had ever expected, and the potential implications that might have for our careers moving forward," says Fontaine.
Addressing concerns
College leaders are acutely aware of the challenges students have dealt with. "We know they have a lot of concern about experiences they're missing by being away," says Edmondson. "Those concerns are valid."
With summer giving the student services team a brief pause to prepare for fall, Edmondson and Sweet have worked to ensure that students still get the hallmark experiences of veterinary school.
"We've been working with faculty to ensure that the essential aspects of our program, the experiential components, are not going to be sacrificed," says Sweet. This means rescheduling certain portions of courses, like surgical exercises as part of Block 5, to happen next fall after being postponed in the spring. Other aspects of the training, such as first-year labs, which involve extensive hands-on experience with both large and small animals, will be front-loaded in the fall semester so as to hopefully avoid being canceled should another coronavirus wave strike as the colder fall weather sets in. "It's a constant planning process," Sweet says.
"We are working hard to make sure those important experiences aren't lost, and that the quality of the academic program continues to be excellent, inside and outside the classroom," Edmondson adds.
"We are working hard to make sure those important experiences aren't lost, and that the quality of the academic program continues to be excellent, inside and outside the classroom."
Katherine Edmondson, M.S. '85, Ph.D. '89, assistant dean for students and instruction
While some aspects of the CVM student experience can be rescheduled and re-tooled, Edmonson and Sweet note that some cannot. "What is going to happen with student clubs and the overall sense of community — that's going to be much more challenging," Edmondson says. "Our whole approach has been to foster community and get to know those students on a deeper level through impromptu moments — those informal relationships and communication."
Given the amount of uncertainty the COVID-19 pandemic has levied at students, doubt around academics and careers is natural, Korich says. "But college administration and faculty have ensured our students' educational needs are being met through dedication, ingenuity and leveraging a very talented CVM community."
Beyond education and community, CVM students also face unplanned economic hardship from the COVID-19 shutdown. Many relied on jobs at the hospital and elsewhere to make ends meet. "We realize that this has been much more than an adjustment to their education," says Sweet. "For some, their livelihood was lost. So, we also wanted to make sure we supported them and figured out how to connect them to the resources to reduce that financial strain as much as we could."
Part of these efforts involved connecting students with student services' emergency funds and CARES act funding from the federal government. Additionally, Sweet's team reached out to CVM alumni asking them to share and recruit for any available summer jobs with current students. And, as always, CVM leadership continued to support and encourage donations to the CVM scholarship fund to help students continue to afford their education.
Silver linings
The efforts of college faculty and administration have not been lost on the students. For Becktell, the responsiveness of her instructors helped her find optimism, she said, noting that Radcliffe commented on one of her online discussion posts.
"He said, 'I know you're saying that you're struggling, but what I'm seeing is someone who clearly wants to understand and wants to work hard, and I want to do what I can to make this relevant for you,'" Becktell says.
"It has been really difficult in this virtual medium, but overall, the experience has been really positive — if not from the get-go, then definitely trending that way," she says. "I'm starting to feel hopeful again."
In the case of the M.P.H. program, Eboh says the program has allowed students to attend classes either synchronously or on their own schedule as a recording — making it easier for students living in different time zones to attend lecture. She also notes that Zoom office hours with faculty have enabled students to ask questions and bond with their classmates during the time of isolation.
Other students have appreciated the creativity and effort from ESS and faculty. "The overwhelming feeling I get in conversations with my classmates is how impressed everyone has been with the faculty and administration," says El-Sayed. "I know that, for myself, I wouldn't be able to participate in coursework right now without help from the administration. I know that people in my program are feeling very appreciative of that during a time when there is a lot of uncertainty going on at every level."
"It's been really clear to me that faculty and the administration have gone above and beyond what I expected ... That sense of community has been really strong."
Anita Yau, D.V.M. '21
Anita Yau, D.V.M. '21, echoed that sentiment. "It's been really clear to me that faculty and the administration have gone above and beyond what I expected, not only in terms of adapting their materials for online classes but also their amount of support and flexibility has been outstanding," says Yau. "That sense of community has been really strong."
Long-term lessons are another silver lining as students navigate the COVID-19 pandemic. "I spend a lot of time reflecting on what this will mean for the future of our students," says Meredith. "None of us could have predicted this experience, but students' response to it — handling the immense pressure, while figuring out how to study and engage in new ways, and potentially juggling home and family responsibilities — this is what creates leaders for life. To see how our students have been able to take it in, and respond in a really effective and mature way — it really gives me hope."
Looking ahead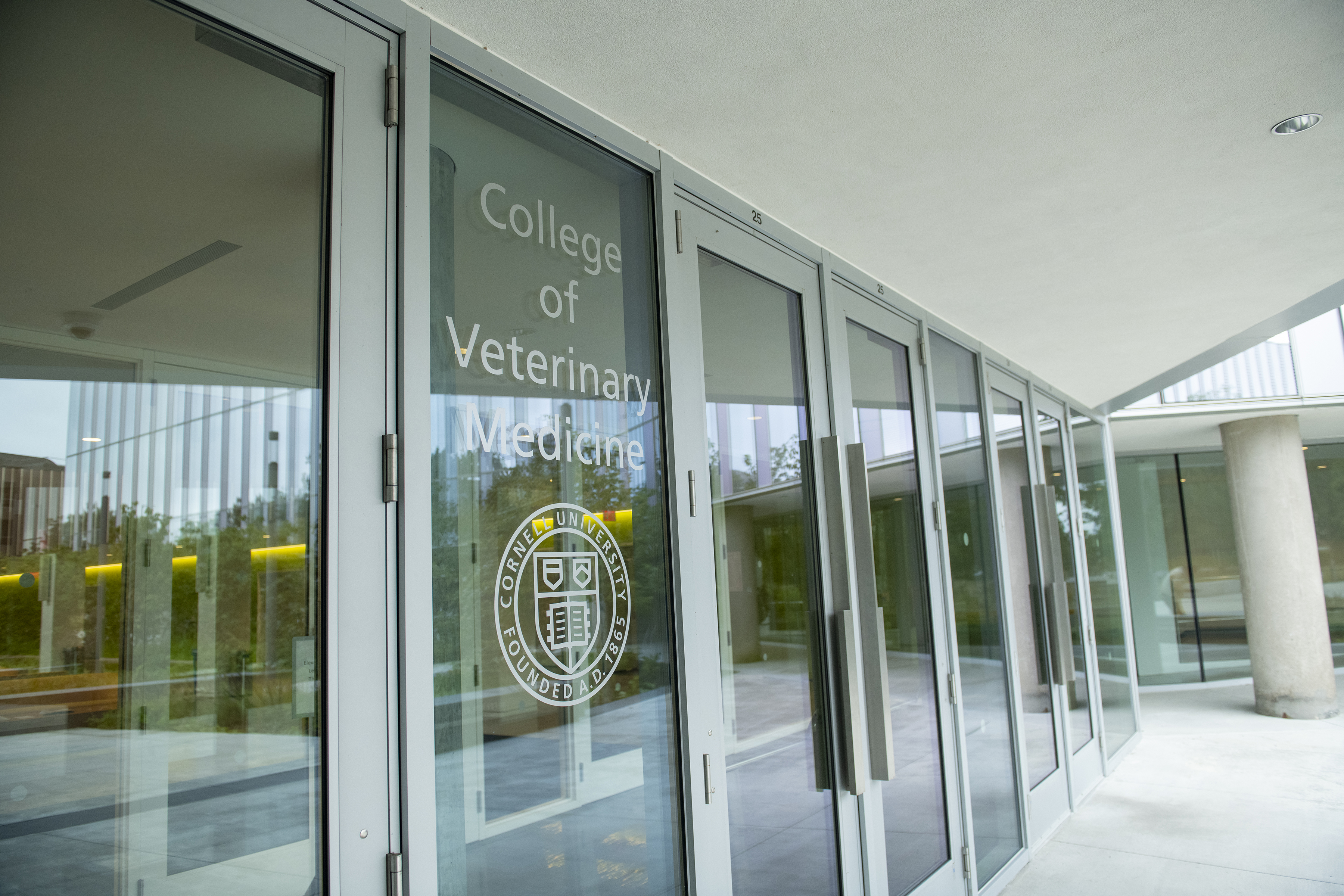 On June 30, Cornell President Dr. Martha Pollack announced that students would be allowed back on campus for the fall semester of 2020 for a hybrid of online and in-person instruction, and will end all in-person classes by the Thanksgiving break. Cornell veterinary students, which traditionally start their programs earlier, will return to campus in mid-August.
Students will be returning to a strange new world. Mandatory COVID-19 testing upon arrival and throughout the semester, masks at all times, and a blend of in-person, hands-on laboratories and remote classes will all be part of the new normal.
Nevertheless, one thing that will remain constant is the college's dedication to their students. "We care about them, we are looking out for them," says Edmondson. "We are trying to anticipate the things they're concerned about and thinking through all of the challenges they're currently facing and will face. Everything from how are they going to stay safe, to how are they going to get the education they need — we're working on good answers to that."
Those answers look to be more certain and more positive now that the fall 2020 semester gears up."We are confident that our students will continue to receive the same excellent education this year that Cornell has always provided," says Korich. "Our students are exceptional and resilient and our faculty and staff have proven themselves to be dedicated and adaptable."•