Testing, testing: The AHDC perseveres during a pandemic
By Lauren Cahoon Roberts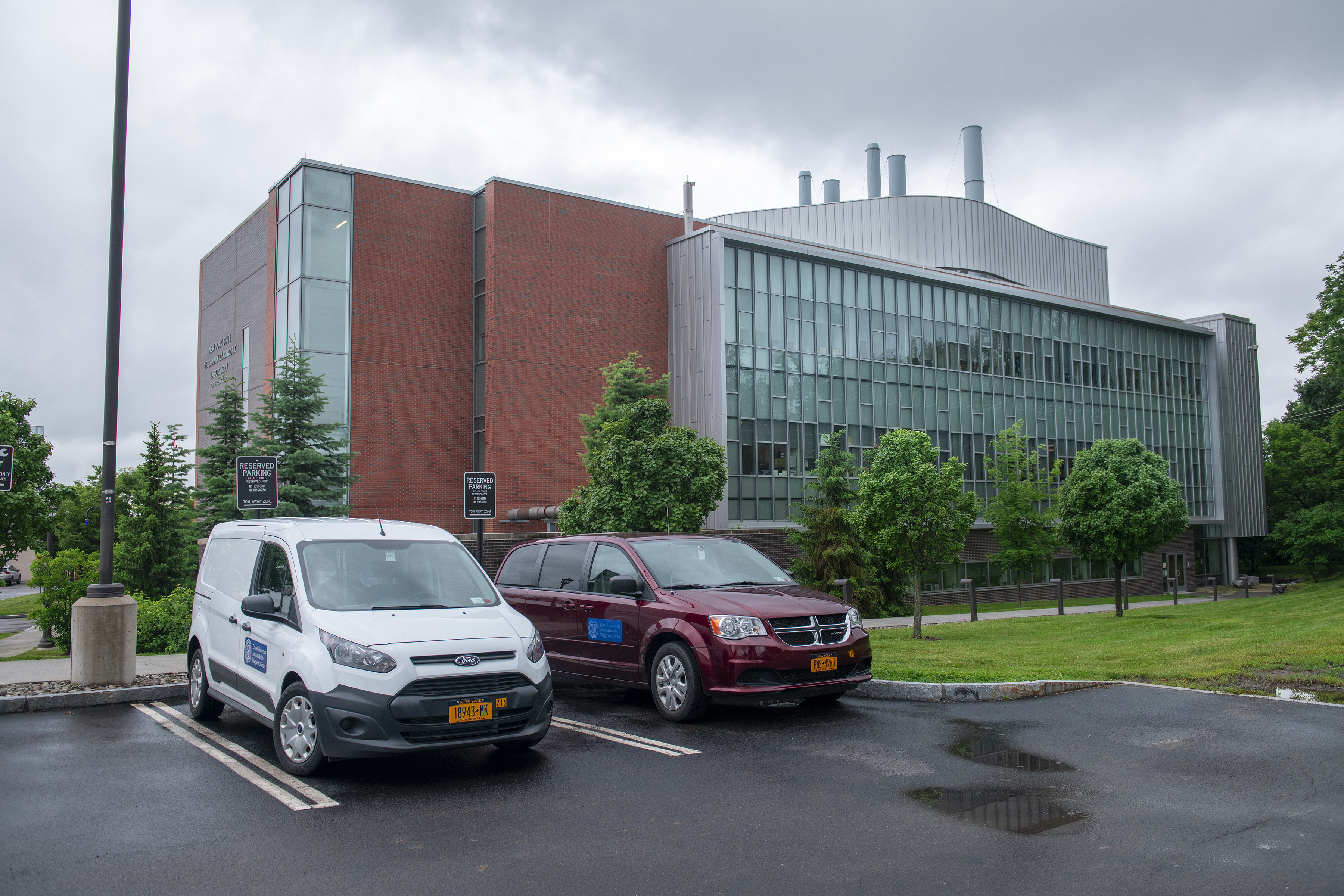 As the pandemic shut down most of Cornell University, only a few operations on campus remained busy. One of them was the Animal Health Diagnostic Center (AHDC). As the veterinary diagnostic lab of the New York State Department of Agriculture and Markets, the center is one of most comprehensive veterinary diagnostic labs in the country, providing a wide range of testing services for infectious diseases and many other conditions that affect animal health and well-being. Veterinarians, breeders, farmers and owners across the state and the country rely on the AHDC to provide fast and accurate answers for animal health questions. The center also houses state-wide programs such as Quality Milk Production Services, which assists dairy farms with herd health and biosecurity practices; and the Cornell Wildlife Health Lab, which supports health monitoring and management of wildlife populations.
Along with the Cornell University Hospitals for Animals, the work done at the AHDC was deemed essential during New York state's shutdown, and the lab plunged into the front lines of working during the COVID-19 pandemic.
Safety first
"The first six to eight weeks were the most stressful for our staff," says Dr. François Elvinger, executive director of the AHDC and associate dean for diagnostic operations and government relations. "We didn't know what the next day would bring, everyone had a fear of getting exposed to the new virus and we had to change our workflows and work schedules to keep everyone safe at work. That puts a lot of pressure on people."
Early on, the AHDC saw their caseload decrease, but soon enough the demand ramped up to pre-COVID-19 levels, putting laboratory staff under even more pressure. Groups like the Receiving Department, which gets 450-550 packages a day that must be opened, sorted and recorded in digital systems, suddenly faced intense pressure as they worked with reduced staffing. "We had to do all that work with half the crew," says personnel manager Christopher Ladd. "When you have to complete the same tasks with half the people, it really wears on employees — physically and especially emotionally."
AHDC leaders and managers did their best to help their teams adjust while also keeping safety at the highest priority. "We found ourselves in a situation where our split staff schedules (50 percent on and 50 percent off) were being asked to do 80-100 percent of our normal workload," says Kim Potter, director of business operations at the AHDC. "We had to get very creative with staff scheduling to ensure that we maintained separation of teams but still had enough staff to complete the work. We had record numbers of tests in June which was extremely stressful for the labs. I can't thank our lab managers and staff enough for their resiliency and creativity to keep the AHDC testing machine running. I don't think any of our clients noticed a difference in service delivery — results went out every day as if nothing else was happening."
"I can't thank our lab managers and staff enough for their resiliency and creativity to keep the AHDC testing machine running."
Kim Potter, AHDC director of business operations
Service manager of the anatomic pathology section Martin Slade notes it was hard to see his close-knit team of technical staff have to separate into two groups. "We have a very dynamic group of employees who just do amazing things, especially when they can all work together," says Slade. A bright side of the pandemic was the section fully embraced the use of digital pathology by ramping up the use of a high-volume slide scanner. This new technology allowed almost all pathologists and residents to do their work remotely. "Being open-minded allowed us to adapt to digital pathology," says Slade. "I'm not sure what our anatomic pathology section would look like without being able to transition directly to digital pathology during this pandemic."
For Curtis Kretz '94, medical technologist in the endocrinology section, the reduced shift times made for arduous workdays. While normally they worked full eight-hour days with a staff of 11 technicians who worked to perform diagnostic tests and validate assays, the pandemic condensed this workload intensively. "It has been hard moving into a shift that is less than six hours with four or five people," he says. "Most days you're still working on specimens from the day before! It's a marathon pace for sure."
To further ensure safety, the AHDC called on director of biosafety operations Paul Jennette '87 to help it implement best practices to decrease risk. He provided guidance on appropriate personal protective equipment and advised on changing workflows to keep physical distance in shared spaces where staff opened hundreds of boxes with samples and then performed thousands of tests each day. "We had a lot of conversations with Paul," says Elvinger. "He did risk assessments for our staff, helped us with people traffic and approaches to reduce potential exposures."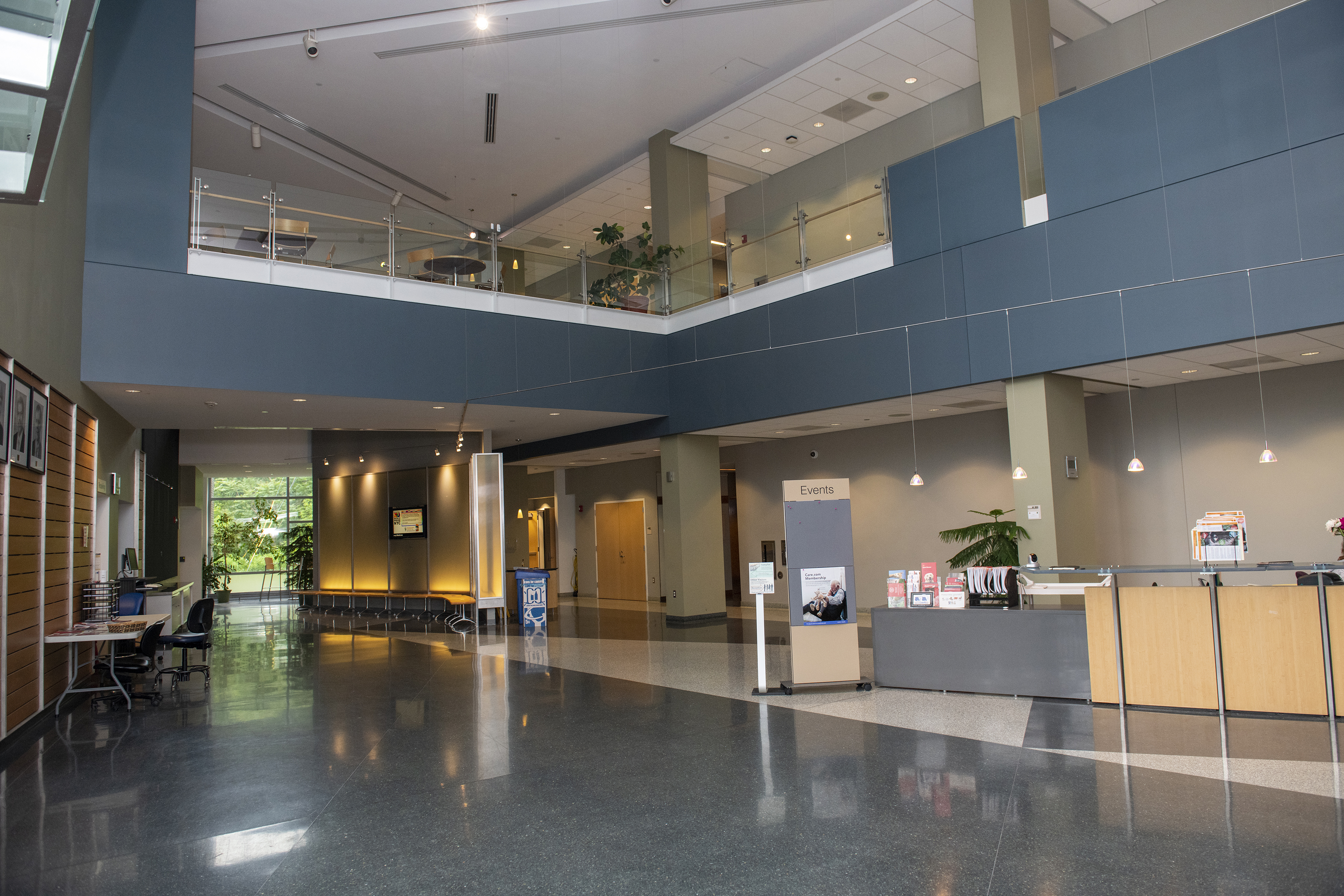 Testing tigers and more
Beyond the usual testing services the AHDC provides, the lab early on provided a test to detect SARS-CoV-2, the virus that causes COVID-19, in animals.
AHDC diagnosticians also diagnosed the first case of SARS-CoV-2 in an animal in the United States — a tiger at the Bronx Zoo had developed signs of respiratory disease with intermittent cough and audible wheezing. Veterinarians from the zoo sent respiratory swabs and tracheal wash samples to Cornell and the University of Illinois College of Veterinary Medicine Veterinary Diagnostic Laboratory. Diagnosticians performed polymerase chain reaction (PCR) assays, virus isolation, sequencing tests and microscopic examinations to confirm the tiger was infected.
While the AHDC has the capability to test animals for SARS-CoV-2, Elvinger notes that veterinary diagnostic laboratories across the United States have taken a cautious approach to testing animals. "There has to be a good reason to test for the virus in animals," explains Elvinger. "We realized that we were not sure how SARS CoV-2 test results from animals would guide treatment and help animal and public health. We test only after consultation with state veterinary and public health officials." As of early July, 36 animals globally had been reported infected with SARS-CoV-2, 17 of which were in the United States.
Testing students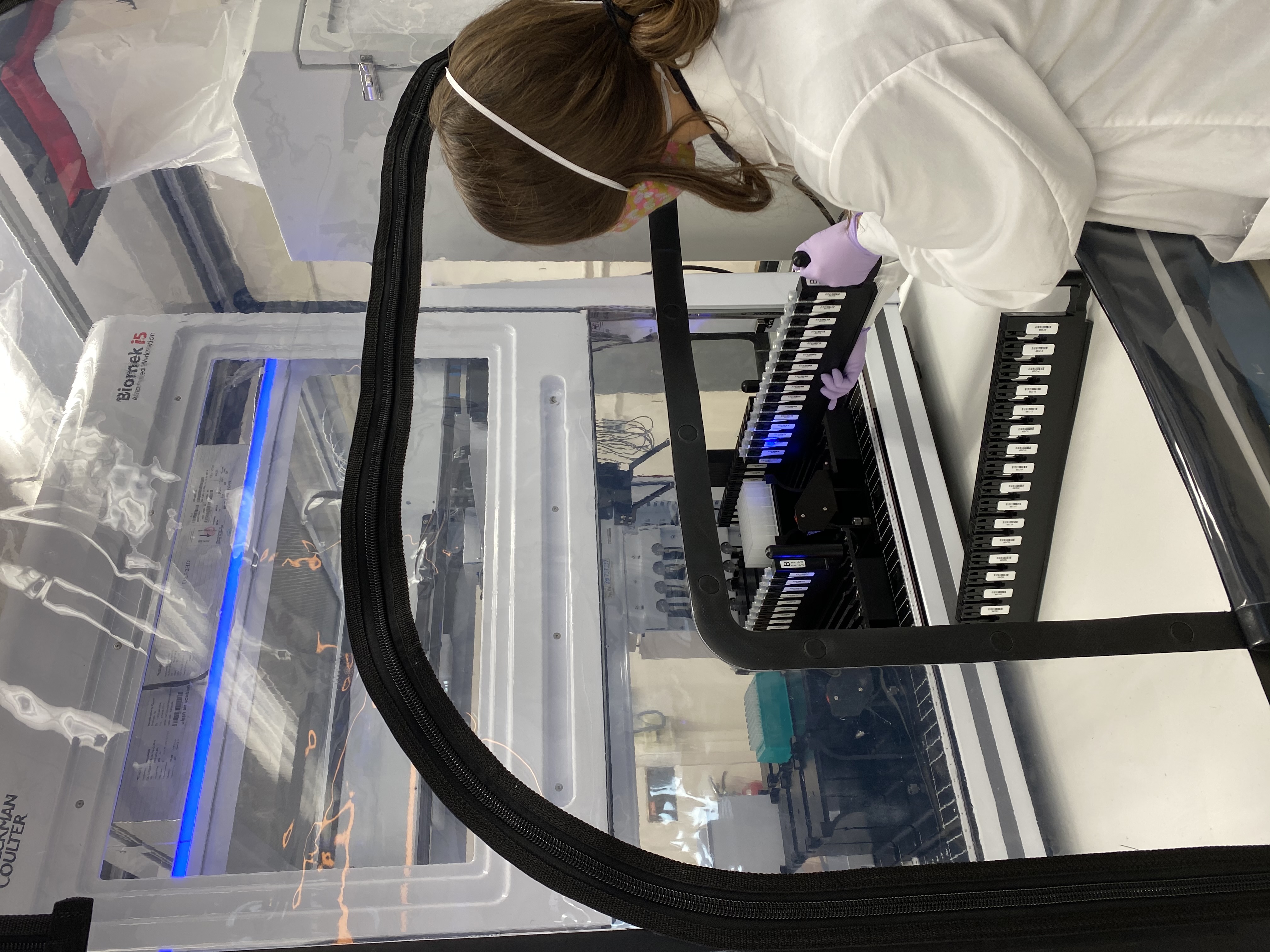 Human testing is an entirely different matter. With in-person classes slated to resume in early September, university leadership recognized the need for testing capacity to handle the comprehensive surveillance program needed to safely provide on-campus programs for the fall semester. College of Veterinary Medicine and AHDC faculty and staff are now establishing the Cornell COVID-19 Testing Laboratory (CCTL), an in-house viral testing center that will process the mandatory routine COVID-19 testing of all students returning to campus, as well as faculty and staff. Housed in a newly-renovated and equipped laboratory, AHDC experts will process the thousands of tests from the Cornell community. Potter will interface with all university teams and testing partners to ensure a solid surveillance program as the students return, while Dr. Diego Diel, associate professor of virology and director of the AHDC Virology Laboratory, is managing the testing with new diagnostic equipment and over 2200 square feet of laboratory space dedicated to the effort. The CCTL will work in close partnership with Cayuga Health System, the major local health provider in the Ithaca area. Importantly, this new laboratory will provide testing capacity on campus in a way that complements and preserves testing programs for the local region. The project also draws on the expertise from other faculty on campus and colleagues at Weill Cornell Medicine. "This interdisciplinary effort is a significant example of One Health and One Cornell themes in action," says Lorin D. Warnick, D.V.M., Ph.D. '94, Austin O. Hooey Dean of Veterinary Medicine.
In all, the scope of the project has involved preparing the new lab itself, to coordinating everything from sample collection to result delivery. Currently, Potter says they have everything lined up for a successful launch in mid-August. While the project is "stressful and challenging, it's invigorating at the same time," says Potter. "I enjoy solving problems, and this is a big one." 
While the undertaking will be in uncharted territory for AHDC, the lab is up to the task. "We process huge numbers of samples every day, and do so accurately and safely," Elvinger says. "While there are new logistical challenges to testing the Cornell student population, we have the expertise in place to process their samples in the newly launched laboratory, while maintaining the important and vital work for our animal health stakeholders in the Empire State and beyond." •