Outreach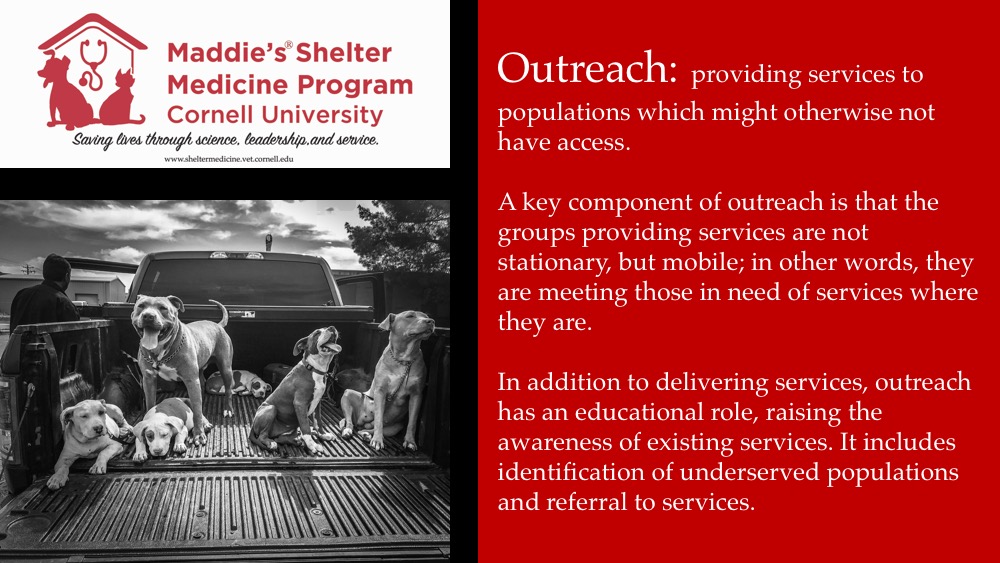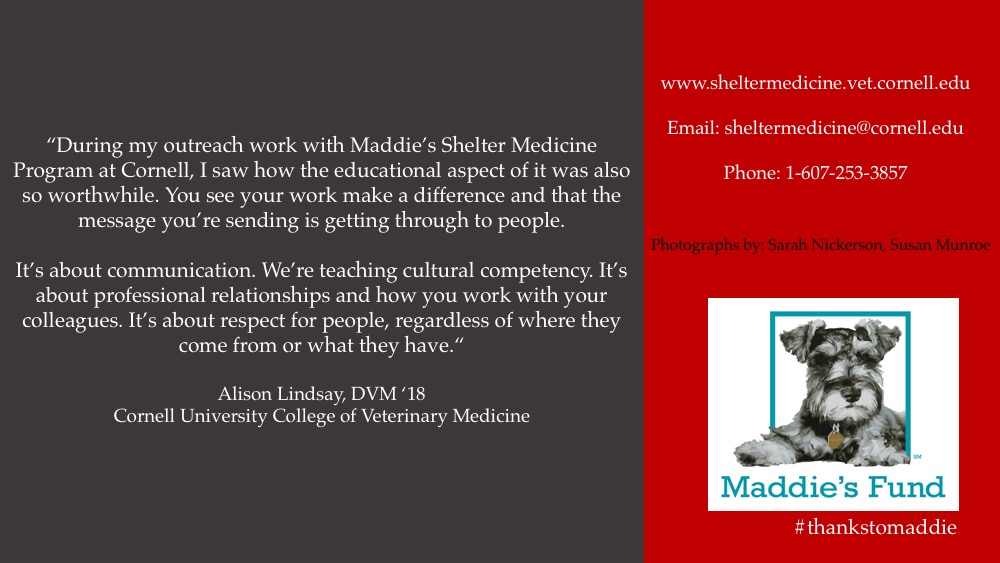 ---
CornellVet Cares Community Cat Clinic
Dear CU Faculty, Staff and Students!
Do you have barn cats? Or a barn cat "problem"?  Stray cats that just showed up, but are doing well on your property?  
Thanks to a generous grant from Dr. Hollis Erb,  Maddie's Shelter Medicine Program at Cornell will be offering free spay/neuter and vaccination for outdoor/ free-roaming cats of Cornell employees and students on specific dates through the end of November 2019.
Who: Intact outdoor cats of Cornell employees and students (must register with a NetID).
What: CornellVet Cares Community Cat Clinic: Free spay/neuter and vaccinations for outdoor/free-roaming cats! Exams and surgeries will be performed by Cornell-employed veterinarians and veterinary students under direct supervision.
Where: The new Small Animal Community Practice building on the corner of Caldwell Road and Campus Road.
When: 
May 17, 2019 (Clinic full)
June 14, 2019
Aug. 02, 2019
Aug. 23, 2019
Sept. 20, 2019
Oct. 18, 2019
Nov. 22, 2019
Why: To help prevent unwanted litters of kittens, and because we like you.
How: Watch for emails announcing upcoming clinic dates, registration information, and clinic instructions.
(*There is limited space. Once spaces are filled for a particular clinic date, the registration link will be deactivated.) 
Questions? email sheltermedicine@cornell.edu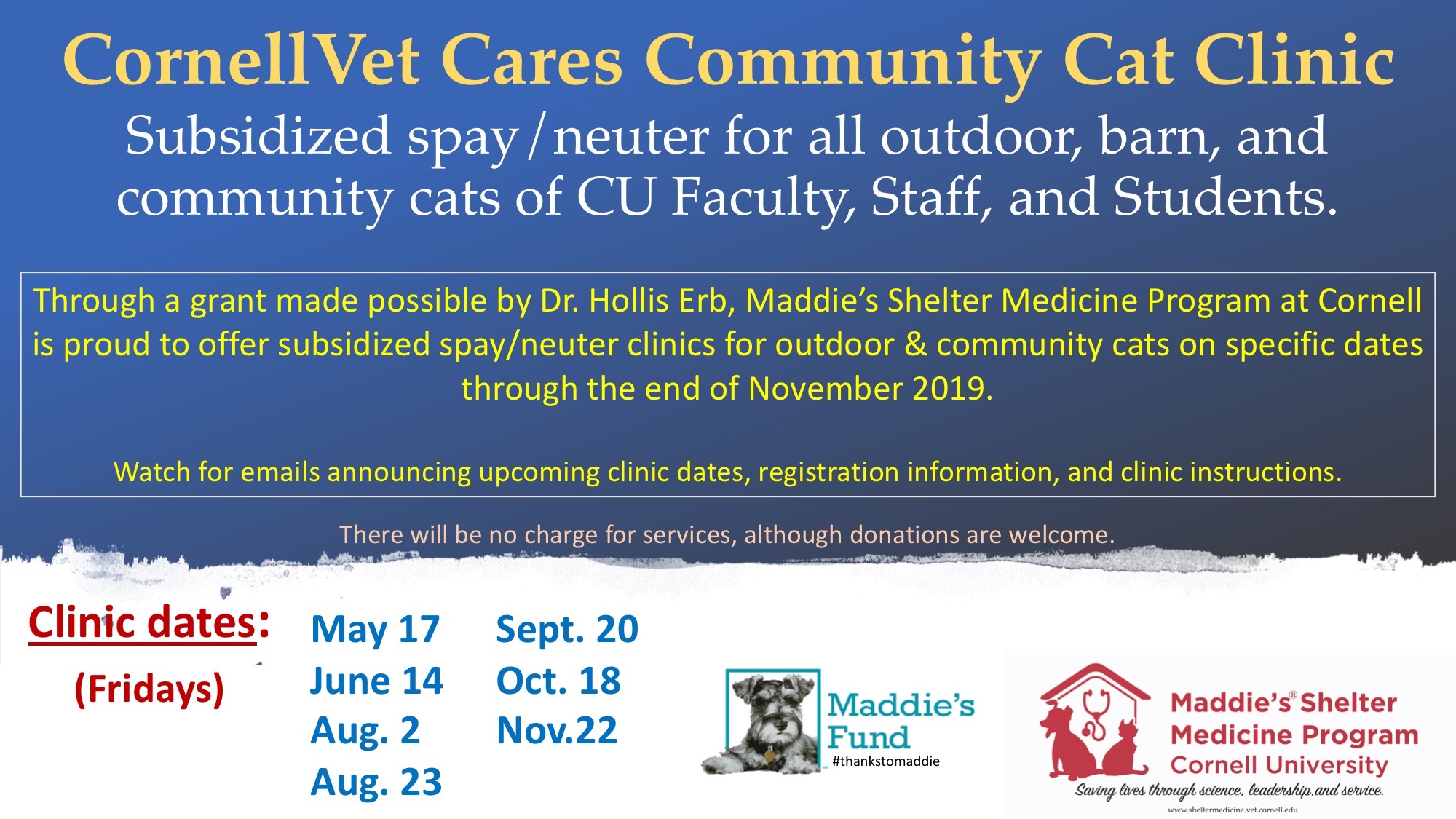 ---
Outreach
We work with animal shelters and many organizations across the United States and even in Canada. We educate and support the organizations and their staff and volunteers that work to save animal lives.  We have done outreach work in each of the communities that are marked above, either through our consultation services or outbreak response assistance, by offering Continuing Education opportunities, or through our Maddie's® Shelter Lab, offering subsidized diagnostic services to animal shelters in partnership with the AHDC. We also continue our work with the students at the Cornell Vet School to train well educated and confident veterinarians by offering classes, clinical rotation opportunities, and supporting the student-run Shelter Medicine Club. You can find more detailed descriptions of our outreach work in the sections below. 
---
Maddie's® Shelter Medicine Program at Cornell
2017 Program Highlights
Direct animal care
1820 dogs, cats, birds, and small mammals at SPCA of Tompkins county were directly treated by the MSMP program, including victims of neglect and cruelty as well as stray animals and those surrendered by their owners
1350 surgeries were performed on shelter animals by MSMP staff and students
Training
456 shelter veterinarians, staff and volunteers participated in the 14th annual ASPCA Cornell Maddie's® Shelter Medicine Conference hosted on the Cornell campus
2 shelter medicine interns, Drs. Lisa Rodriguez and Allison Clarke, completed their year-long intensive shelter medicine training in July 2017 and joined the Animal Defense League of Texas and the Arizona Animal Welfare League, respectively
2 shelter medicine interns, Drs. Megan Stapleton and Meagan Wentworth, began their year of training at Cornell in June 2017.
8 shelters participated in monthly, on-campus CNY Shelter Forums facilitated by MSMP veterinarians
74 student members of the Shelter Medicine Club participated in weekend clinics, weekly case rounds, and fundraisers for local shelters
116 veterinary students trained through courses in Companion Animal Welfare, Introduction to Shelter Medicine and Advanced Shelter Medicine
Consultations
85 shelters served through the MSMP consultation hotline and email service for remote assistance
12 shelters received extensive, on-site targeted consultations from MSMP faculty, staff, and students
33 shelters participated in the subsidized diagnostic testing offerings of the Maddie's® Shelter Lab at the AHDC to improve their care for sick animals in their shelters
Other Outreach Events
2 MSMP staff participated in the Cornell Stance Against Domestic Violence Community Gathering during National Domestic Violence Awareness Month
4 MSMP veterinarians participated in the bi-monthly Southside Healthy Pet Clinics run by students in the Ithaca community for low income pet owners
Share this: