Zoo University
Education and conservation drive Cornell-zoo partnership
By Lauren Cahoon Roberts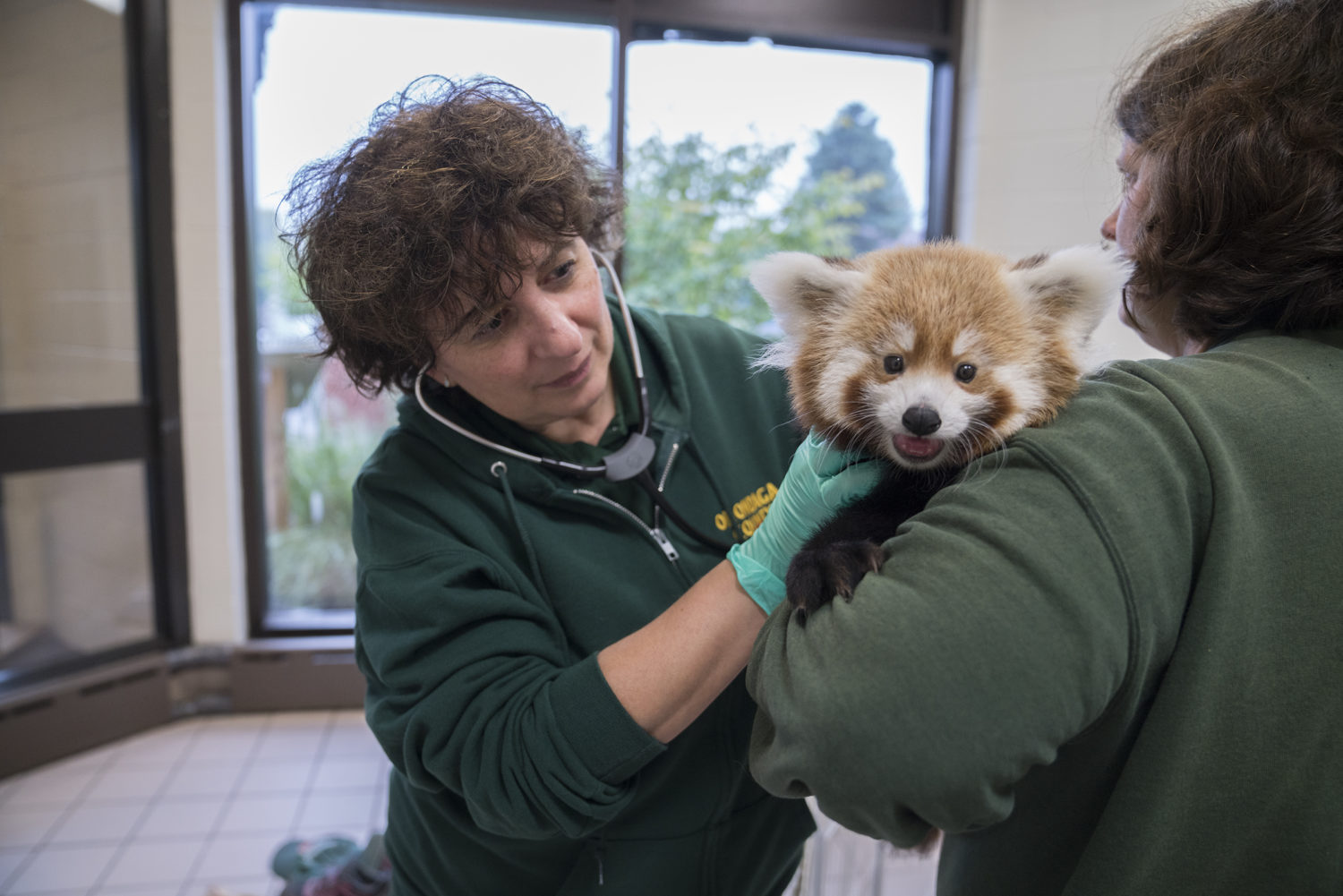 It was spring of 1997. A team of experts from the Cornell University College of Veterinary Medicine drove north on New York Interstate 81 in a rented truck packed with expensive and unwieldy equipment to see a very special patient — a three-month old Asian elephant named Mali.
Mali was born at the Rosamond Gifford Zoo in Syracuse, New York. While Mali's birth had gone smoothly, she was born with an umbilical hernia — a defect in the abdominal wall where a loop of intestine bulged dangerously. While these abnormalities can often close on their own, Mali's had not — increasing her risk of death or complication during future pregnancies. With only 40,000 of her species left, ensuring Mali's survival was imperative.
Surgery was the only option, but a daunting one. General anesthesia and surgical interventions in elephants came with high mortality rates. At that time, only two other cases of surgical hernia repair had been reported for this species — and both had postoperative complications. What Mali needed was anything but routine.
Fortunately, the zoo staff knew Dr. George Kollias, section head of zoological medicine at the time (now the Jay Hyman Professor Emeritus of Wildlife Medicine) and an expert on elephants. After getting the call for help, Kollias assembled a team: his zoological medicine colleague Dr. Noha Abou-Madi; large animal surgeons Drs. Norm Ducharme and Richard Hackett; and large animal anesthesiologist Dr. Robin Gleed. The group loaded an anesthesia machine, a large animal surgical table, and all necessary medicines and supplies into a rented moving truck to build a makeshift surgical suite at the zoo.
For nearly an hour, the team worked calmly and meticulously on the surgery, while the zoo staff waited, holding their breath.
That high-stakes surgery sparked what has become a 22-year relationship between the Rosamond Gifford Zoo and the Cornell University College of Veterinary Medicine.
This formal contract, drawn up by Kollias and the zoo, is mutually beneficial, providing world-class care for endangered species while giving veterinarians and students unprecedented access and training on rare species and conditions. It also enabled Cornell to launch a residency program in zoological medicine, which formed a trifecta alongside Cornell's wildlife health center and exotic pet clinic.
"We were travelling to the zoo one day a week to take care of medical concerns," says Abou-Madi."Our visits grew to two, three, and now four plus days a week. We are on call 24/7 and match our visits to their needs; the collection has grown and we are involved in many aspects of the care of these special animals."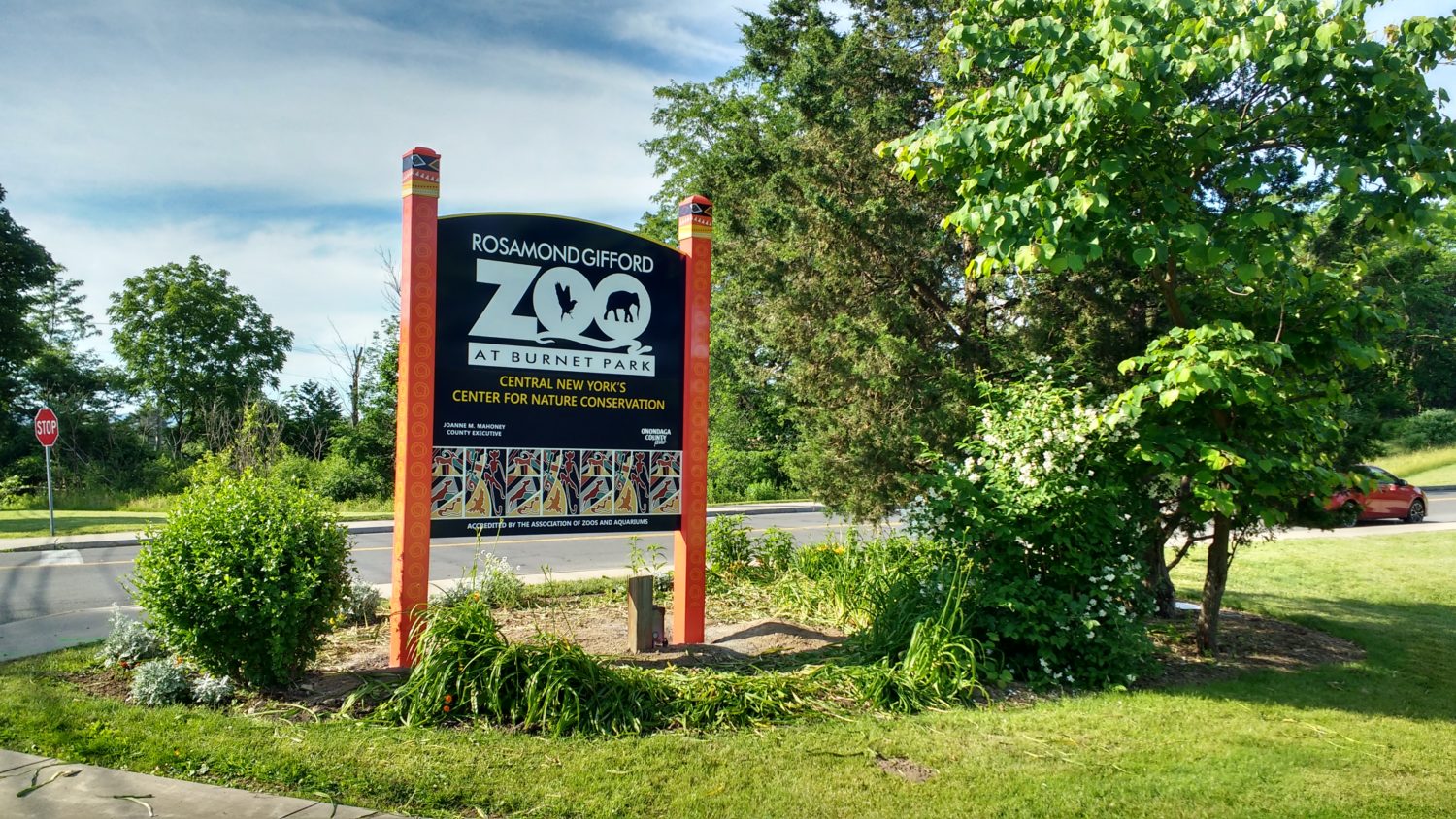 Full circle
Mali has since grown into a four-ton, 10-foot tall adult Asian elephant. She continues to benefit from Cornell's veterinary expertise — including procedures such as ultrasound pregnancy checks, which the veterinarians provided leading during Mali's most recent pregnancy. This is no small task, and requires a team of professionals to help facilitate: two elephant keepers to stand at the patient's head to hand apple slices to Mali's questing trunk, a keeper to hold aside the tail, a veterinarian to assist with the ultrasound machine while another operates the probe, and several other members of the team standing close by for extra assistance should it be needed. It also requires a preparatory enema — and all the accompanying effluent you might imagine.
The ultrasound provided key updates on the status of Mali's baby, a healthy male calf named Ajay ("Ah-JAI") born without complications on January 15, 2019.
"We were so thrilled to see Mali successfully deliver her third baby," says Abou-Madi. "It has been a tremendous privilege to have seen our work come full-circle — to have had a role in helping Mali when she was young, and now to assist her in producing her own healthy offspring. For these critically endangered species, each healthy baby means so much to the survival of their kind."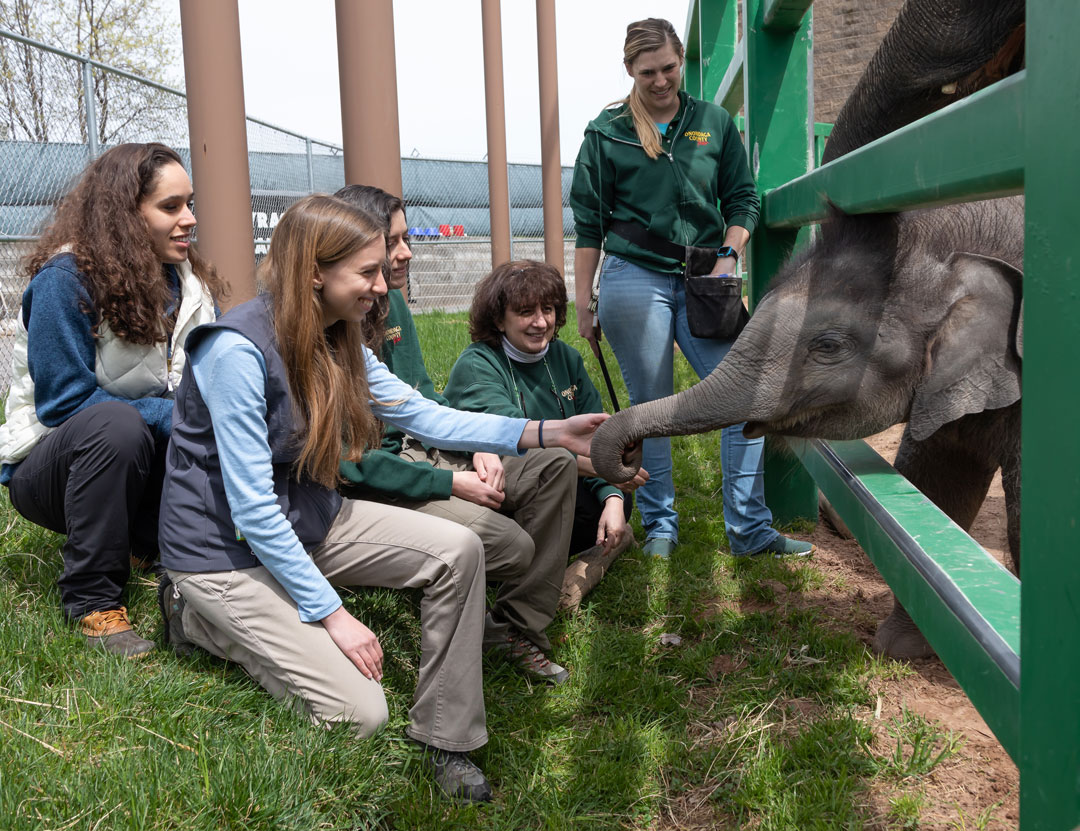 From lemur fertility to python tears
An average day at the zoo for the Cornell clinical team calls upon multiple skills and exposes them to a variety of species, but the schedule typically remains the same. They start the day while driving to the zoo for rounds with the zoo staff to schedule the day and get updates on the animals. Mornings are for procedures that require anesthesia, followed by walking-rounds throughout the zoo to check on cases. Afternoons may see a continuation of the rechecks, examinations on quarantined animals, evaluation of blood diagnostic results and the ever-unavoidable paperwork. While the zoological medicine service is there several days a week, many of CVM's specialty services will travel throughout the year to the zoo to lend their expertise on an as-needed basis.
One such specialty is the theriogenology service, which has had a long relationship with the zoo. In the early days of the partnership, Robert Hillman, D.V.M. '55, renowned professor and large animal theriogenologist, played an essential role in helping the zoo develop its species' reproduction programs, while also helping to develop several alternative medicine therapies for the zoo animals.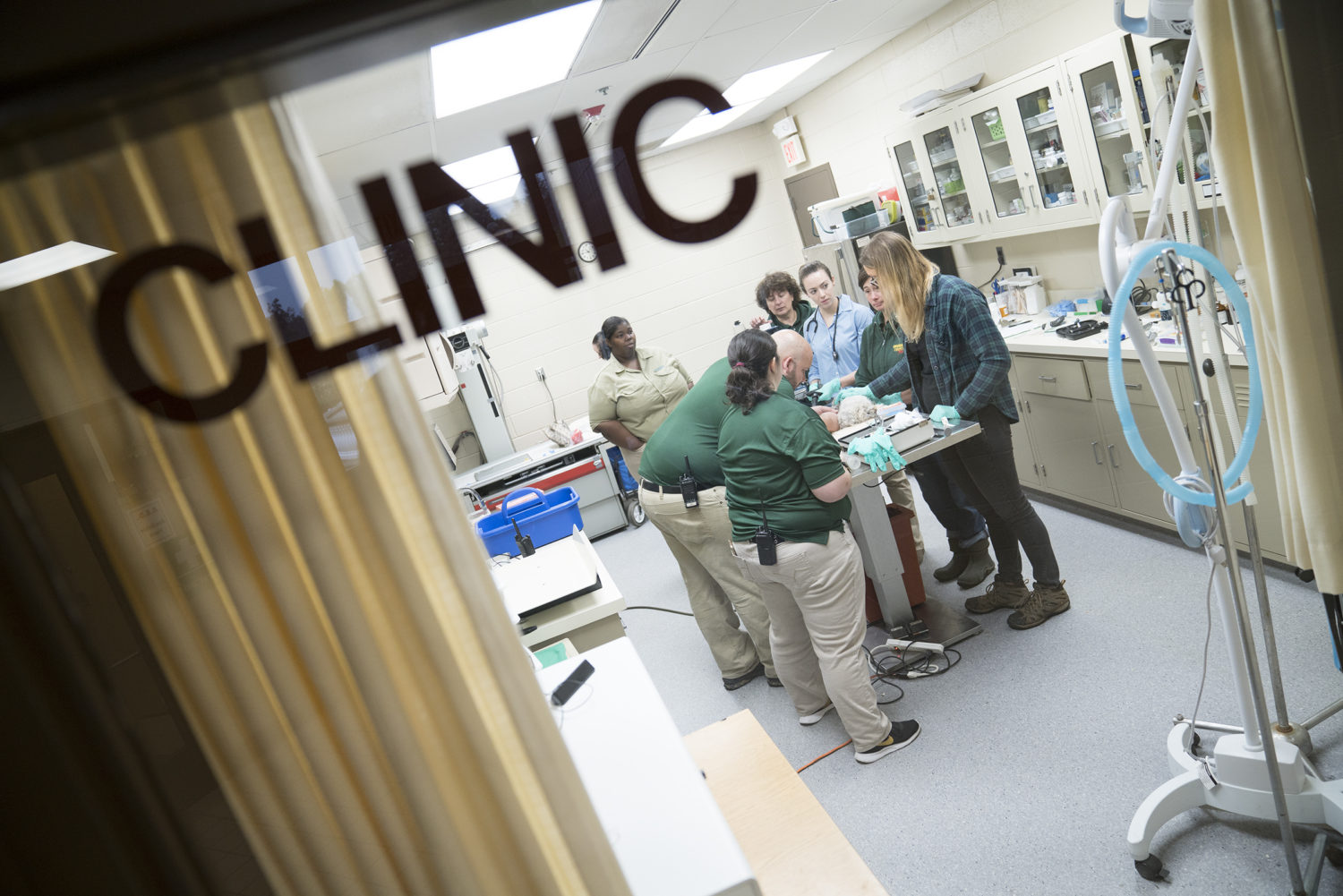 Today, Hillman's work continues through resident Dr. Lacey Rosenberg and her mentor, Theriogenology Section Chief Soon Hon Cheong, Ph.D. '12. This team helped to ultrasound Mali the elephant, and also conducted another ultrasound on a very different type of patient — a black-and-white ruffed female lemur named Fiori. Fiori had not conceived despite living in the same enclosure for over two years with two males. With only about 10,000 of these lemurs left, Fiori's lack of pregnancy is a vital mystery to solve.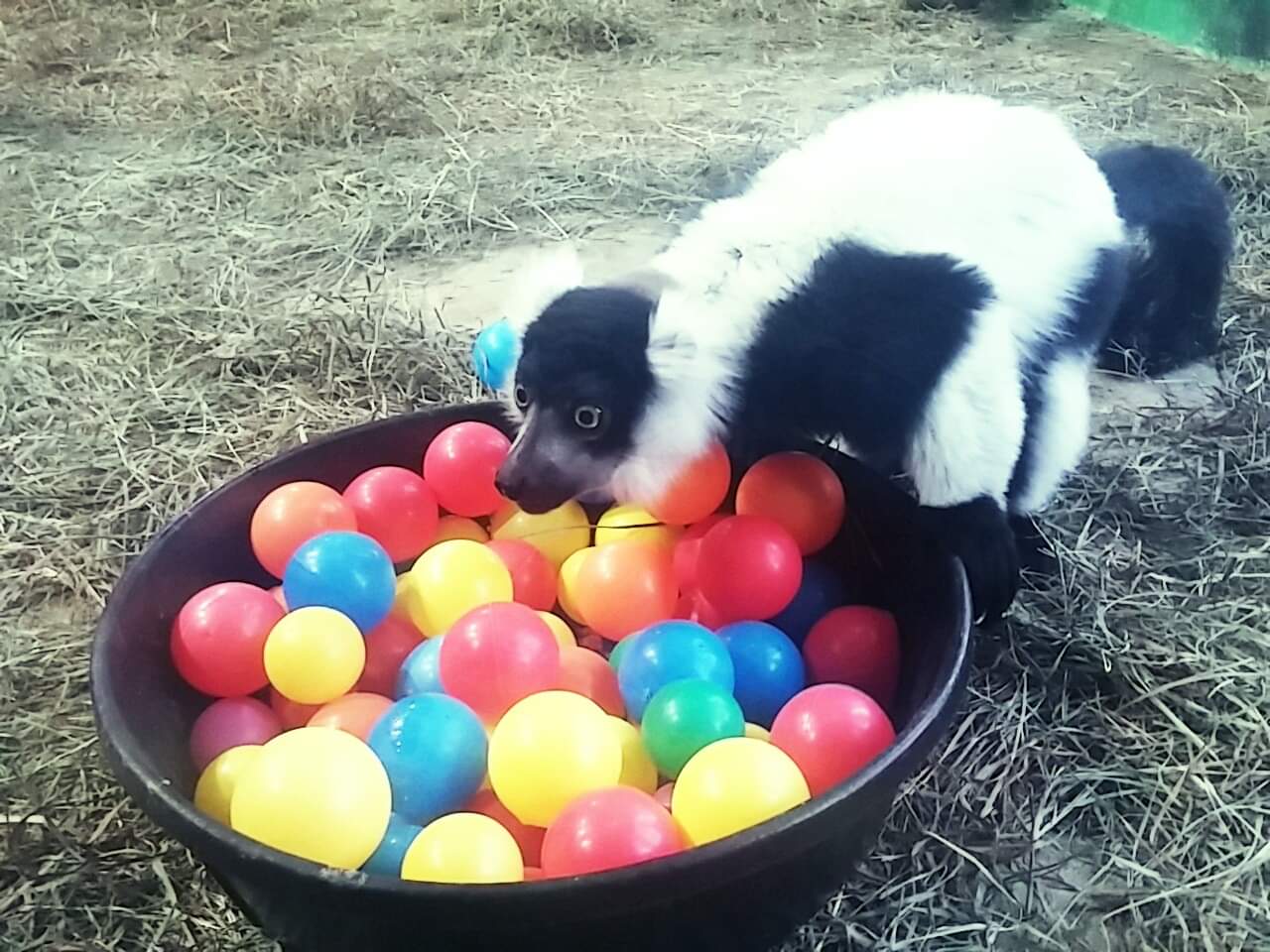 Cheong worked with zoo animals before coming to Cornell. He recalls working as a veterinary student at a zoo in his native Malaysia where a sedated tiger woke up unexpectedly in an exam room. "The first rule of thumb with working with zoo animals? Don't forget where the exits are," he says.
Fortunately, Fiori was slightly less intimidating than a tiger. Anesthetized on the exam table in a jumble of lanky black and white fur, she received a thorough check up. The team examined old health issues, like a nodule in her mouth, and administered necessary vaccines. Cheong and Rosenberg then did the ultrasound and took radiographs, but everything appeared normal. To date, Fiori has still not gotten pregnant. "Our next plan is to investigate the reproductive status of the male parterned with her," explains Abou-Madi. "We think he may have some fertility issues."
On most days, it's the zoological medicine service that's doing the daily routine of procedures, rounds, rechecks and paperwork. That team is led by Abou-Madi, with interns Dr. Michael McEntire, Dr. Alyssa Mones and resident Dr. Cynthia Hopf. On a recent morning of rounds, McEntire, along with two fourth-year veterinary students, check on the day's patients — and the species list is as variable as ever. First is the silkie chicken that requires radiographs and blood samples to help diagnose her recent lethargy. Next, a ringed teal (a small duck) with a resolving wing wound. Then, an enormous reticulated python with a blocked tear duct. Basil the two-toed sloth is up next — she's recovering from an abdominal hernia — followed by a Humboldt penguin that has been sporting a squinty eye and a tender foot. After that, the team arrives at the elephant barn, where they'll be administering a maintenance laser skin treatment on Romani, a 42-year-old female, to prevent sores on her cheeks.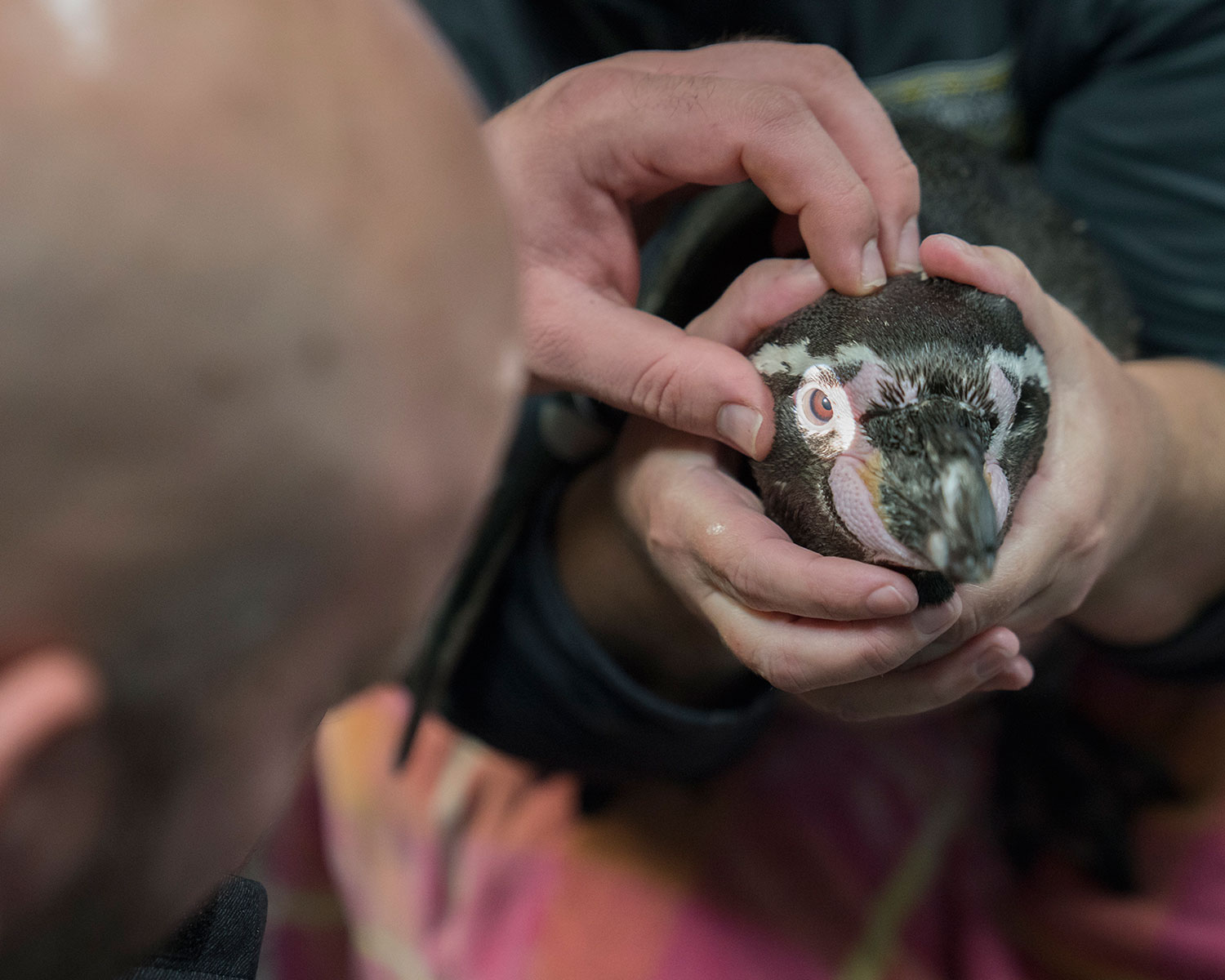 In the near future, the Cornell team will be able to do even more for their patients of all sizes, as the zoo has plans for a new six- to seven-million-dollar medical treatment and quarantine facility that will be able to accommodate animals of many shapes and sizes.
A symbiotic partnership
With each visit the Cornell veterinarians and students make to the zoo, the animals benefit from their world-class care and knowledge. Concurrently, the Cornellians are just as lucky to have this partnership. Veterinary students on the zoo and wildlife rotation get hands-on experience like no other. "If it's a situation that's appropriate to have students participate in, we will involve them in every single step," says Abou-Madi. This can involve outlining treatment plans, running diagnostics, helping with procedures and beyond. Not many other vet schools provide this kind of hands-on exposure at a zoo."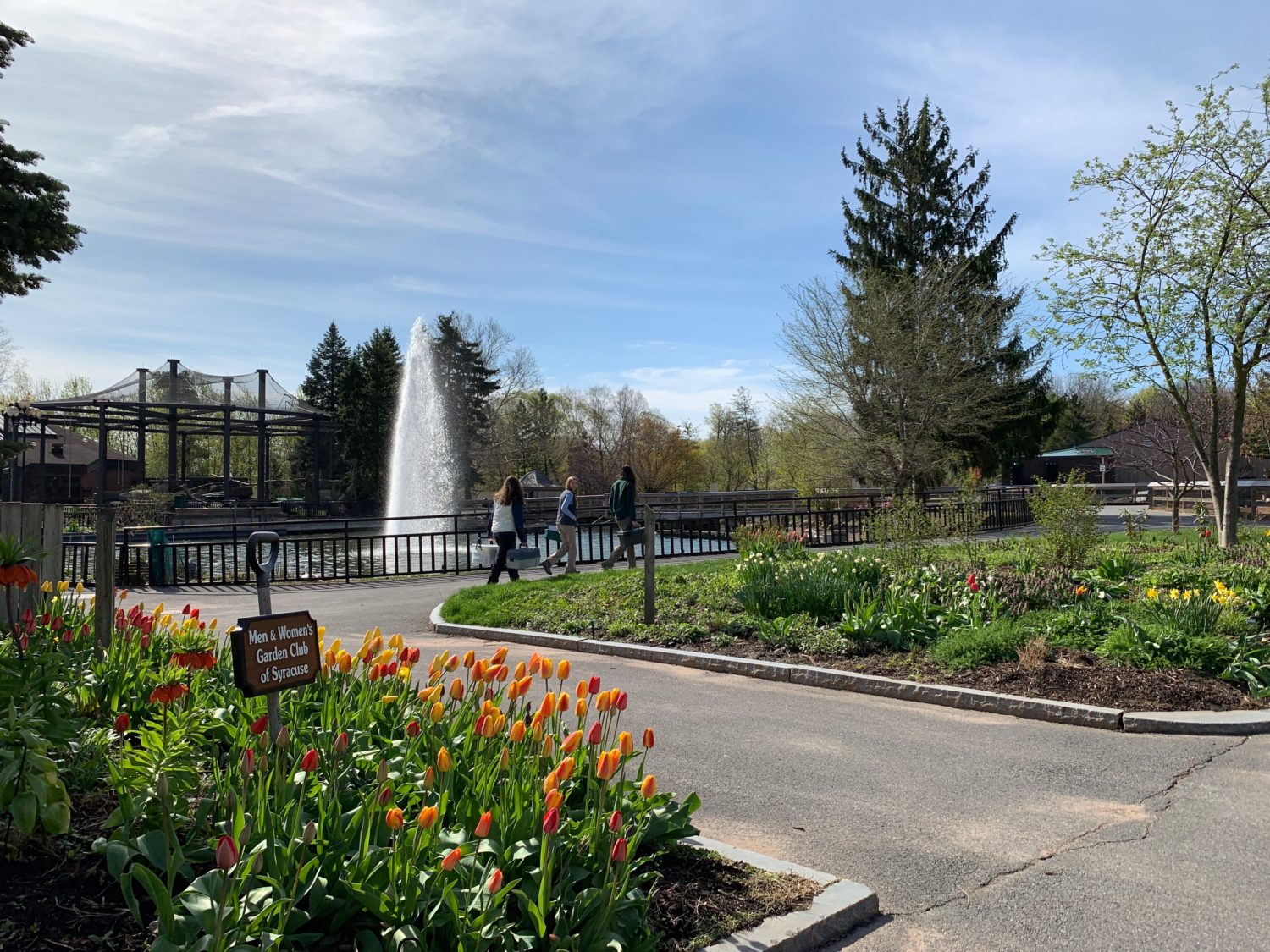 Fourth-year student Zachary Dvornicky-Ramond is one student who benefits from the hands-on work the zoo medicine rotation provides. "I knew I wanted to work with wildlife even before I wanted to be a veterinarian," he says. He chose to only apply to the Cornell because he was so drawn to its wildlife and zoological medicine program. During his rotation at the zoo, Dvornicky-Raymond learned how to diagnose, treat and handle zoo animals. He supplemented this experience through extracurricular programs such as Expanding Horizons and trips to the Belize Zoo to study with Kollias, who initiated a partnership between the college and the Belize Zoo in 2011.
Research is another component of this symbiotic relationship between the zoo and Cornell. The zoo animals provide veterinarians constant access to physiological and behavioral data that can be used in baseline studies to build up general understanding of exotic and endangered species. "There is a large amount of knowledge that still needs to be put together, and that lack of information can sometimes make diagnosing ailments in some of these animals very challenging," says Abou-Madi. "So any knowledge we gather from our zoo patients, we share with our colleagues across the entire zoo community, and it creates a snowball effect of information that gets better all the time."
Many medical findings that zoo and CVM staff discover during routine care of the animals will be published and shared with peers — such as a recent pharmacokinetic study on an antifungal drug, itraconazole, in penguins, or research done on calcium and vitamin D metabolism in elephants. Abou-Madi's data gathered from the zoo's elephant herd have been crucial in developing a technique to collect cells from elephant umbilical cords to study the elephant endotheliotropic herpes, a form of herpesvirus that is highly fatal in young Asian elephants. This technique has now been used in labs around the world.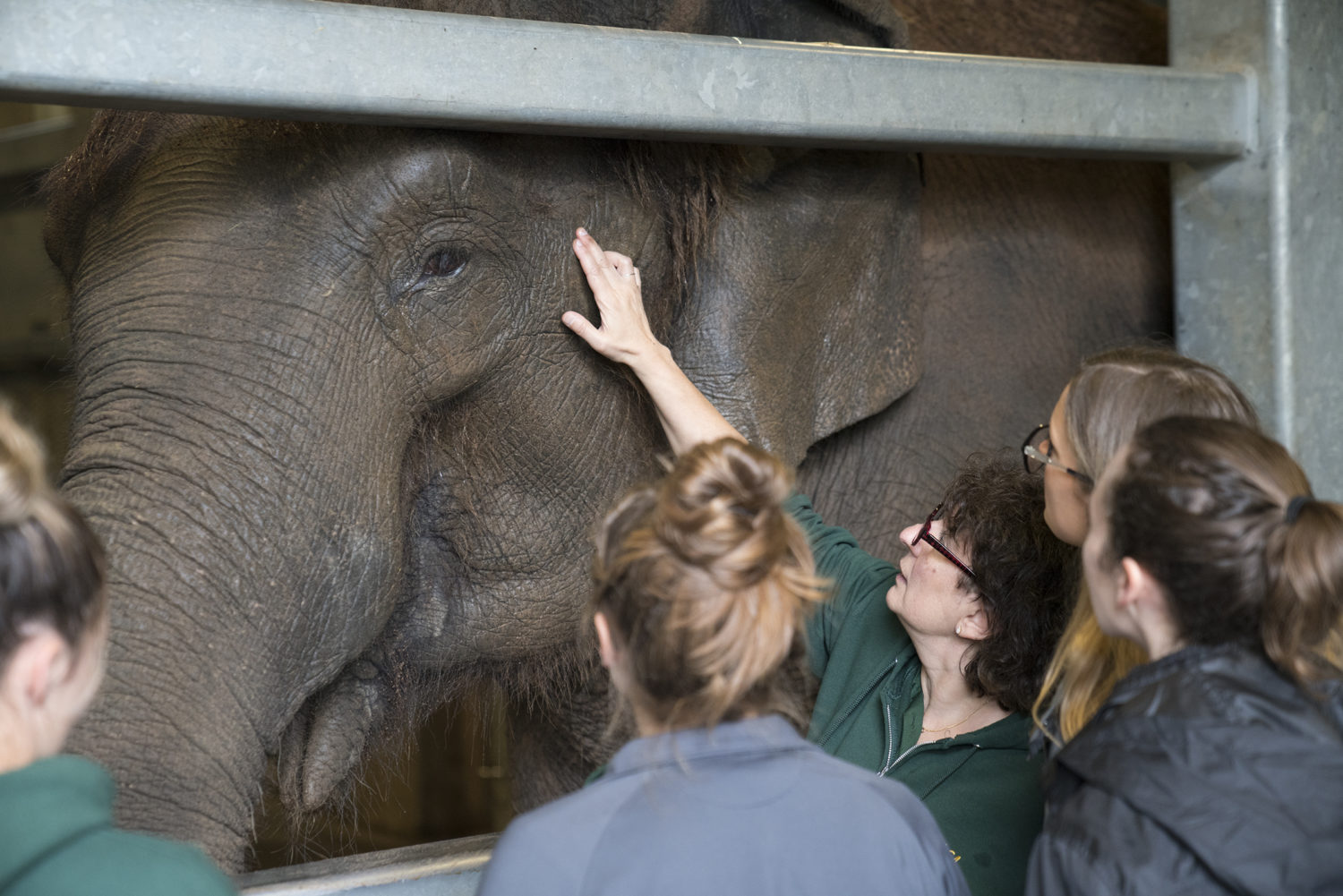 Far-reaching impact
Just as the research discoveries coming from the Cornell-Rosamond Gifford Zoo relationship helps zoo animals around the world, so does the training help future veterinarians. "One of the major contributions this partnership provides are our graduates who are now working in the field of zoological/conservation medicine," says Abou-Madi. So many Cornell veterinary students and zoo medicine interns and residents have gone on work at zoos around the country, including the Cleveland and the Atlanta zoos and Zoo New England — and others going on to teach zoo veterinary medicine at institutions such as UC Davis.
Susan Bartlett, D.V.M. '03, is an associate veterinarian at the Wildlife Conservation Society, the umbrella organization that includes the Bronx Zoo, Queens Zoo, Prospect Park Zoo, Central Park Zoo and the New York Aquarium. She knew from the start of her time at Cornell that she wanted to work with zoo and wildlife animals. Bartlett returned to Cornell for a three-year zoological medicine residency, and stayed on another year when Dr. George Kollias went on to sabbatical to help cover for his clinical and teaching responsibilities. 
As a veterinary student, Bartlett was especially keen to work with Asian elephants. Abou-Madi and Kollias gave her a unique research project — to establish normal ECG values in Asian elephants. "The staff of the Rosamond Gifford Zoo was very supportive of the work, allowing me to develop a novel ECG clip," says Bartlett. When she returned to Cornell as a resident, she completed the project, obtaining ECGs on Rosamond Gifford Zoo elephants as well as others, and published the results.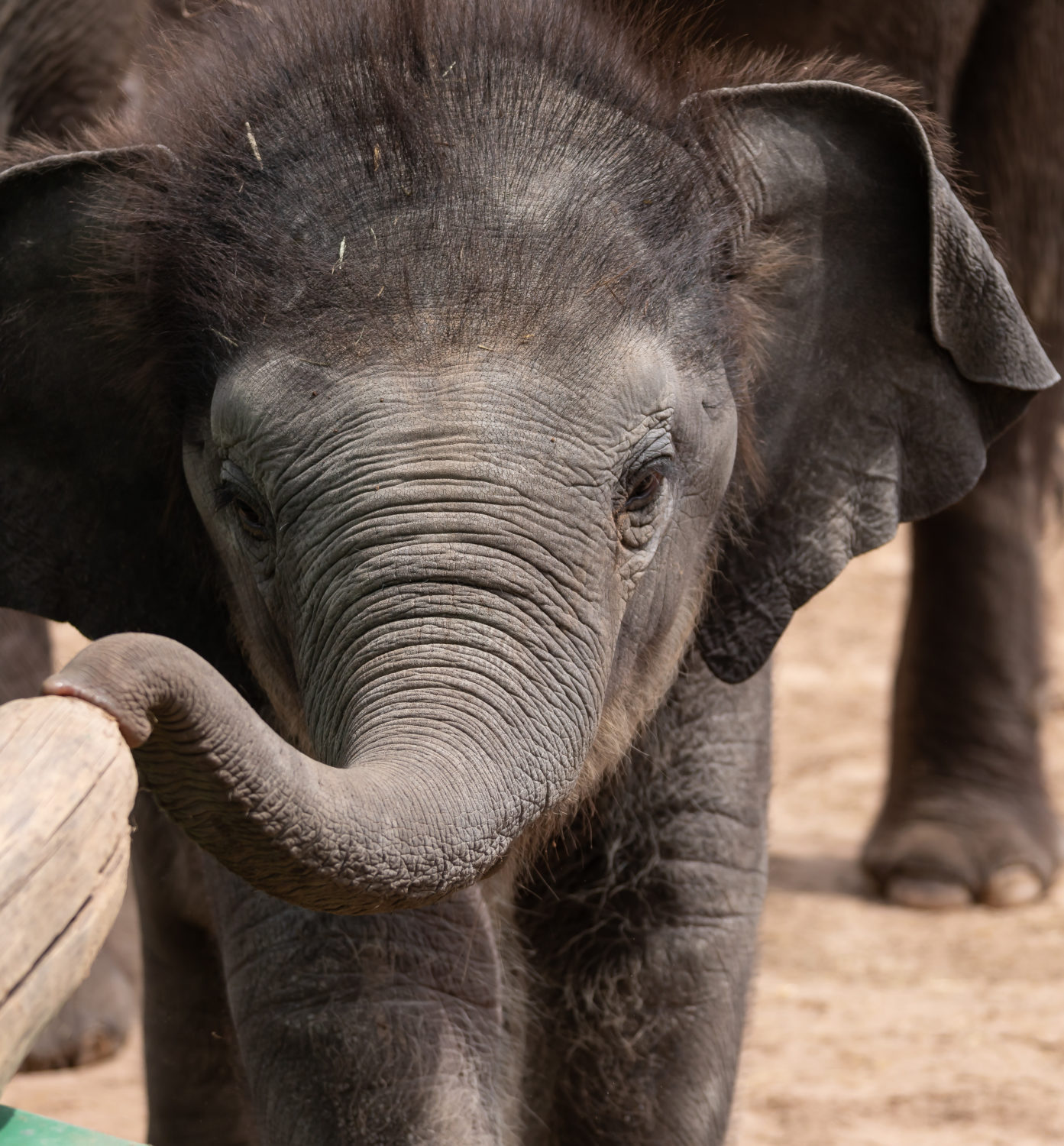 "Cornell gave me such amazing opportunities. Not every veterinary school has courses in zoological medicine, let alone offers the ability to actually rotate through a zoo as a veterinary student — it's quite special," says Bartlett. "Cornell offers several courses in zoo, wildlife and exotic medicine. The classroom training is superb. Coming back as a resident and then joining for a year as a faculty member was so rewarding and made me the vet I am today. I will be eternally grateful."
Past and future partnership
At the end of any given day at the zoo, Cornell students and veterinarians are bone-tired, slightly stinky, splattered, facing a long drive down I-81 back to Ithaca. Yet they'll each be going home with a smile and valuable new experience — just as Abou-Madi did 22 years ago when she and her colleagues helped with the surgery of Mali the elephant, and just as future Cornell students and veterinarians will do as this partnership lives on for years to come.
Through this vibrant exchange of care and experience, the Rosamond Gifford Zoo and the college have developed a meaningful relationship that has blossomed over the past two decades, meeting both institutions' missions to improve the wellbeing and protection of all animal species.
"Ever since I was a child, I have been yearning to learn about nature and wild animals, and how to protect them," says Abou-Madi. "The zoo allows me and so many others to actively make a difference in that very way."
Photos by Christine Bogdonawicz, the Cornell College of Veterinary Medicine and courtesy of the Rosamond Gifford Zoo.