Peer Mentors
Meet our BBS Peer Mentors
The members of the Biomedical and Biological Sciences Peer Mentors are a dedicated group of current students that help incoming students transition into the BBS program, provide peer support to current BBS students, and answer questions from prospective students. They are here to share their personal perspectives and experiences as a BBS graduate student with you via email. Please feel free to contact them by clicking on their name. Please note that questions related to administrative matters can be directed to the Office of Graduate Education.
Richard Adeleke
Ph.D. Student - Dr. Hector Aguilar-Carreno
Hi Everyone, I'm a second-year PhD student in the BBS program. I work in Dr. Aguilar-Carreno's lab, and my research is mainly focused on developing novel vaccine platforms for coronaviruses, influenza, and paramyxoviruses. Asides vaccine development, I have a deep-seated interest in screening potent antivirals against live viruses in a BSL-3 lab setting. I love networking with people, and I participate in volunteering activities focused on boosting the interest of high school students in biomedical science.  Outside the lab, I watch movies and love vibing to Afro music.
Paula Banuelos
Ph.D. Student, Mentor -  Dr. Elizabeth Johnson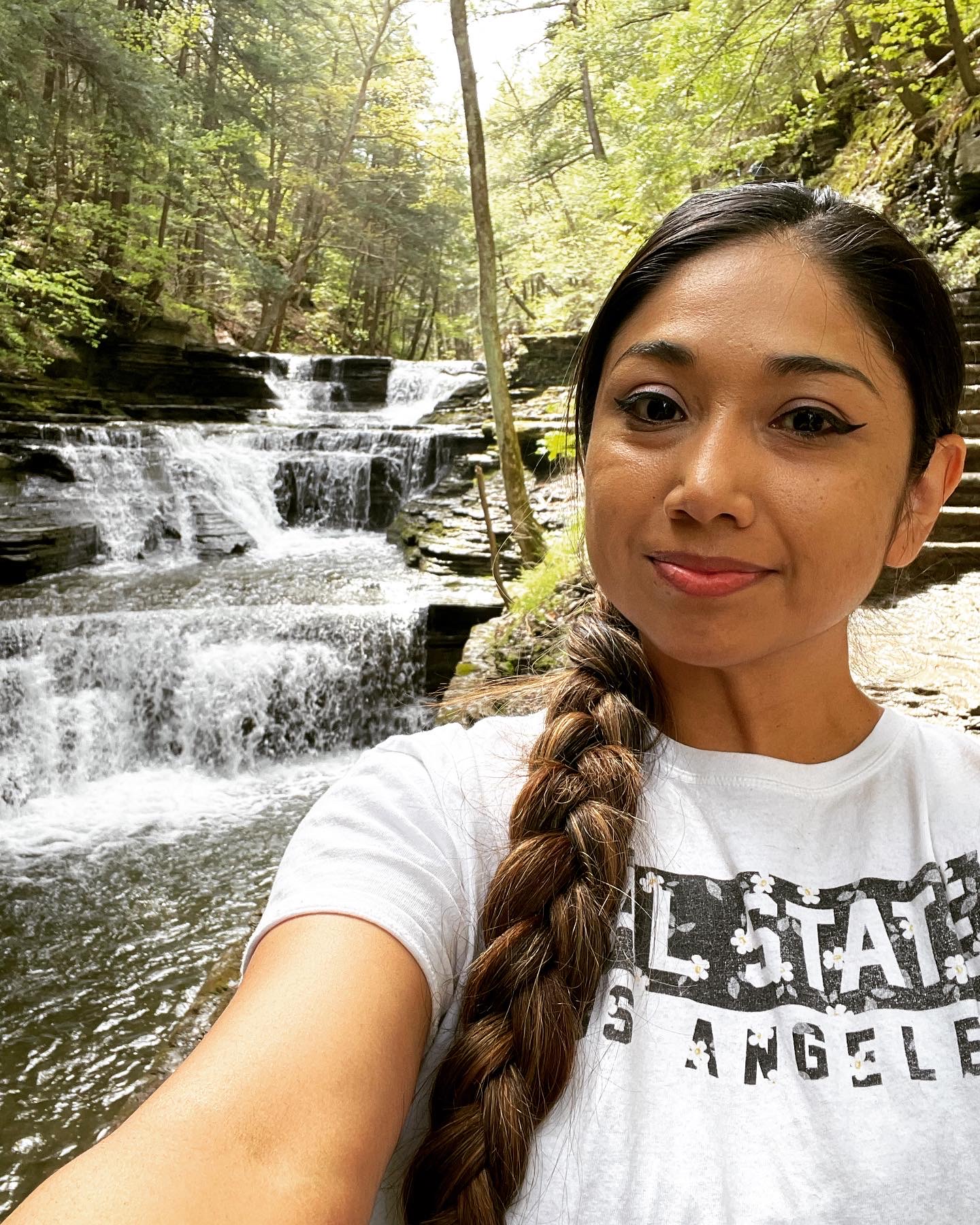 Hello there! I'm a 4th year PhD student in the Johnson lab. My research focuses on exploring how dietary choline affects the gut microbiome. When I'm not in the lab, I love spending time with my furry friend, Molly, and checking out the gorgeous waterfalls in Ithaca on sunny days. Plus, I always enjoy helping out fellow grad students who might be feeling a bit overwhelmed during their first few years of grad school.
Eleanor Best
Ph.D. Student, Mentor - Dr. Susan Daniel
Hi everyone! My name is Ellie and I am a member of the Daniel Lab in the Department of Chemical and Biomolecular Engineering where I study biosensing and bioelectronics. I am originally from England and gained my veterinary degree and Masters from Bristol Veterinary School before working in clinical practice for a short time. I then moved into a research focussed role at Bristol University working on antimicrobial drug discovery and developed a passion for entrepreneurship and the translation of research to clinics. In my spare time I love to play the piano, work on my YouTube channel and spend time with my super cute cat! 
Issahy Cano
Ph.D. Student, Mentor - Dr. Esak Lee
Hey everyone, I am a rising second year graduate student in the program. I am originally from northern Mexico, but I grew up in Florida. I received my undergraduate degree from the University of Miami and then worked as a laboratory technician at Harvard Medical School where I developed an interest in angiogenesis and cancer research. When I'm not in the lab, I enjoy playing video games and watching movies. During warmer weather, I love to play soccer and tennis.
Anthony Max Chen
Ph.D. Student, Mentor - Dr. Robert Weiss
Hi everyone! My name is Max and I'm a 2nd year PhD student in the Weiss lab. Before coming to Cornell, I received my DVM degree from National Ching Hsing University in Taiwan, where I discovered my passion in cancer research. My research is focused on cancer metabolism and tumor microenvironment. Outside of the lab, I enjoy watching TV and spending time with my cat.
Jingyi Chen
Ph.D. Student, Mentor - Dr. Andrew White
I grew up in China and immigrated to the United States with my family during my high school years. I obtained my bachelor's degree in Chemistry from the University of California, Berkeley. In May 2023, I became a member of Dr. Andrew White's lab in the Biomedical Science department. I am thrilled to delve into the study of resistance development in melanoma from targeted therapy. As a first-generation immigrant and college student, I aspire to inspire individuals with similar backgrounds to pursue research opportunities. Therefore, I also engage in the Diversity & Inclusion Council as well.
Dan Crowley
Ph.D. Candidate, Mentor - Dr. Raina Plowright
Howdy! I'm a 4th year PhD student in the Plowright lab. I try to understand what antibodies can teach us about spillover events from bats. Currently I'm working on models of antibody development in bats in response to viral infections and immunizations. Prior to graduate school, I worked in wildlife epidemiology with Wildlife Conservation Society and on public health projects for the NYC Department of Health and NGOs in South Africa and Tanzania. For fun, I ride my mountain bike in the summer and ski in the winter. Currently, I am trying to find a used white water kayak on Craigslist, I will let you know if I succeed.
Caylee Falvo
Ph.D. Candidate, Mentor - Dr. Raina Plowright
Hi everyone! My name is Caylee Falvo and I'm a member of Raina Plowright's lab. We study bat ecology and viral spillover, and my research is focused on understanding the metabolic and immune drivers of viral shedding in wild bats. I'm originally from California and I received my B.S. at UC Berkeley, then I worked as a wildlife technician for a few years before getting a M.S. at Colorado State University. In my free time I'm usually outside hiking with my dog, biking, or gardening. 
Laura Frazier
Ph.D. Student, Mentor - Dr. Pamela Chang
Hi everyone! I'm a fourth year PhD student in Dr. Pamela Chang's lab. Our lab uses biological and chemical approaches to study the gut microbiome. Currently, my project is focused on bile acids interacting with enteric pathogens. I grew up in Louisiana and received my BS in biology and neuroscience from Centenary College of Louisiana. During undergrad, I researched Human Cytomegalovirus, which sparked my interest in infectious diseases. Outside of lab, I enjoy spending time with my cat Toulouse, watching TV, and spending time outside.
Eric Gelsleichter
Ph.D. Student, Mentor - Dr. Hening Lin 
Hello, everyone!  I am a fourth-year PhD student in the BBS program.  I work in the lab of Hening Lin in the Department of Chemistry and Chemical Biology, where I study how certain post-translational protein modifications contribute to the pathogenesis of autoimmune and chronic inflammatory diseases.  I was a first-generation college student, and I grew up in a small rural community just outside Scranton, PA.  I have a BS in chemistry from King's College (Wilkes-Barre, PA), and I have a DVM from Virginia Tech (Blacksburg, VA).  Throughout my undergraduate and veterinary school years (and throughout the time between), I participated in research spanning the chemical and biological sciences.  After veterinary school, my wife, two daughters, and I lived just outside Syracuse, NY for 6 years, where I worked as a small-animal veterinarian prior to starting grad school at Cornell.  Beyond my professional life, I love spending time with my wife, two daughters, and son, especially doing anything outdoors or exploring our surroundings.  Once upon a time (i.e., prior to being a father of young children), I had many other interests that I someday hope to recapture (hiking/backpacking; camping; canoeing/kayaking; fly fishing; nature photography; fossil and rock collecting; learning to play guitar; learning music theory; history of science; history of medicine; traveling).
Dianne Gomez
Ph.D. Student, Mentor - Dr. Colleen Lau
Hi! I'm a second year PhD student who recently joined Dr. Colleen Lau's lab. Our lab utilizes multi-omic approaches to help leverage the ability of NK cells to acquire adaptive features so we can explore immune memory in the context of classic antigen-dependent and more unconventional antigen-independent memory responses. I'm originally from the Bay Area in California and received my B.S. from the University of California, Los Angeles. Outside of the lab I enjoy hiking, watching tv, and trying to improve my cooking and baking skills.
Brianna Knode
Ph.D. Student, Mentor - tbd
Hi all! My name is Brianna Knode, and I am currently a rising second year PhD student in the BBS program. I grew up in Vancouver, Washington, and completed my undergraduate degrees in genetics and chemistry at Washington State University. I have a passion for translational disease research, specifically in the context of cancer and regeneration. Some of my favorite things to do outside of work include reading, arts/crafts, climbing and playing soccer, cooking/baking, and spending time with my cats!
Melia Matthews
Ph.D. Student, Mentor - Dr. Karl Lewis
Hi! I am a third year student in Dr. Karl Lewis' lab in the Department of Biomedical Engineering. My research is focused on bone homeostasis and mechanobiology, specifically developing a new in vivo imaging technique with Cornell Dots. I am excited to be collaborating with the Wiesner Lab (Materials Science) and the Delco Lab (CVM). I received my Bachelors in Biology from Whitman College in Walla Walla, WA and I am originally from rural Northern California. Outside of science, I am passionate about outdoor recreation, especially swimming, skiing, scuba diving, and underwater photography. On campus, I am involved in a number of organizations, including Graduate Women in Science, the Cornell Undergraduate Research Journal, the Graduate and Professional Student Assembly, and the Club Swim Team. 
Kayleigh Morrison
Ph.D. Student, Mentor - Dr. Gunther Hollopeter
Hi! I'm a third year PhD student in Gunther Hollopeter's lab, where we follow a unique C. elegans phenotype called "jowls" to understand the genetic and molecular basis of membrane trafficking and epithelial integrity. Currently, I am studying the role of partitioning (PAR) proteins in regulating epithelial junction polarity, as well as utilizing electron microscopy to analyze the unique phenotypes of our C. elegans mutants. I am originally from Lawrenceville, New Jersey, and received my B.S. in biology from The College of William & Mary, in Williamsburg, Virginia. While at William & Mary, I researched spermatogenesis in C. elegans, which started my interest in the molecular mechanisms of development. Outside of the lab, I enjoy hiking, going to local concerts, and playing with my cat, Leonie!
Erica Secor
Ph.D. Student, Mentor - Dr. Heidi Reesink 
Hi! I'm a third year PhD student in Dr. Heidi Reesink's laboratory. Our lab focuses on a variety of topics related to joint disease and fracture, particularly in horses but with crossovers to a variety of other species, including dogs and humans. I am interested in the intersection between immunology and orthopedic disease. My specific area of research is related to the changes in immune cell populations and lubricin, a glycoprotein involved in both immunology and boundary lubrication, which occur in the development of equine joint disease. I grew up in Vermont but attended Cornell for both my undergraduate and veterinary degrees. Following veterinary school I completed a residency in equine surgery and spent 4 years as a private practice surgeon before returning to my alma mater for my PhD. Outside of the laboratory I enjoy trail running with my dog Annie, riding my horse Mocha, and hiking and cooking with my husband Andrew.
Elizabeth Williams Louie
Ph.D. Student, Mentor - Drs. Katharyn Mitchell & Jonathan Butcher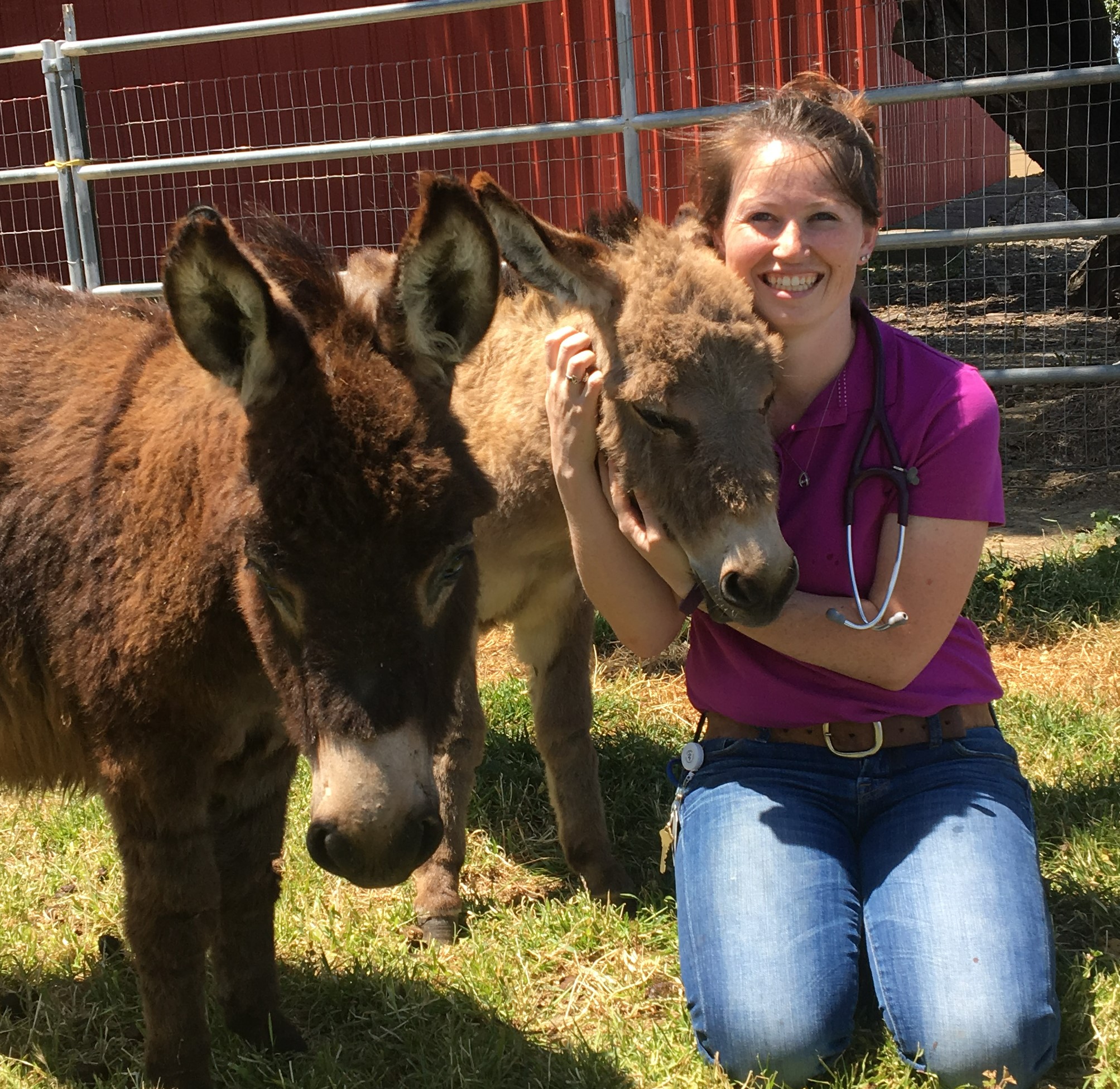 My name is Beth Williams and I am a rising second year PhD student. I grew up riding horses in rural Northern California and then attended Oregon State for undergrad and then UC Davis for veterinary school and a large animal internal medicine residency. Throughout my veterinary education, I have developed a passion for large animal cardiology and am now pursuing that interest in my PhD. My research focuses on investigating myocardial dysfunction and endothelial glycocalyx breakdown in sepsis and dehydration as well as investigating cardiac abnormalities in large animals. Outside of work I enjoy hiking, reading, horseback riding, and spending time with my husband and dogs.