Dean's Message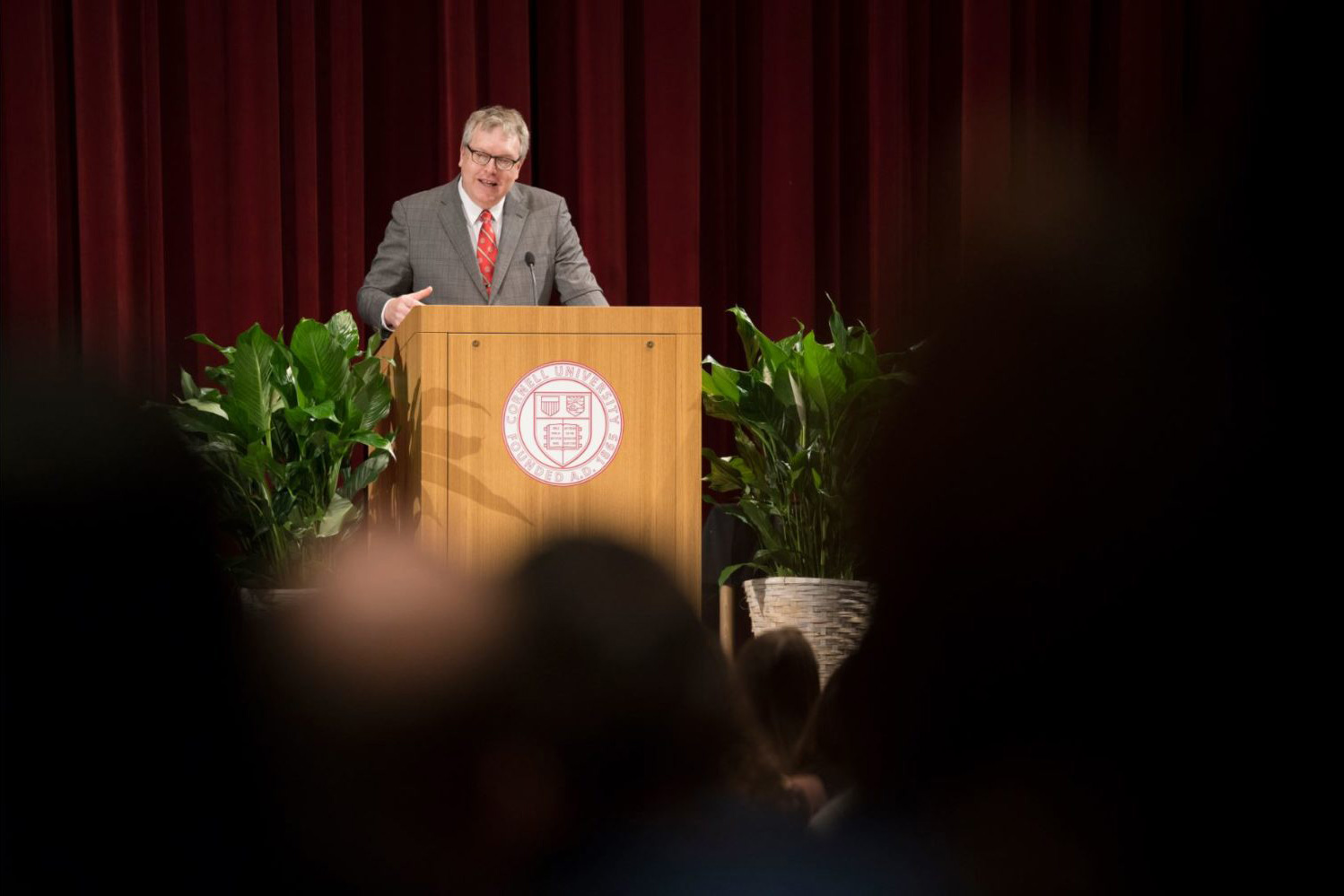 This issue of 'Scopes serves two purposes; first we provide the annual report of our college's educational, service, and research activities. Second, we highlight our international programs.
This year has been busy, with opening new facilities, hosting cross-campus symposia, and launching several major strategic plan initiatives. We have much to do to reach our goals but it is gratifying to see what has already been accomplished.
 The global focus in this edition of the magazine culminates our 'Spheres of Impact' theme, which began with our spring issue on New York state programs followed by our summer issue on national impact.
The college has international beginnings — Dr. James Law was educated in Scotland and recruited at the urging of Ezra Cornell to join the first group of Cornell faculty. He arrived in Ithaca on September 2, 1868, and began teaching classes in veterinary medicine 150 years ago this fall. He brought with him a solid foundation in veterinary medicine and surgery gained from his time at the University of Edinburgh, and as a student at schools in France.
In more recent history, we have established a reputation for international opportunities for students. For example, over the past three decades, our Expanding Horizons program has allowed Cornell veterinary students to spend several weeks engaging in veterinary research or clinical work around the world. You can read about several of these projects in this issue.
Additionally, we work with international partners to advance veterinary medicine and biomedical research — the most extensive of these are with Hong Kong's Jockey Club College of Veterinary Medicine and Life Sciences at City University, and with the Tata Trusts of India, where we're collaborating to establish state-of-the-art veterinary services in Mumbai. Besides college level programs, our faculty are active throughout the world in research ranging from infectious disease control to wildlife conservation.
I am reminded of my own experience as a guest scientist in 2004 at the Danish Institute for Food and Veterinary Research in Copenhagen. As an epidemiologist, my work benefited from access to extensive livestock databases available in Denmark and from learning firsthand about their control programs for Salmonella Dublin, a pathogen of increasing importance in New York state dairy herds. My experience is one example of the benefit of the rich exchange of ideas resulting from international engagement. This has become even more important as modern transportation and communications make our global populations more interconnected than ever.
Global events can now quickly impact us here at home — whether it be economic effects, movement of animals and people, transmission of disease or distribution and production of food. Our faculty and students must be involved internationally to work successfully in this highly linked world. Finally, our experience can benefit many around the world, and we are in turn enriched by the knowledge of international colleagues who work and study here in Ithaca. I believe it is essential that we preserve these international connections.
As you read this issue, I hope you are inspired by our accomplishments across the globe. While our research and outreach projects are important in their own right, our greatest and most enduring impact will be through those who have studied and trained here. We are proud of the work you are doing across the globe and how you represent the college. Thank you.

Lorin D. Warnick, D.V.M., Ph.D. '94
Austin O. Hooey Dean of Veterinary Medicine