Students Around The Globe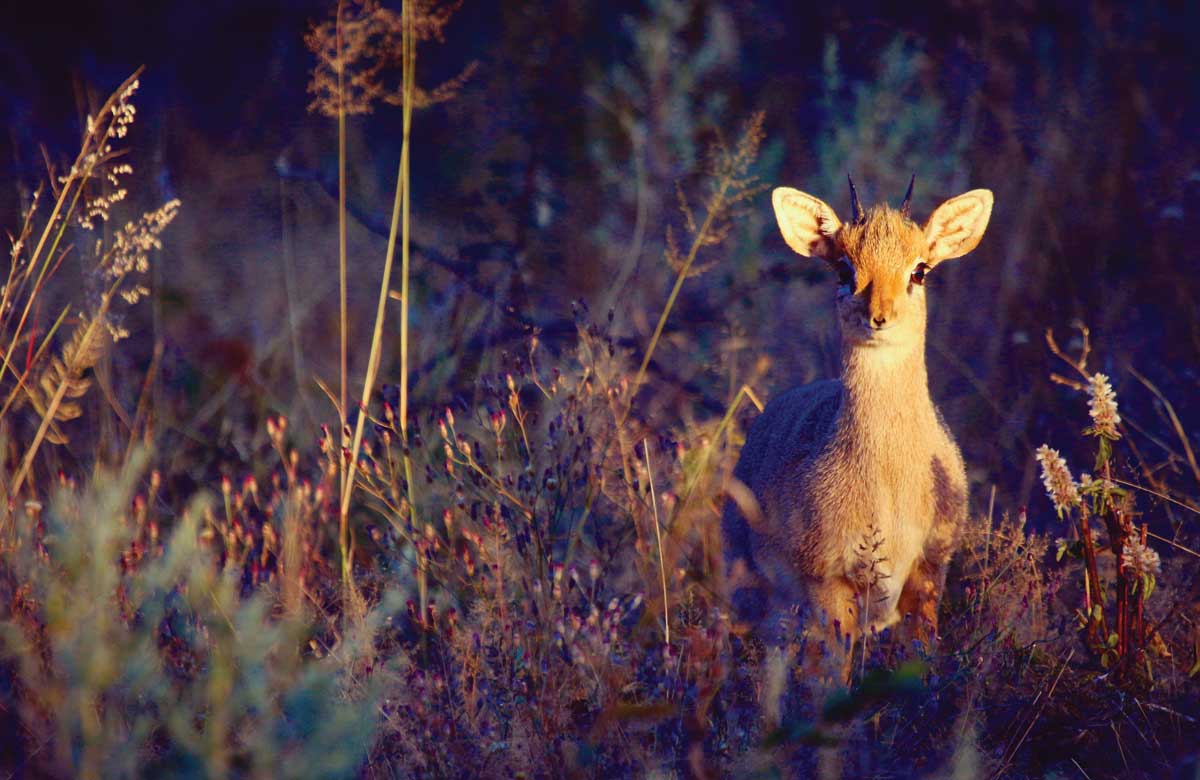 By Olivia Hall
College of Veterinary Medicine students have long pursued highly diverse interests across the globe — whether in wildlife conservation, public health, food animal production, disease surveillance and prevention or the promotion of animal welfare. As more students engage in international projects every year, the roster of countries they choose to visit has also expanded, with destinations such as Palau and Kyrgyzstan making it onto the list in the recent past.
"With the college and faculty developing more international connections, we believe that the number of opportunities for students will only continue to grow," said Jai Sweet, Ph.D. '96, senior director of student development and academic services. Many of these connections turn into long-term partnerships between CVM and international organizations, including the Silent Heroes Foundation, the Cheetah Conservation Fund, and the Jane Goodall Institute. Year after year, they allow students to "expand their approach, analyze problems and phenomena from a worldwide perspective, develop multicultural competencies, experience the rewards and challenges of working in a different environment and explore if a career in international work is something that appeals to them," Sweet said.
They are supported in this endeavor by funding from such sources as Engaged Cornell and Expanding Horizons, which typically awards 12 to 18 grants a year.
"The world is getting smaller every minute," said Dr. Alexander Travis, professor of reproductive biology and associate dean for international programs and public health. Interwoven by electronic communications, travel and trade, countries increasingly share both their gains and crises. Travis hopes that by working with their in-country partners to identify questions and come up with solutions, students will better understand the many dimensions of some of the most pressing challenges to our civilization and planet.
"Hopefully, the benefits our students receive are paid back multi-fold over time as they are inspired not only to become good global citizens, but also in some cases, change their career direction and dedicate their lives to these issues," Travis said.
---
Conservation across continents
Elvina Yau, D.V.M. '20 | Thailand & Namibia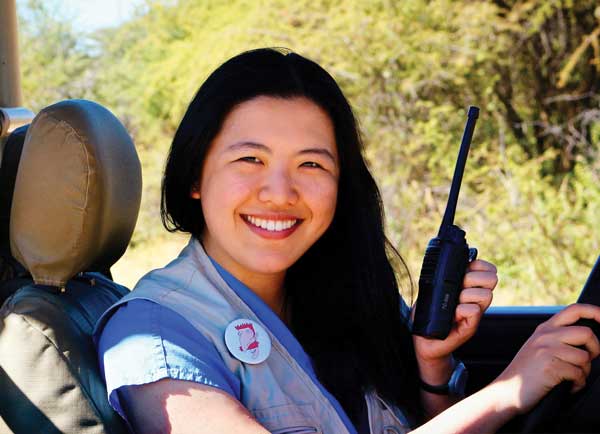 Passionate about both practice ownership and conservation, Elvina Yau, D.V.M. '20, explored her interest in wildlife and the versatility of the D.V.M. degree during the past two summers. In Thailand, she worked with the Elephant Research and Education Center at Chiang Mai University to investigate how such factors as flooring, workloads and feeding practices impact the development of foot abnormalities in elephants living in various sanctuaries.
Wanting to broaden her exposure to different species and practices, Yau won a second Expanding Horizons grant to fund a two-month stay in Otjiwarongo, Namibia. With the non-profit AfriCat Foundation, she conducted research on cheetah nutrition through dietary trials, clinical data and behavioral monitoring and worked in environmental education with local Namibian schoolchildren.
These formative summers solidified Yau's future plans to split her time between practicing companion animal medicine in the United States while contributing to international conservation efforts as a clinician and photojournalist. "My Expanding Horizons experiences have taught me the importance of developing both clinical and cultural competency in developing countries, and further affirmed my desire to advocate for wildlife conservation in light of its rewards and challenges," she said.
---
Making public health personal
Keane Leitch, M.P.S. '12, M.P.H. '19 | Senegal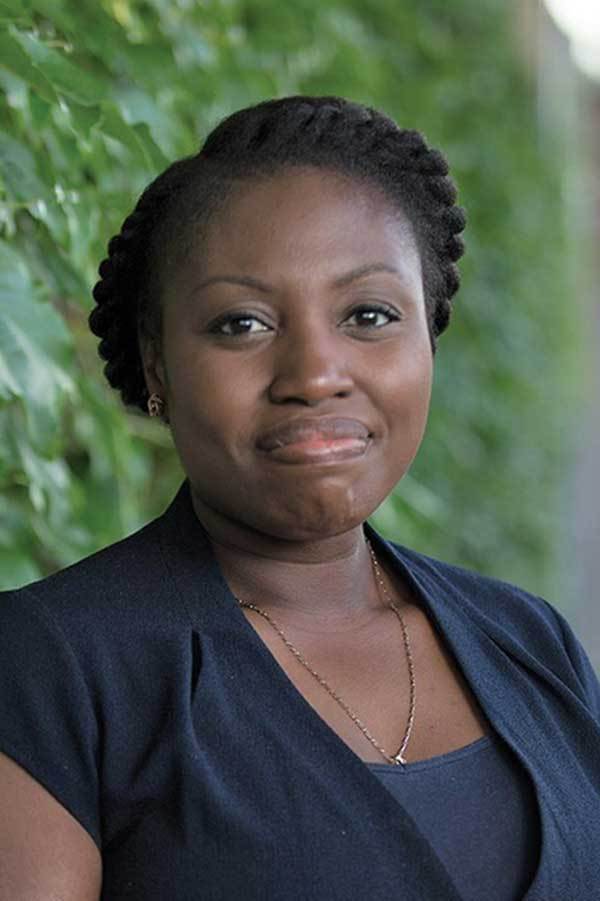 Working in Senegal has changed the thinking of Keane Leitch, M.P.S. '12, M.P.H., '19. The epidemiologist's research with government agencies, hospitals, and communities in urban Dakar and rural Lambaye has shifted her perspective from a purely scientific focus on disease to placing individuals and their social context at the center. "You realize you alone do not have all the answers and they become partners in problem solving," Leitch said. The native of Guyana hopes this new tack will bring a richer, more nuanced understanding to her work on infectious disease mortality, nutritional interventions for pregnant women and children, and increased economic opportunities for women in rural areas.
---
Tracking brucellosis
Amy Trey, D.V.M. '19 | Uganda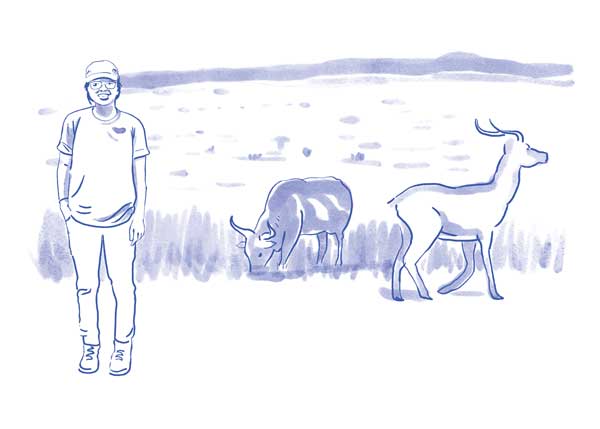 Amy Trey, D.V.M. '19, spent the summer of 2017 in Uganda to observe the intersection of wildlife and livestock and understand how veterinary medicine can improve outcomes for both groups of animals. Funded by Expanding Horizons and working as a research assistant with Conservation Through Public Health, she primarily studied the prevalence of brucellosis in cattle around Queen Elizabeth National Park.
"Through my summer experience and my career as a veterinary student, I've learned that that are many ways to apply a D.V.M. degree," she said. "I just have to be willing to chart my own path."
---
Food for thought
Andreína Thielen Martin, M.P.H.'19 | South America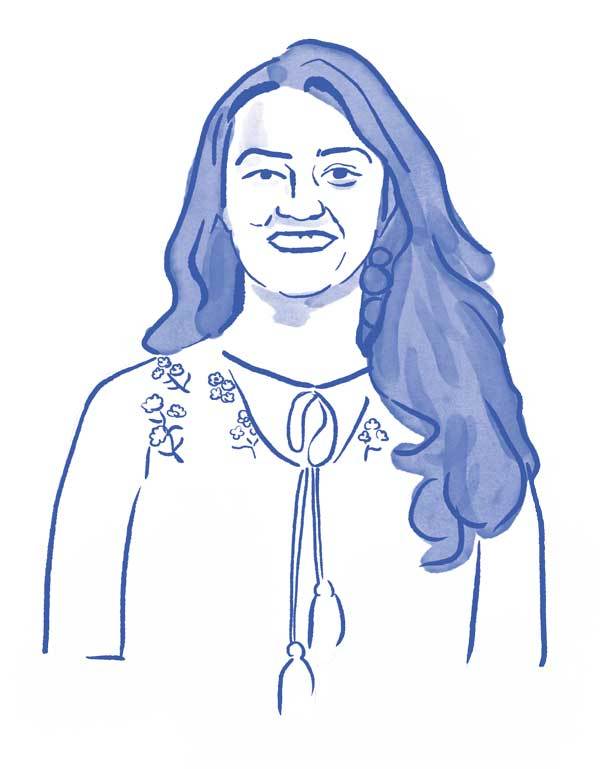 Andreína Thielen Martin's, M.P.H. '19, public health research may be local, but her outlook is international. Around Ithaca, the Los Angeles, California native with Venezuelan roots has helped to develop a universal school breakfast program with two elementary schools and examined mental health provisions and access by farm workers.
Martin enrolled in courses abroad to widen her perspective, learning about Chile's hands-on educational methods (funded by an Engaged Cornell grant) and studying Colombia's health system, especially in the context of recent mass migrations from neighboring Venezuela.
In the future, she plans to weave together these interests as a registered dietitian nutritionist with a Ph.D. "Being Venezuelan, I'd like to study my homeland as an academic, but also use my trainings as a nutritionist and soon-to-be public health specialist to do good there," she said.
---
Wildlife lover
Isabel Jimenez '15, D.V.M. '19 | Galapagos & Belize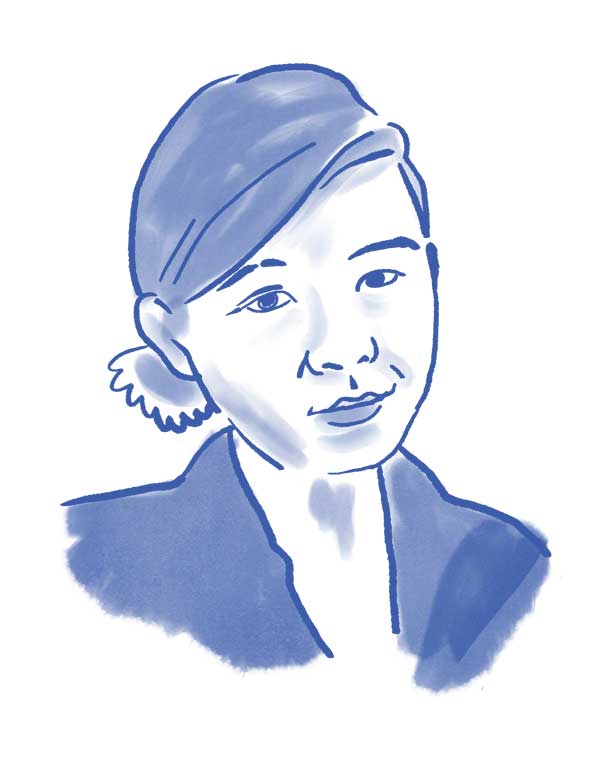 Isabel Jimenez '15, D.V.M. '19, spent her summer in the Galápagos Islands, where she completed a month of sample collection and processing for research on vector-borne disease in dogs on Isla Santa Cruz. A cooperation with non-profit Darwin Animal Doctors and the biosecurity agency Agencia de Regulación y Control de la Bioseguridad para Galápagos and funded by Expanding Horizons, her project is now entering the data analysis phase.
Jimenez, who also completed Cornell's one-week course in clinical zoological medicine at The Belize Zoo at the beginning of 2018, is currently considering a career in zoo and wildlife medicine with a clinical research component.
---
Up for the challenge
Eric Teplitz, D.V.M. '20 | Malawi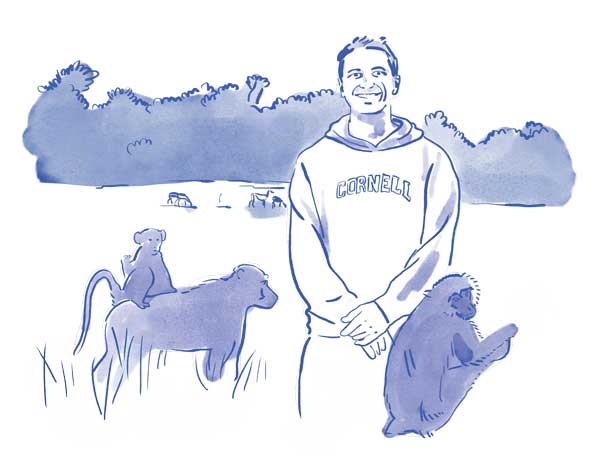 Eric Teplitz, D.V.M. '20, plans to work in conservation medicine. Thus he set out to Malawi in the summer of 2017 to gain practical experience in tackling the field's complex problems and a clearer understanding of the constraints around scientific research in an international setting. Funded by Expanding Horizons, he completed an infectious disease epidemiology study at the Lilongewe Wildlife Trust. "I observed the fierce challenges that face health professionals hoping to make an impact in these regions," he said. "These experiences were critically important for developing my skills as a researcher and were profoundly inspirational."
---
Leaping over language barriers
Lauren Johnson, D.V.M. '20 | Chile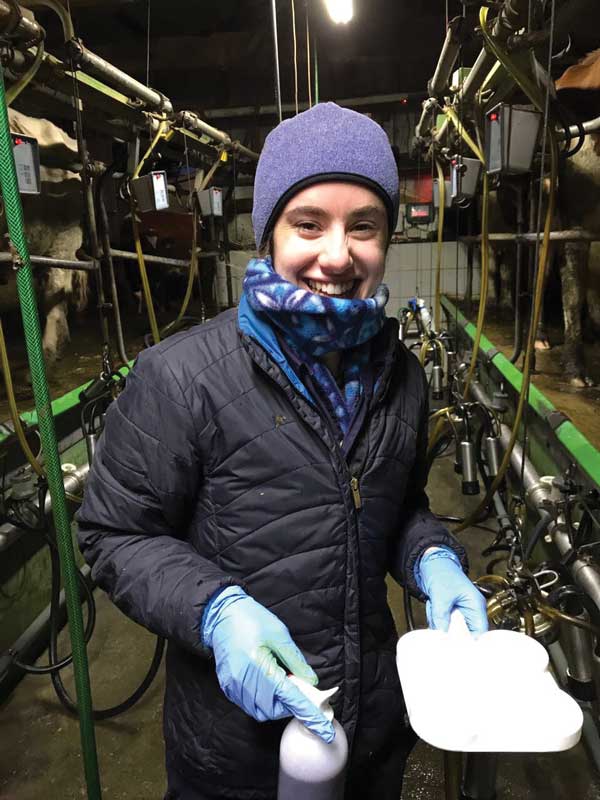 Lauren Johnson, D.V.M. '20, traveled to Chile in the summer of 2017 to build on her knowledge of dairy production, veterinary medicine, and Spanish. For 10 weeks, she worked with researchers at the University of Concepción to complete a survey of bacteriological milk quality of farms in the Bío Bío region and volunteered at a wildlife clinic. With her improved Spanish skills, the former college Spanish major hopes to be able to better communicate with future colleagues and the dairy industry's many Spanish-speaking workers. "I have also gained a more global outlook on the veterinary profession, which I expect will impact my career in ways I can't yet anticipate," she said.
---
Commitment to conservation
Zachary Dvornicky-Raymond '15, D.V.M. '19 | Kenya, Namibia & Belize
Ever since he was an undergraduate in animal science and biology, Zachary Dvornicky-Raymond, D.V.M. '19, has looked for ways to get involved with zoo and wildlife medicine. After a course in Tropical Field Ecology and Behavior took him to Kenya in 2013, an Expanding Horizons summer in 2016 had the budding veterinarian working with the Cheetah Conservation Fund in Otjiwarongo, Namibia for eight weeks.
While 2017 research on assisted reproductive technology development in the Przewalski's Horse at the Smithsonian Conservation Biology Institute took place stateside, Dvornicky-Raymond traveled twice to Belize, as both a student and teaching assistant in the International Wildlife Management and Medicine course at the Belize Zoo.
"The honored privilege to work with some of the world's most magnificent creatures has been ineffable," he said. "My experiences in conservation medicine so far have been invaluable in fostering my commitment to pursue this journey throughout my life. I cannot imagine doing anything else."
---
Visualizing risk
Lakshman Balaji, M.P.H. '19 | Myanmar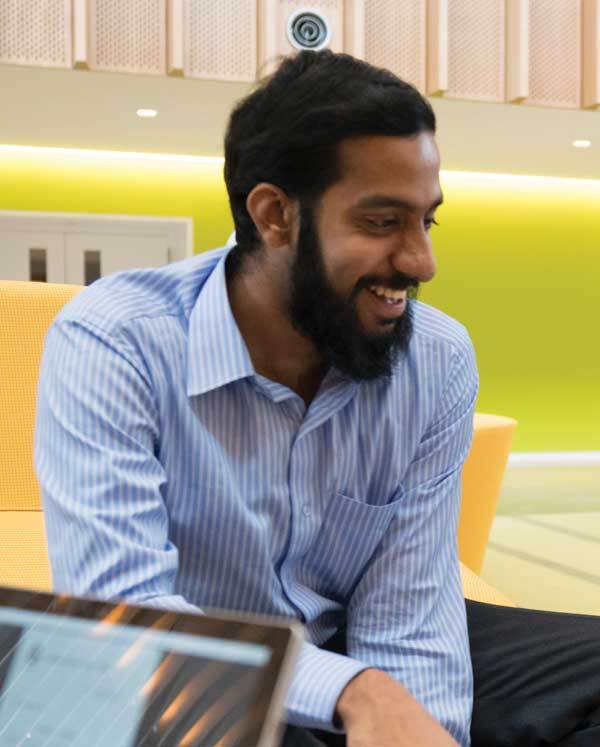 Lakshman Balaji, M.P.H. '19, joined the Smithsonian Institute's Global Health Program for a three-month stint this past summer to familiarize himself with data analysis and visualization and apply the principles of epidemiology in a real-world setting. With an interdisciplinary team of epidemiologists, conservation biologists, and wildlife veterinarians, the native of Chennai, India worked on characterizing zoonotic disease risk for people exhibiting risky behaviors at the human-animal interface in Myanmar.
"The experience gave me a real sense of direction," Balaji said. He is eager to expand his proficiency in data sciences and plans to return to India after gaining some work experience in the U.S. public health system.
---
Fishing for details
Qijin Wang, M.P.H. '19 | Cambodia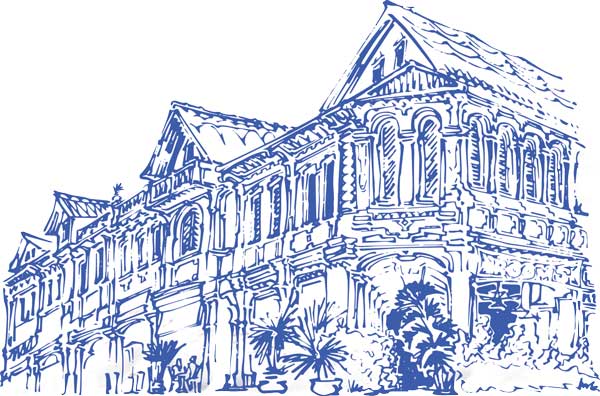 Prahoc may be a staple of Cambodian cuisine, but it has rarely been studied. Now Qijin Wang, M.P.H.'19, is making this salty fermented fish paste the center of her research on nutrition, food safety, and dietary patterns in Siem Reap Province, Cambodia. Working with non-governmental organization WorldFish, Wang spent two months in-country this past summer to conduct interviews and collect samples. "I realized that lots of people are not able to access healthy food," Wang said. "This left a deep impression and encouraged me to work toward my future plans to try to reduce hunger and help people around the world eat safely."
---
Change-maker
Sarah Wasser, M.P.H. '19 | Guatemala & Kenya
For nearly a decade, Sarah Wasser, M.P.H. '19 has brought her passion for education and outreach to bear during numerous forays abroad. Most recently, she created an animal welfare and rabies prevention curriculum for elementary school students and served as a translator on a March 2018 FARVets trip to Guatemala.
Wasser went on to spend the summer in Lake Victoria on Mfangano Island, Kenya. "My experience working with the Ekialo Kiona Center was truly life-changing," she said. "I learned how to mobilize community leaders, teachers, parents, and staff members to work towards achieving the shared goal of increasing leadership and educational opportunities for adolescent women, while also decreasing the rate of new HIV infections, early pregnancies, and early marriages."
Having fallen in love with East Africa, Wasser hopes to return after graduation to continue working on public health projects.
---
Where the wild things are
Mary Nasr D.V.M. '20 | South Africa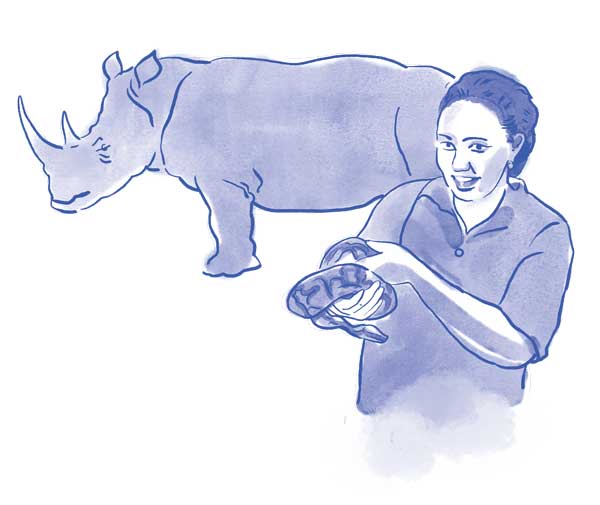 Mary Nasr, D.V.M. '20, has loved zoo and wildlife work for a long time, but she had never been to the field until her Expanding Horizons trip to South Africa this summer. For eight weeks, she joined researchers from the University of Pretoria to compare the impact of two different drugs on white rhinoceroses during transport.
"Fieldwork is dirty and hard, and improvisation is necessary when it's just you and the wild," she said. "Despite all that, I can see myself doing this for the rest of my life." She hopes to stay in both worlds as a zoo vet with occasional work in the field.
---
Baring teeth
Nicholas Milano D.V.M. '18 | Australia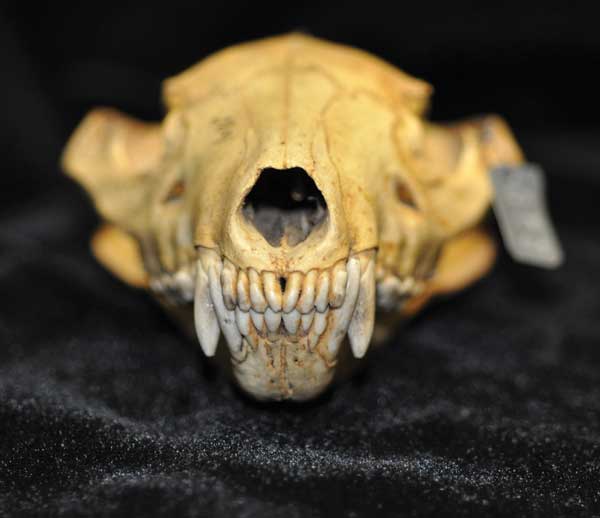 When Nicholas Milano, D.V.M. '18, arrived in Sydney, Australia in the fall of 2017, he felt right at home, despite having to drive "on the wrong side of the road." After a year of preparation with assistant clinical professor Dr. Nadine Fiani, assistant professor Dr. Santiago Peralta, and others at Cornell, Milano spent a month collecting data for a project on the subgingival anatomy of Eastern grey kangaroos and Tasmanian devils. He obtained skull specimens from the Australian Museum, examined them at the wildlife hospital of the Taronga Zoo, and charted his findings with full sets of digital photographs and dental radiographs. Milano plans to continue in the field of veterinary dentistry and oral surgery.
---
Applying shelter medicine abroad
Olivia Lenz D.V.M. '20 | Palau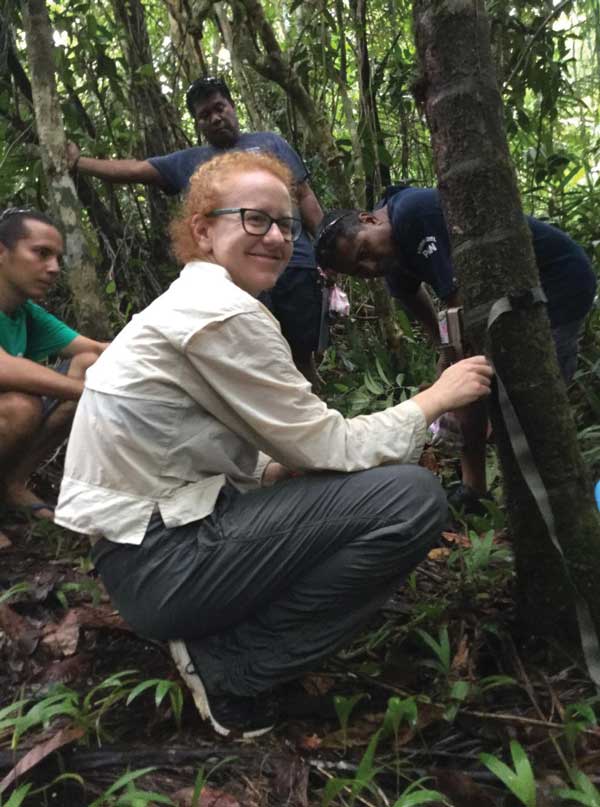 Olivia Lenz, D.V.M. '20, has traveled to Palau, Micronesia, for two different research projects. Her first project, funded through the Expanding Horizons program, examined the prevalence of the tick-borne disease canine ehrlichiosis in the island dog population. While there, she became familiar with Palau's veterinary-related concerns, one of which is the feral cat abundance and its potential impact on native bird populations. "I feel passionately about shelter medicine and am intrigued by the complicated and nuanced issue of animal overpopulation," said Lenz. She returned to the country this past summer thanks to support from the Morris Animal Foundation, and fueled by meaningful personal connections she had made with local animal shelter staff. For her second research project, Lenz collaborated with the Palau Animal Welfare Society (PAWS) on a project to determine a baseline population range for free-roaming unowned cats. This will provide foundational data for a larger study PAWS is conducting regarding the impact of free-ranging cats on native bird biodiversity, and the reach of a spay-neuter initiative for free-roaming cats. "As a result of international work I am a much more adaptable, diplomatic, and open-minded person," Lenz said. "International science almost never goes exactly as planned, and you really have no choice but to adapt and find a way to make the project work. This is a fantastic skill to learn as a future scientist and veterinarian because it basically applies to every professional setting, international or no."
---
Dolphin doctors
AQUAVET® students | Mexico
AQUAVET®, a summer training program co-led by the college, trains veterinary students and veterinarians in aquatic animal health. A portion of this program, AQUAVET®III, focuses on animals found in aquariums and dolphinaria, and has a key collaboration with Dolphinaris, a private dolphinarium company in Mexico. Their team hosts AQUAVET® students for the third segment of the AQUAVET®III course, presenting focused, hands-on courses on cetacean anatomy, physiology, medicine, training, water quality control, food fish handling, clinical laboratory, ophthalmology, sample preservation, reproduction, endoscopy, and ultrasonography. All of this training takes place as part of the necessary and routine clinical care for the dolphin patients. CVM graduates of this summer training program have gone on to practice at several aquariums and zoos around the country. "No other vet student gets that kind of exposure clinically to dolphins," says AQUAVET® Director Dr. Donald Stremme. "This international collaboration gives our trainees a unique advantage."
---
International trainees at CVM
The international exchanges at CVM go both ways. Every year, students from global institutions travel to the college to participate in our summer training programs.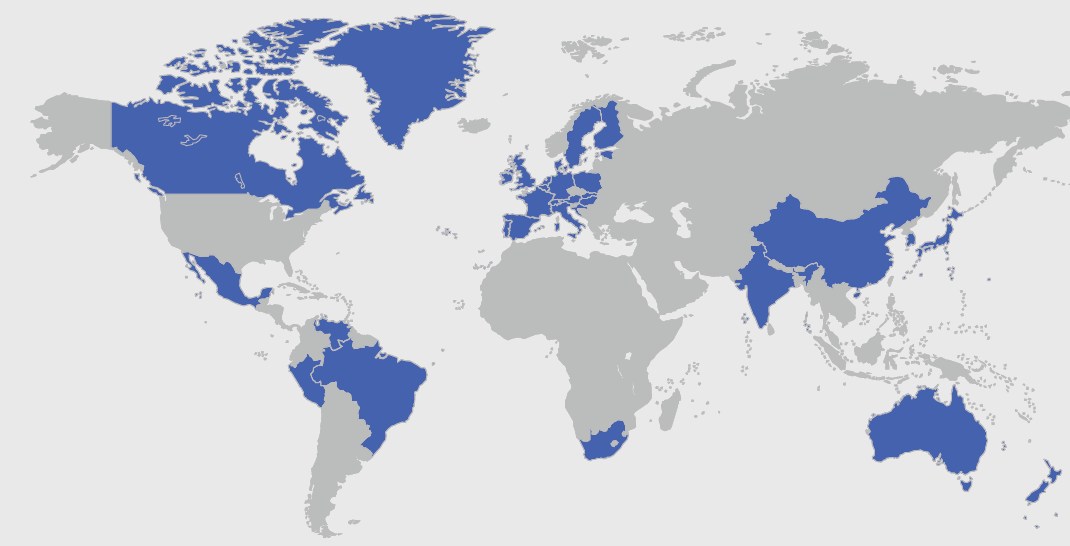 CVM Veterinary
Investigators Program (VIP)
Since 2011, 16 international students from 8 different countries have participated in the VIP program.
Summer Dairy
Institute program
Since 2004, 113 students from 15 different countries have attended the Summer Dairy
Institute Program.
Leadership Program
Since 1991,
354 international students from 30 countries have attended the Leadership Program.
---
Globetrotting
FARVets volunteers | Worldwide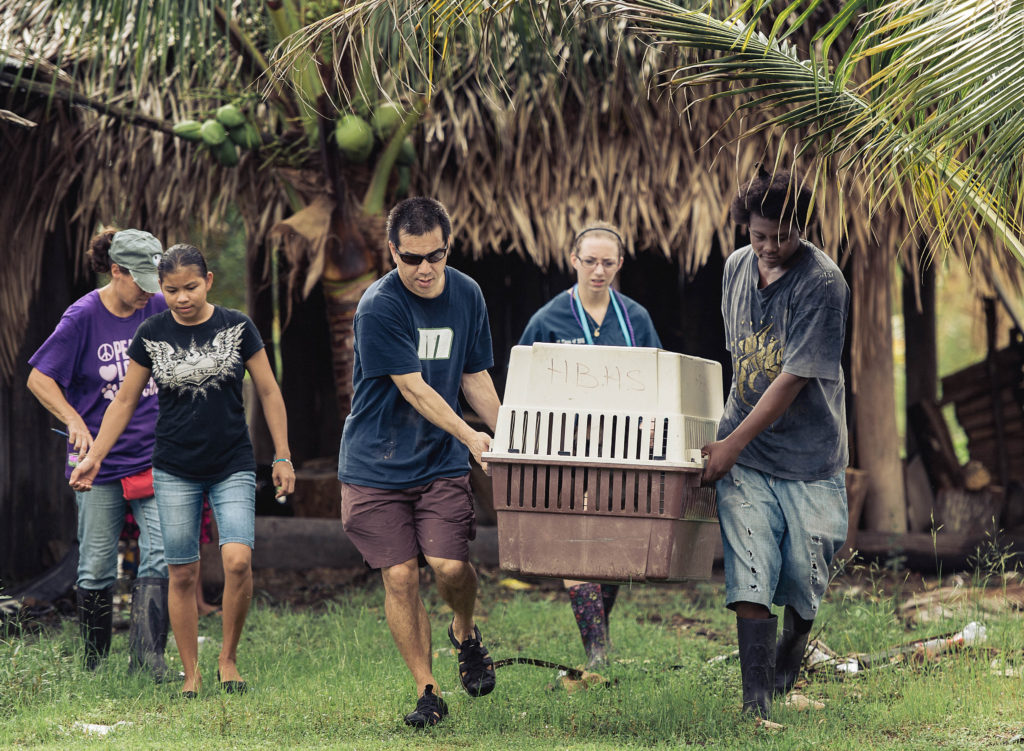 FARVets lives up to its acronym. Every year, the registered non-profit — whose name stands for "Field, Abroad, Reaching-Out Veterinarians," as well as "Feral, Abandoned, and Rescued Animals Veterinarians" — sends Cornell veterinary students on half a dozen trips to destinations as far-flung as Mexico, Belize, Thailand, Bahrain and Bulgaria. Honduras, Mongolia, and Tanzania will soon join the roster, possibly joined by India, Barbuda and Cambodia in the next year, bringing the total number of countries to 16.
On site, the teams partner with small grassroots animal welfare organizations to run sterilization and wellness clinics that help address companion animal overpopulation and provide veterinary care in impoverished and other needy communities.
Ever since FARVets grew out of an initial visit to Playa del Carmen, Mexico in 2010, its trips have become regular opportunities for veterinary students to not only hone their surgical skills but also learn to apply them under improvised conditions. A handful of make-shift surgery tables may be set up in a village pavilion, abandoned hotel, garage, community center, or any place with running water and, ideally, electricity nearby.
"I learned some amazing techniques for spays and neuters, how to manage anesthesia properly — especially when you don't have fancy equipment — and how to work as a team in a stressful environment with limited resources," said Natalia Cano, D.V.M. '21, who traveled to Cartagena, Colombia this summer. Her team performed some 16 surgeries per day and spoke to locals about how to care for their pets. "This experience solidified my wish to provide veterinary care to communities that are in dire need," she said.
Mary-Lee Barboza, D.V.M. '19 agrees that her FARVets trip was "incredibly rewarding." She worked in Belize this past January with five other veterinary students, supported by two veterinary technicians and two partner organization staff, and supervised by veterinarian Heather Jue, D.V.M. '11. "It was amazing to see the impact in the community's veterinary care that the Hopkins Belize Humane Society was able to make with minimal supplies and with coordinating visiting veterinary volunteers," she said.
FARVets founder and director, senior lecturer of anatomy and primary care Dr. Paul Maza, plans to keep expanding the program, while maintaining existing locations. "Many alumni express interest in participating in FARVets trips," he said, which will help him to recruit more trip leaders.
Indeed, both Cano and Barboza plan to keep working with the organization, whose board is also made up of former trip participants, such as Katie Emerson, D.V.M. '13 and Jami Landry, D.V.M. '17.
"I would love to attend trips and help out as a doctor, and one day maybe lead a trip," Barboza said. "FARVets is a wonderful organization and I think staying involved would be a good way for me to stay connected to Cornell as an alumna, as well as give back to the veterinary community and international communities."