Department Highlights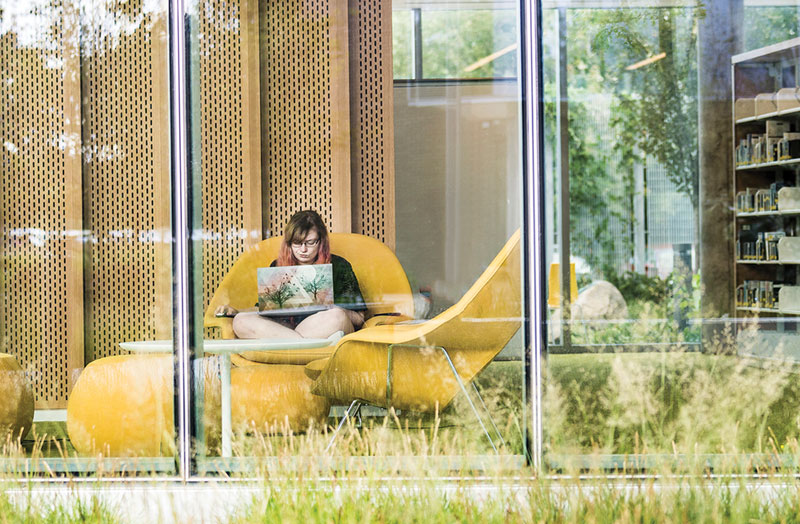 D.V.M. Program
Welcoming wellness
In accordance with the strategic plan, the college welcomed its inaugural Wellness Program Director Makenzie Peterson this year. Peterson is developing a comprehensive wellness program that will foster the physical and emotional wellbeing of the community, providing strategic guidance for an array of initiatives that enhance student wellbeing, productivity and satisfaction.
World wild web
WildLIFE, a new student-run blog for prospective applicants and current veterinary students, shares opportunities in zoo and wildlife medicine. In addition to firsthand accounts written by current veterinary students, the blog compiles information about the curriculum and provides an overview of many of the zoo and wildlife opportunities at the college.
Visual storytelling
Expanding Horizons and ZAWS brought award-winning cinematographer David Brown to campus to discuss wildlife photography and cinematography. His two-part course last spring walked students through tips, strategies and the importance of visual storytelling in wildlife conservation.
Coast-to-coast curricula
To ease the veterinary student transition between pre-clinical and clinical education, the college is spearheading a project that will assess and improve experiential and applied learning in veterinary curricula across the United States. Led by Dr. Marnie FitzMaurice and Jodi Korich, D.V.M. '97, the group anticipates implementing their findings in approximately two years.
Portable prep
Students planning to apply to a veterinary degree program have a new way to track their veterinary and animal experiences thanks to CVM: The Pre-Vet Tracker Mobile App. The app allows users to log volunteer or internship dates, hours, supervisors, contact information and their list of responsibilities in one place, saving time and making the application process easier.
---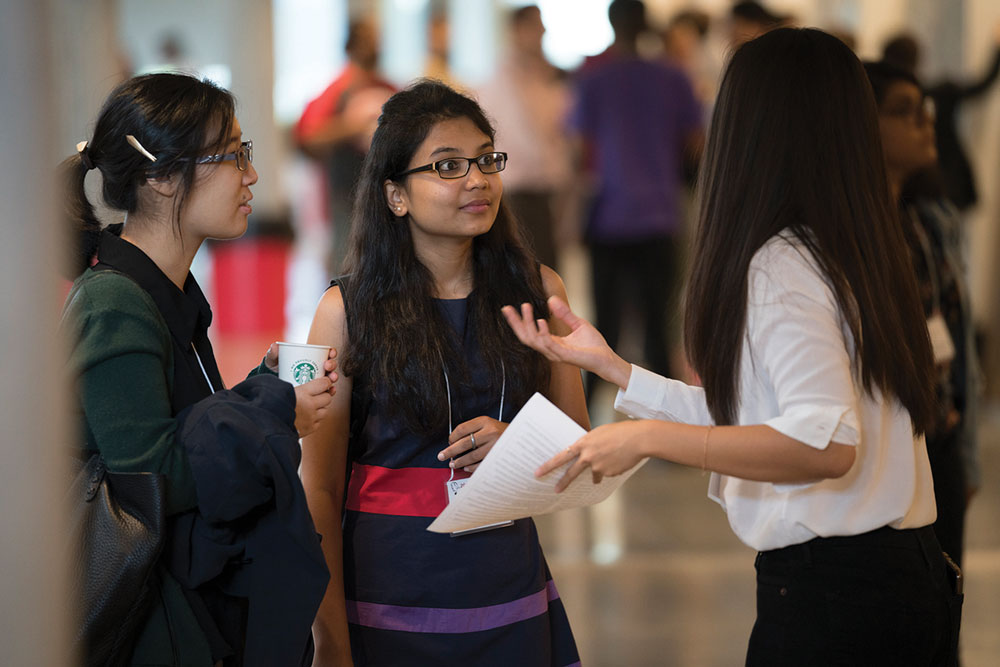 Biomedical and Biological Sciences Program (BBS)
Annual conference
The college hosted the 17th annual Biomedical and Biological Sciences Symposium. This year's symposium was themed "Translating Basic Research into Biomedical Innovation" and highlighted the importance of discovery research, essential for the eventual improvements in diagnostic, treatment and management of animal and human health and disease.
Digital agriculture
BBS student Robert Swanda and a Cornell team traveled to Colombia to gather and present data for Cauca's Farmer Federation. There are few resources for frequent evaluation of crop and soil status, and the Cornell group is helping farmers monitor the nutritional state of their plants and fields so that they can make informed crop management decisions and invest their resources in the most beneficial way.
International conferences
BBS student Karen Barnard traveled to two international conferences to confab with other students and experts: The First International Symposium on Glycovirology and the Gordon Research Conference on Cells and Viruses. The former aims to stimulate discussions among scientists working in the emerging field of glycovirology, and the latter focuses on themes and covers systems ranging from bacteriophage to HIV and herpesviruses to viruses of C. elegans.
Immuno-engineers
Using immunology and bioengineering approaches, new research from the Leifer lab has demonstrated that, much like we can detect heat and pressure, microphages also sense and adapt to their physical surroundings. To address this new area of biology, BBS student Erika Gruber, D.V.M. '06, grew macrophages on finely tuned engineered surfaces that approximate human tissues from both normal and diseases states.
Links to Alzheimer's
Dr. Margaret Bynoe, associate professor of immunology and BBS faculty mentor, led a study that investigated the effect of chronic Toxoplasma gondii (Toxo) infection on the brains of healthy mice. Bynoe found that while Toxo may not be the underlying cause of Alzheimer's in the general population, it may initiate pathological events that over a lifetime can result in Alzheimer's-like symptoms.
---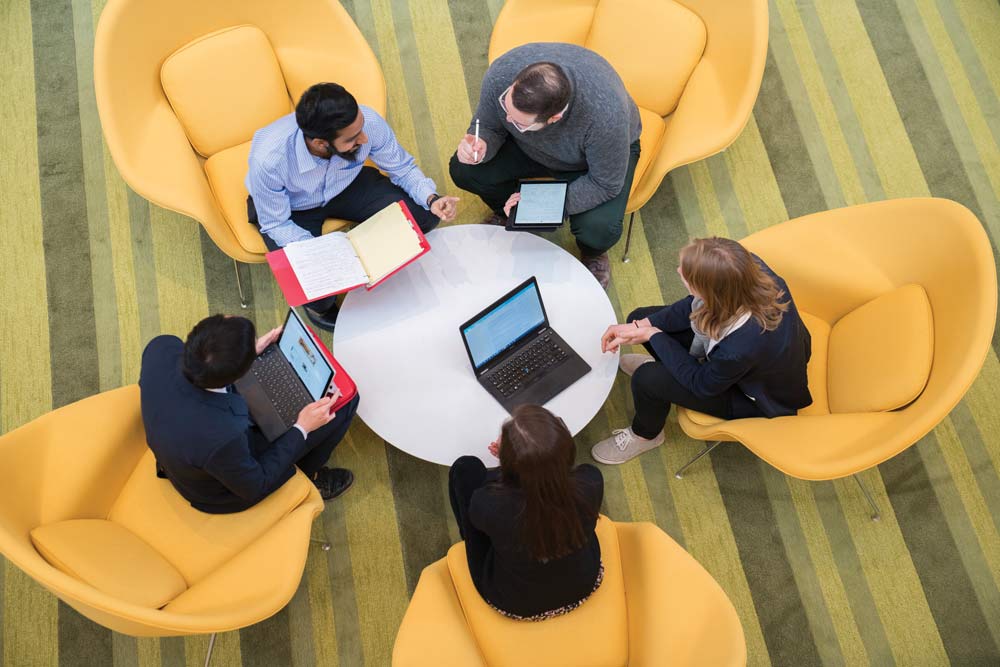 Masters of Public Health Program
Sustainability for impact
Now into its second year, the Cornell M.P.H. program continues to develop course curriculum and practice opportunities built around the concepts of One Health and planetary health. Last summer, students worked on projects linking environmental sustainability and health in Cambodia, Egypt, Myanmar and here in the United States.
Equity for impact
Public health outcomes show disparities across demographics, related to race, income, education and geography. With a commitment to help reduce disparities, the M.P.H. program places equity at the core of teaching, engagement and recruiting. Thirty-three percent of students are under-represented minorities, including 19 percent who are first-generation college students.
Engagement for impact
To best prepare graduates for the workforce, M.P.H. students work on real-life projects with local and global community partners in each semester. Last year, seven grant pilot projects were designed by students and partners, three of which are now underway, and 12 students practiced public health in six different countries and five different states. This year, 10 new community projects are on deck.
Fabulous forties
With two student cohorts underway, there are 42 students enrolled in the M.P.H. program, with concentrations in either Infectious Disease Epidemiology or Food Systems for Health. Forty-five percent of the students are from New York state, and 40 percent have qualified for some form of scholarship.
---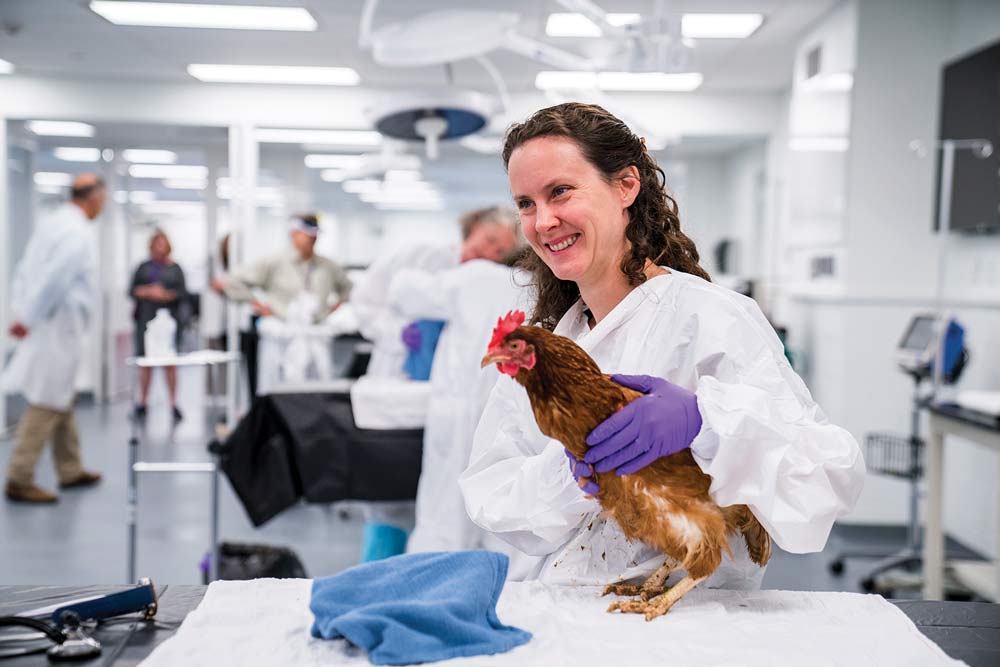 Continuing Education (CE)
Changing the CE script
Studies have long shown that the most effective learning occurs when trainees can practice and apply the lessons directly themselves — rather than only watching or listening to educational content. The CVM continuing education team is committed to bringing the science of learning to continuing education. This means that CVM CE will introduce some small changes that will have a big impact on trainees' educational experience, offering conferences and events that will not only provide a more in-depth and interactive look at the subject matter, but will also give learners the time and space to reflect on how it relates to their practice and daily work. The result will be educational experiences with content that trainees can immediately apply as soon as they return to work.
Fall conference offers backyard chicken track
Last fall, the New York State Veterinary Conference had a full day of programming designed for companion animal practitioners who are new to treating backyard poultry. While keeping a small flock of chickens in the backyard is becoming more common, many owners view them as pets instead of livestock. Trainings covered a diagnostic approach to common diseases and treatment, and educating owners about zoonotic diseases. Attendees also enjoyed hands-on learning with both physical examination labs as well as necropsy and tissue collection labs.
Preparing tomorrow's educators
The college hosted the first Joint Symposium of the Primary Care Veterinary Educators and the Veterinary Educator Collaborative this June, with the theme of "Laying the Building Blocks for a Lifetime Clinical Excellence." The program stimulated discussions on a vitally important topic for veterinary educators: helping students develop the knowledge, skills and attitudes that will allow a smooth transition from their role as pre-clinical and clinical students to that of practitioner. It included sessions in a variety of formats, and was structured to encourage formal and informal discussions among veterinary educators with similar interests.
Ithaca: CE destination center
The new CE team wants to better all of their attendees' experiences. On top of introducing interactive formats to the educational content while staying committed to offering labs and multi-species events, they are also thrilled to offer attendees a gorgeous location: Ithaca, New York. This means delicious local food and beverages at their Taste of the Finger Lakes welcome receptions, tips for tourist activities in the region and traveling as a family to the conference, and taking advantage of the amenities offered by the newly renovated veterinary school to foster networking and learning.
---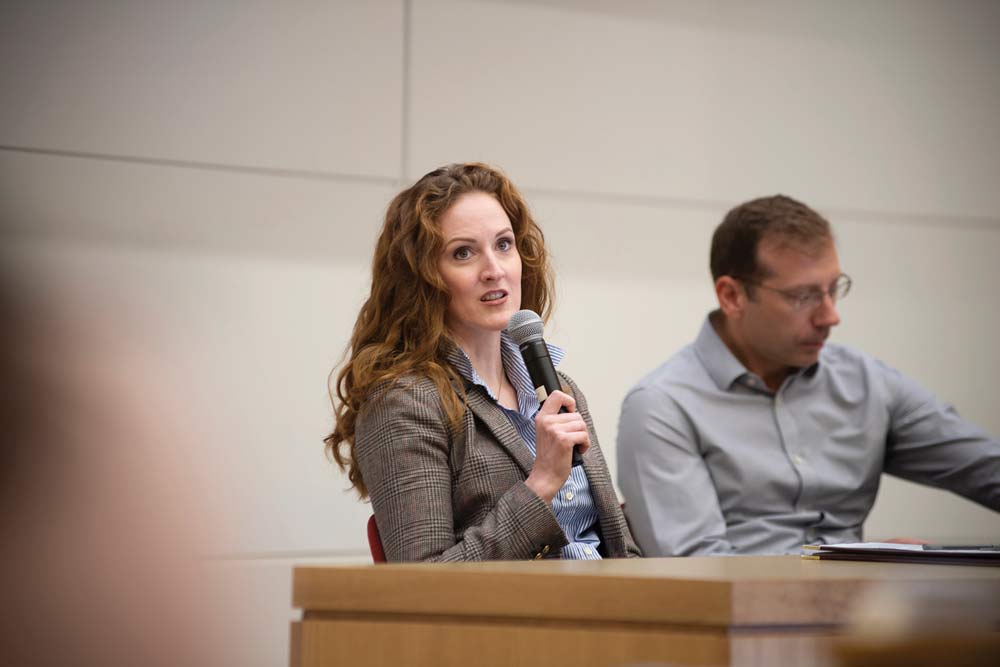 Staff
Dionne Henderson's legacy honored with new award
A crowd of faculty, staff and friends celebrated the winners of the inaugural Dionne Henderson Staff Excellence Award in a heartfelt ceremony at the college on September 24. The award's namesake, Dionne Henderson, worked with the college for nearly a decade in administrative positions for both Human Resources and the Department of Clinical Sciences. She passed away unexpectedly in 2016. The three award winners included Scott Butler, research support specialist, Cindy DeCloux, instructional technologist with Educational Support Services, and Sue Williams, front office manager for the Baker Institute for Animal Health.
Staff Council continues key efforts
From facilitating fitness challenges to coordinating educational seminars to assisting with the development of the Dionne Henderson Staff Excellence Award, the CVM Staff Council spent 2018 focused on staff involvement, recognition and wellbeing. They encourage those interested in participating on the council to run for a seat, join a subcommittee, volunteer at an event or simply visit their website and drop a suggestion in their virtual box.
Internal eNews gets a makeover
The college rebooted eNews, the monthly internal newsletter that keeps the CVM community informed and engaged with news on relevant events, trivia, hires and retirements, a message from Dean Warnick and recent quotes by college experts in the media. Anyone can contribute to the newsletter's Community Notes section by emailing cornellvet@cornell.edu with "eNews" in the subject line.
College hires wellness program director
Makenzie Peterson joined the CVM community on August 13 in the newly-created position of Wellness Program Director for the college after a committee comprising faculty, staff and students conducted an extensive national search for the role. Peterson will serve as a college resource for students, staff and faculty, providing leadership and strategic guidance for an array of programs and initiatives that enhance wellbeing, productivity, satisfaction as well as academic and professional success. Peterson will work with CVM leadership, the College Wellness Committee and other stakeholders to identify and prioritize needs among members of the college community and to reinforce a culture of wellness at CVM.
---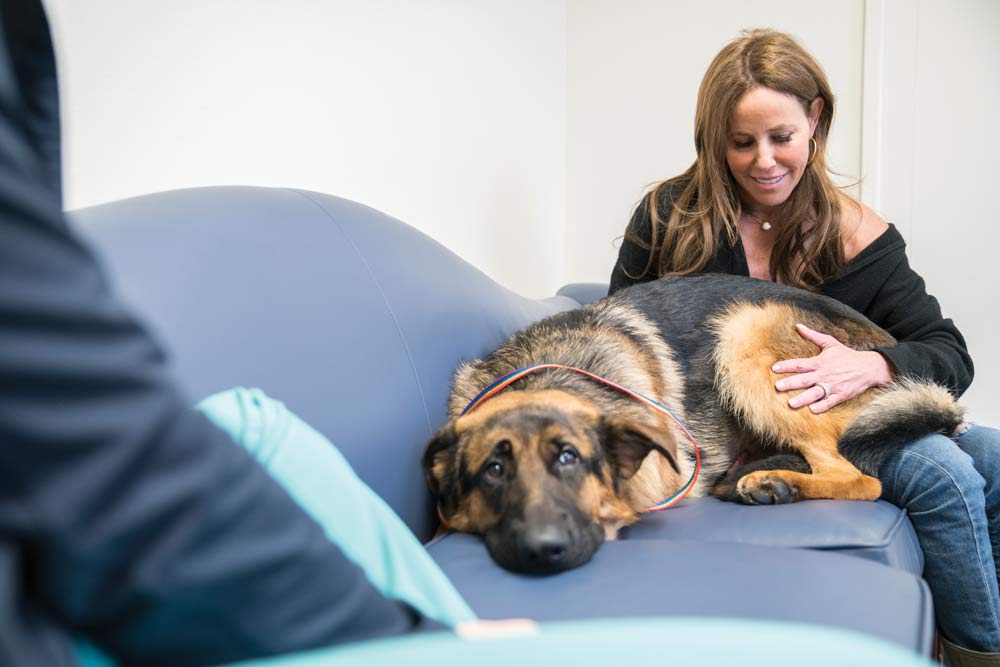 Cornell University Hospital for Animals (CUHA)
Really paperless
This fall, CUHA implemented a modern, cloud-based practice management ecosystem centered on the commercial product ezyVet. After a robust information gathering process, CUHA selected the system to enhance internal and external communications, add online tools for improved efficiency, and encourage rapid integration with complementary communication, inventory management and patient tracking products like rVetLink, Cubex and Smart Flow. Ultimately, this product suite will enable improved access to clinical research data, student competency tracking and transparency of business processes. CUHA implemented ezyVet first in the Small Animal Community Practice this summer, and has now successfully deployed it to all remaining CUHA units thanks to the ezyVet and CUHA project support teams. Key features include a custom-designed student training module, email and text client reminders, automatic charge capture, enhanced reporting and tagging for research and teaching, and client and rDVM portals.
Clinical cancer research
The oncology service at CUHA is actively recruiting for a number of canine and feline cancer studies. Andrew Miller '01, D.V.M. '05, the Robert Hovey Udall Assistant Professor in the Department of Biomedical Sciences, seeks to determine the transcriptome of canine soft tissue sarcoma. Three other trials tackle canine lymphoma — with two studies investigating repurposing different drugs to improve outcomes, and another looking to create a tissue bank of samples from lymphoma patients to help speed disease detection and treatment.
Two feline oncology studies are seeking samples from patients — one study will use these to help investigate the DNA of feline mammary cancer cells, and another will use samples to identify blood biomarkers for feline mammary and squamous carcinomas. A third feline clinical trial run by
Dr. Kelly Hume and Cheryl Balkman, D.V.M. '98, investigates whether customized doses of an anti-cancer drug carboplatin will be effective against rare tumors known as fibrosarcomas.
Wildlife training for LVTs
The Janet L. Swanson Wildlife Health Center (WHC) hosted its second year of the Veterinary Technician Student Preceptorship in Wildlife Medicine. The program is the first of its kind in the Northeast and gives veterinary technicians-in-training concentrated education in treating wild animals. For two six-week blocks, students learn how to provide multifaceted care for a broad range of wildlife species, giving them valuable skills that aren't typically taught in LVT programs. The WHC plans to expand the program with regular training modules.
New fund for canine arrhythmias
CUHA is one of only two places in the United States that offers routine radiofrequency catheter ablation to treat arrhythmias. Led by cardiology section chief Dr. Romain Pariaut and Italian cardiologist and adjunct professor Dr. Roberto Santilli, the team successfully treated Rex, a German Shepherd puppy that suffered from a life-threatening arrhythmia. Now, Rex's owners have established the Henry and Karen Silverman Initiative to Advance the Treatment of Canine Arrhythmias. Their intention is to further the study, diagnosis and treatment of arrhythmias in dogs, as well as to educate pet owners and other veterinarians about these additional treatments for heart rhythm disorders.
---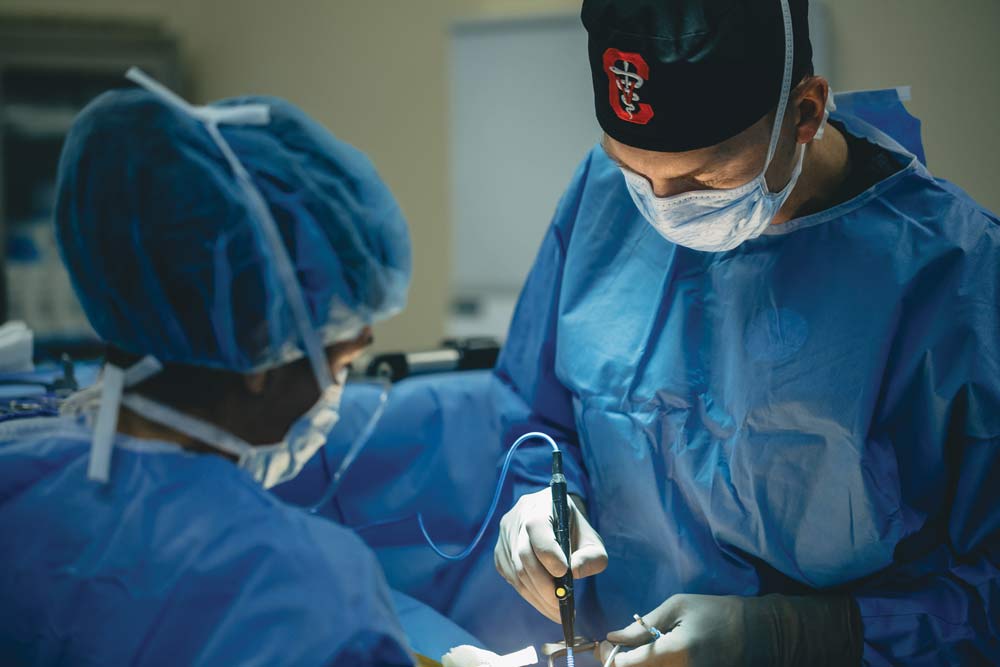 Cornell University Veterinary Specialists (CUVS)
Keeping current
In addition to active continuing education programs twice a month for regional veterinarians, veterinary professionals and pet owners, CUVS held its annual off-site continuing education event that drew 325 veterinarians and technicians, attendance that doubled in size compared to previous years.
Externship exposure
The hospital continues to host Cornell veterinary students as well as other American and international students for clinical externships and opportunity blocks, which expose them to a robust and diverse metropolitan caseload as well as the delivery of medical care aspects like client service and communication.
New residents
CUVS welcomed two emergency and critical care residents in July for a three-year intensive residency training. The program is coordinated with that of the college, with residents participating together in twice-weekly rounds and CUVS residents spending approximately three months per year at the Cornell University Hospital for Animals (CUHA).
Interdisciplinary contributions
The hospital continues to partner with the clinical trials of researchers in CUHA, including lymphoma studies with Dr. Kristy Richards '90. CUVS also contributes to the Cornell Veterinary Biobank in large numbers, recently contributing close to the numbers of all CUHA combined.
---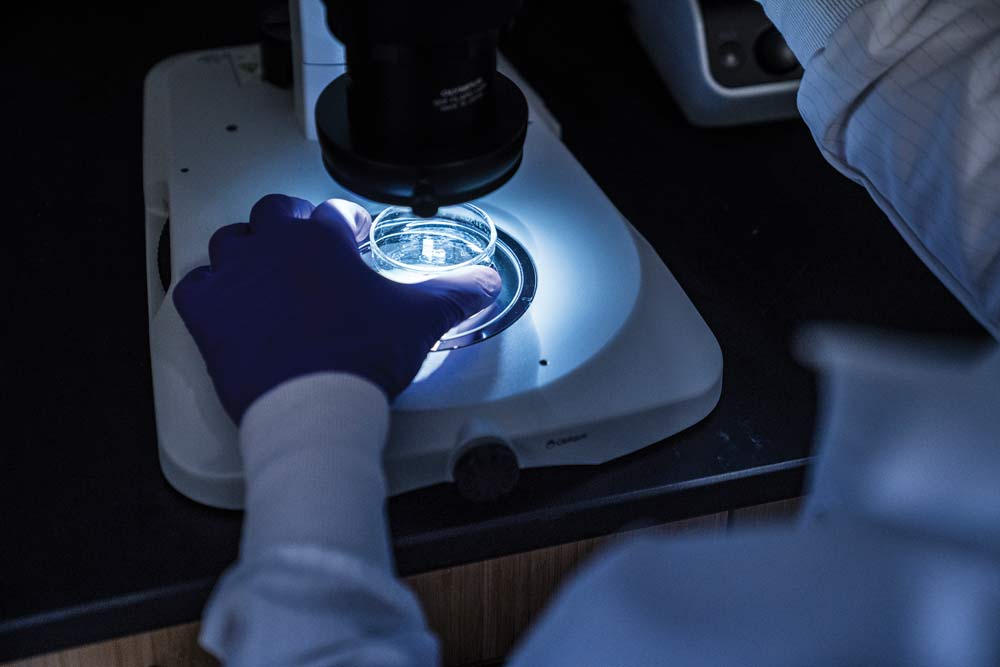 Animal Health & Diagnostic Center (AHDC)
Antimicrobial resistance
The AHDC is playing a major role in surveillance projects organized by the USDA and FDA under the National Action Plan for Combating Antibiotic-Resistant Bacteria. The center performs thousands of antimicrobial susceptibility tests annually and is using whole genome sequencing to discover, characterize and track disease agents across human and animal populations.
Anthelmintic threats
Not only do bacteria grow resistant to drugs, but such resistance is also looming in parasites. Despite recent advances in molecular parasitology, detection and monitoring of parasite drug resistance is still done best using the fecal egg count reduction test, which the Parasitology Laboratory offers to benefit small ruminants, camelids and equine clients.
Blood thinners for pets
"By measuring anticoagulant intensity, we can remove the guesswork in dosing and make sure each patient gains maximum benefit with minimal risk," says Marjory Brooks '77, D.V.M. '81, director of the Comparative Coagulation Laboratory, which has stepped in to fill a gap on proper dosing estimates by offering assays to monitor new anticoagulants in veterinary patients.
Disease surveillance
New York continues to be a leader in chronic wasting disease (CWD) management and prevention. Drs. Krysten Schuler and Elizabeth Bunting were a driving force behind a CWD risk management plan that brought together biologists and veterinarians from the New York State Departments of Environmental Conservation and Agriculture and Markets.
Wildlife on screen
The Cornell Wildlife Health Laboratory partnered with professional photographer and award-winning nature videographer David Brown to develop and test messaging strategies around wildlife health issues, which are shared on the lab's new social media accounts with the mission of positively influencing problematic human activity that affects wildlife.
---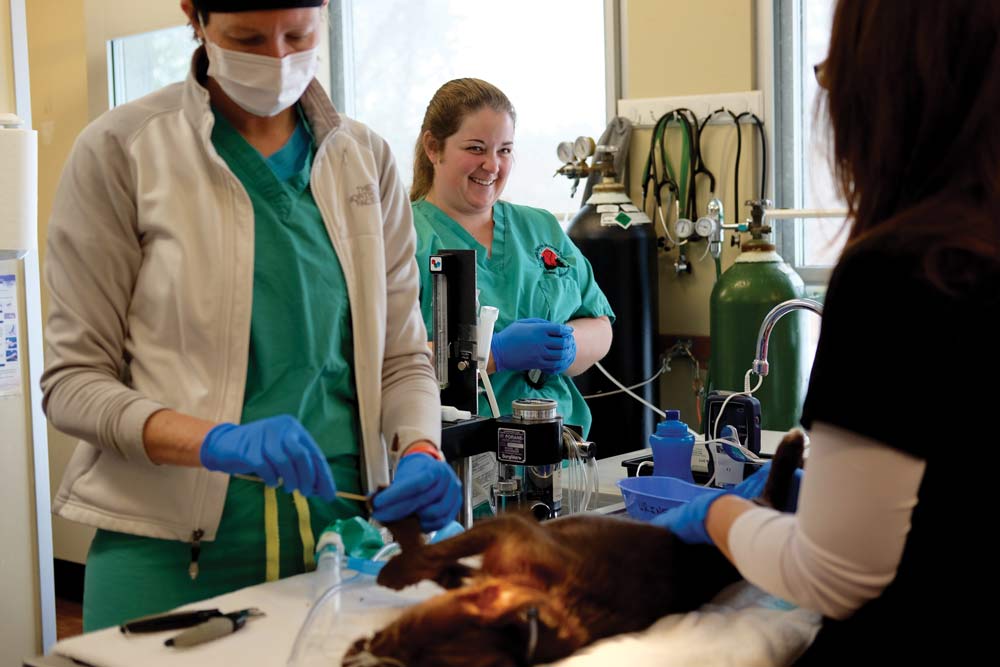 Outreach Highlights
---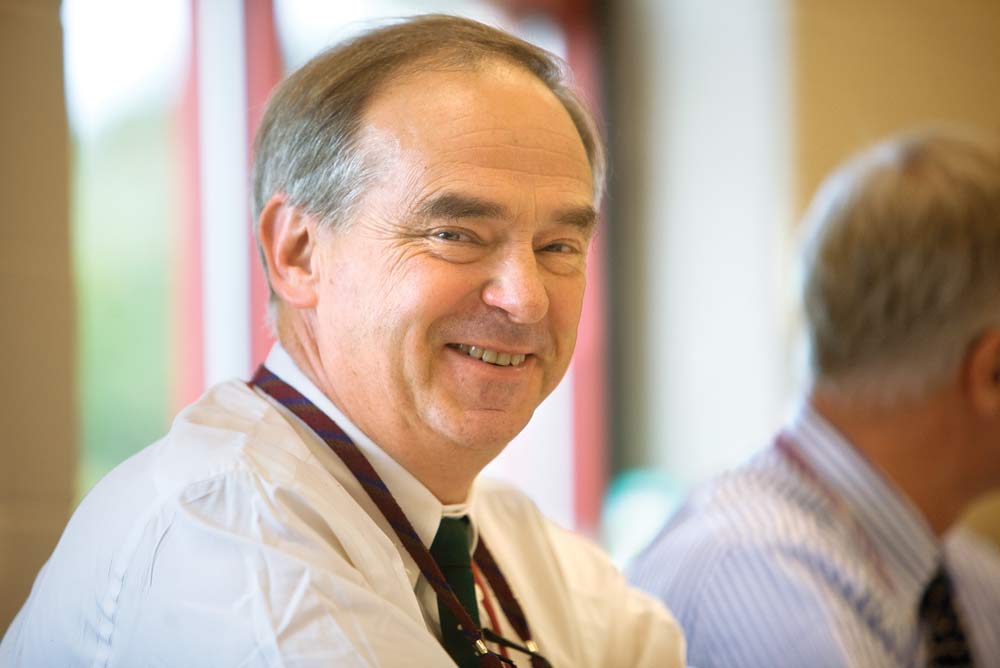 Baker Institute For Animal Health
Lifetime achievement award
In recognition of his discoveries in equine pregnancy for a career spanning 40 years, Dr. Doug Antczak '69 was honored with a lifetime achievement award by the International Symposium on Equine Reproduction. The awards honor individuals who have made significant contributions to the discipline of equine reproduction either through research or clinical practice.
Canine Embryonic Atlas
The world's first canine atlas consisting of detailed photos of microscopy sections of dog embryos at different gestation stages, linked to data on which genes are turned on during each stage, was made publicly available to scientists across the world. Developed by Dr. Vicki Meyers-Wallen, associate professor of genetics and reproduction, the Canine Embryonic Atlas will enable researchers to develop new genetic tests for developmental diseases using just a DNA sample.
Excellence in research
Colin Parrish, Ph.D. '84, the John M. Olin Professor of Virology, was chosen by a committee of peers as the recipient of the 2018 Association of American Veterinary Colleges Excellence in Research Award for his demonstrated excellence, leadership and mentorship in veterinary medicine. Parrish is an internationally-renowned virologist and leading expert in the details of virus-host interaction.
Zweig professor
In recognition of her success in research related to the health of horses, Dr. Gerlinde Van de Walle has been named the Harry M. Zweig Assistant Professor in Equine Health. The three-year term endowed position recognizes a junior faculty member who shows promise and productivity in the field of equine research.
---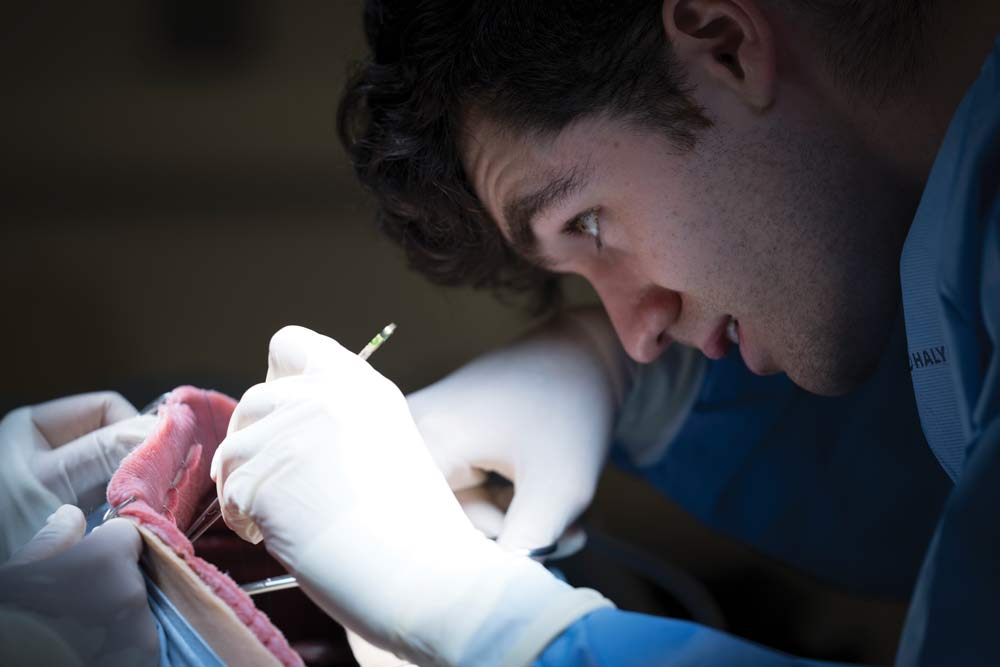 Clinical Sciences
Simulating surgery
Drs. Galina Hayes and Manuel Martin-Flores have introduced the use of SynDaver, a state-of-the-art artificial canine cadaver for teaching veterinary students surgical skills during the small animal soft tissue surgery clinical rotation. The model mimics living tissue, with individual muscles, bones and organs. It also bleeds and breathes like a living canine patient.
Fostering compassion
Dr. Ricardo de Matos, senior lecturer in the Section of Zoological Medicine, in collaboration with several of his colleagues, initiated The Healer's Art for veterinary students. This program is well established in the human medical curriculum but relatively new to veterinary medical training. It explores the role of altruism and meaning in medical practice.
Research excellence
Dr. Manuel Martin-Flores, assistant professor of anesthesiology, is the 2018 recipient of the Zoetis Award for Veterinary Research Excellence. This recognizes his role as one of the foremost experts in the use of neuromuscular blocking agents in veterinary medicine and his other areas of research and clinical innovation.
Celebrating collaboration
Dr. Mark Peterson, adjunct professor of medicine in the Department of Clinical Sciences, received the Robert W. Kirk Award for Professional Excellence at the 2018 ACVIM Forum for his active research collaborations with faculty members in the Department of Clinical Sciences, including Meredith Miller '03, D.V.M. '07, and John Randolph, D.V.M. '77.
Canine champion
Dr. Danny Scott, James Law Professor Emeritus, was the recipient of the International Canine Health Lifetime Achievement Award, recognizing his "significant impact on the world stage of canine health."
---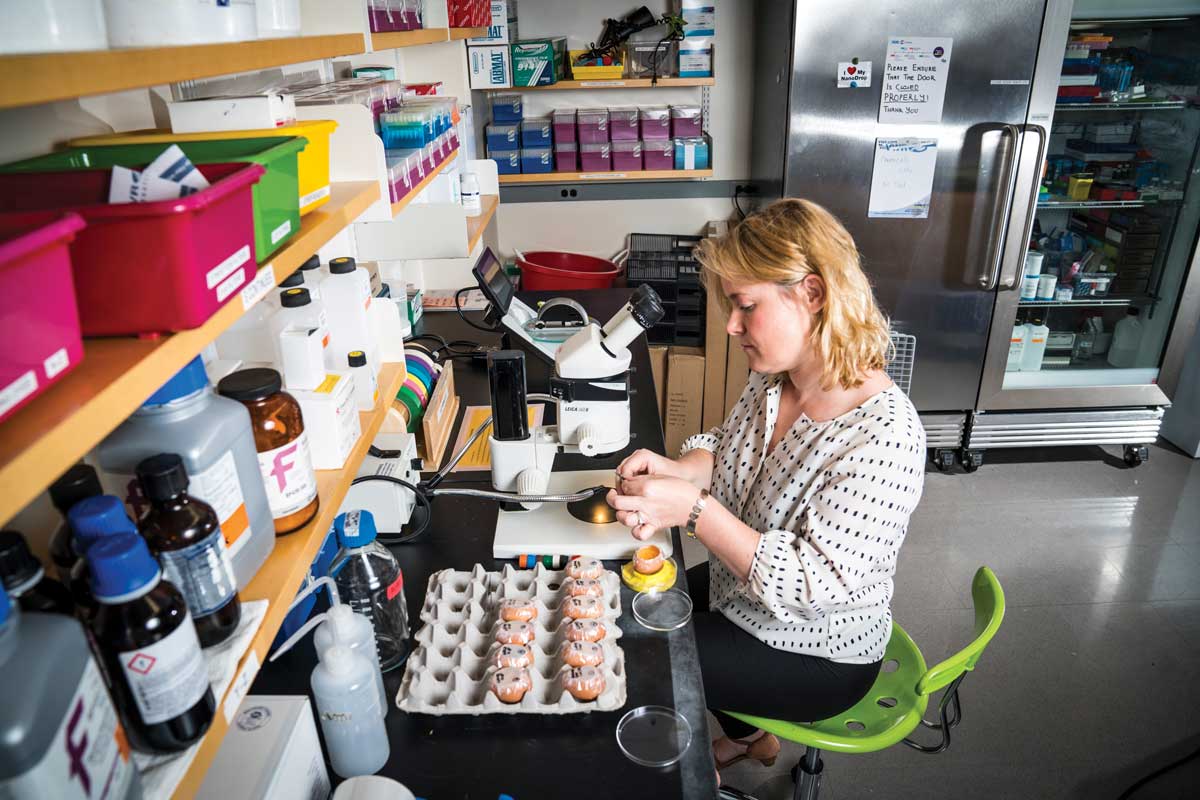 Molecular Medicine
Molecular milestone
Dr. Holger Sondermann, who studies molecular mechanisms underlying fundamental cellular processes, was elected into the American Academy of Microbiology earlier this year along with 95 other new fellows. The academy recognizes scientists for outstanding contributions to microbiology and provides microbiological expertise in the service of science and the public.
Tiny worm, big mission
Using the miniscule worm C. elegans as his model organism, assistant professor Dr. Gunther Hollopeter is investigating the endocytosis process, specifically the gatekeeper protein AP2 and its on/off switches FCHo and NECAP respectively. Ultimately, by understanding the minute details of endocytosis, researchers can potentially develop drugs that could tweak how cells take in external molecules.
Twists and turns
A molecule found widely in connective tissue, hyaluronan (HA), helps twist the developing gut into its final form, according to findings from the lab of Dr. Natasza Kurpios. The Pitx2 protein was long thought to be a major regulator of left-right asymmetry in organ development, but it is actually HA that plays an integral role in controlling intestinal asymmetry.
Antibiotic resistance fighters
While modification-dependent restriction proteins (MDRs) can be found in most antibiotic-resistant bacteria, no eukaryotic homologs exist, making them promising targets for drug design. With a new grant from the NIH, Dr. Joshua Chappie will be outlining the structural and functional characterization of the McrBC restriction system, a two-component MDR that targets specific DNA.
Potent portents
Work from the lab of Dr. Richard Cerione has revealed novel insights into inhibitors of cancer cell glutamine metabolism. The results show a new compound that more potently inhibits enzymatic activity, has helpful binding affinities and can potentially inhibit the growth of triple-negative breast cancer cells.
---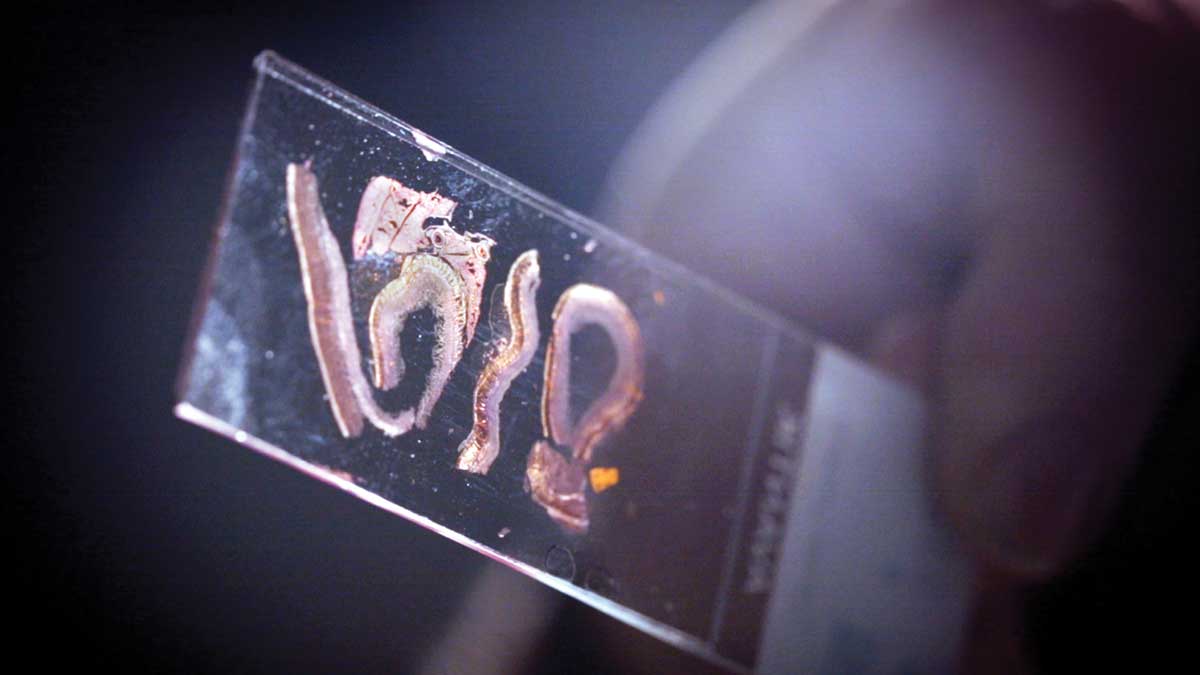 Biomedical Sciences
Cornell cancer connections
To showcase the breadth of cancer research at Cornell, the college hosted the inaugural Cornell Cancer Research Symposium, which explored ways to encourage more faculty collaborations between Ithaca and Weill Cornell Medicine researchers. Nobel laureate Dr. Harold Varmus moderated a town hall-style panel discussion on how cancer researchers at the two campuses could further collaborate.
Animal forensics
CVM veterinary pathologists regularly perform necropsies to uncover the mystery of an animal's death. Their findings help a district attorney decide if a case warrants prosecution, and they are used as evidence in a plea bargain or trial. College pathologists provided expert testimony in 280 cases last year to help the judge and jury determine a sentence.
Scientific advocates
This summer, Dr. Praveen Sethupathy '03 hosted a research event with the Fibrolamellar Cancer Foundation at the college. Sethupathy presented to fellow researchers, foundation board members and a patient on his current research toward finding therapeutic targets to fight fibrolamellar cancer, for which no effective treatment options exist beyond removal of cancerous portions of the liver before metastasis.
Bariatric benefits
Bariatric surgery has long yielded almost immediate health benefits for patients with type 2 diabetes. Since GLP-1 concentrations rise dramatically in the blood after bariatric surgery, a new study from Dr. Bethany Cummings focused on GLP-1 receptor signaling in the improvements observed after surgery, describing a new anti-diabetic signaling system within pancreatic islets.
Answer to arrhythmia
Provost Michael Kotlikoff, professor of biomedical sciences, is part of an international collaboration that aims to bridge a research gap in damaged hearts with a simple gene therapy approach. Their work demonstrates a dramatic reduction of post-infarction arrhythmias following the transfer of a single gene, Connexin43, which electrically couples non-excitable cells to undamaged heart cells.
---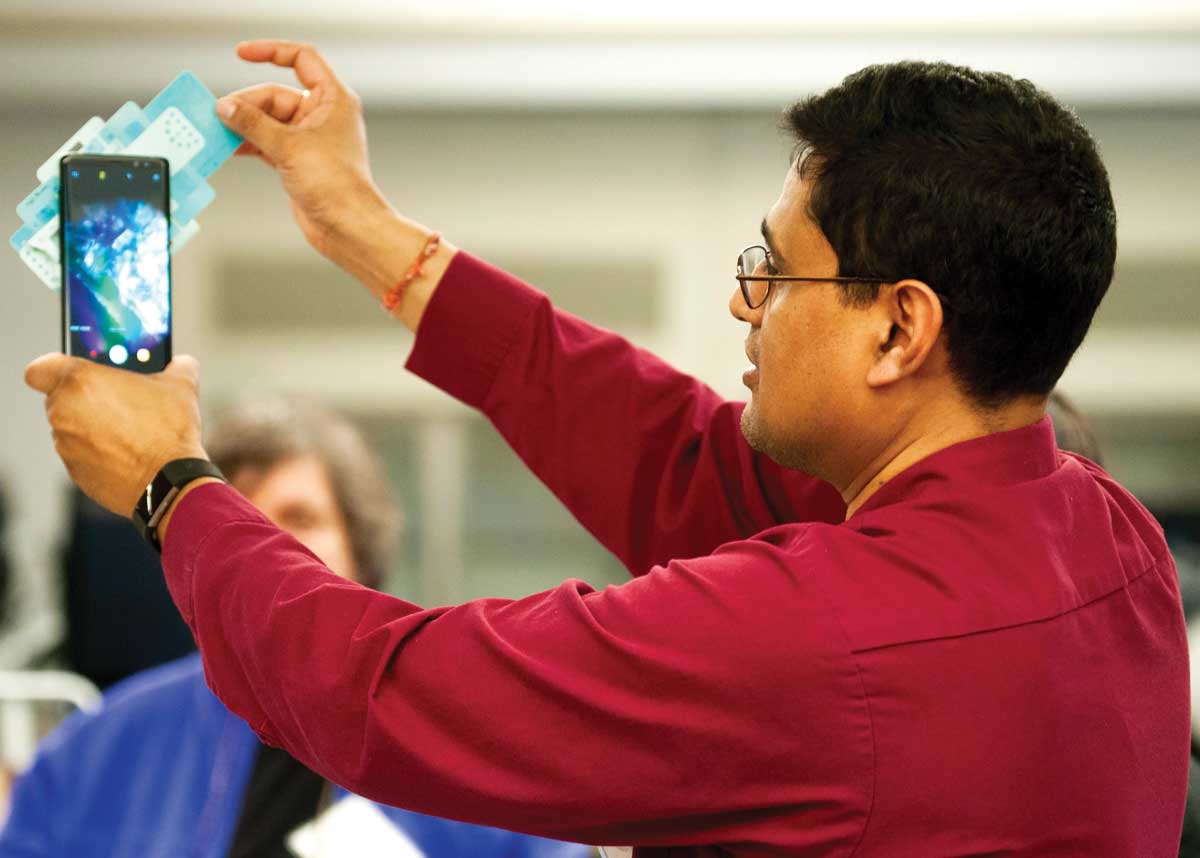 Microbiology & Immunology
Imperative immunology
The Immunology in Health and Disease Symposium sparked ideas for collaboration between Weill Cornell Medicine and its upstate colleagues. "The event enabled us to identify ways we can use the tools in one field to inform and drive discovery in the other," said event co-organizer Cynthia Leifer, Ph.D. '00, associate professor of immunology.
First responders
New research from Dr. Brian Rudd shows a division of labor among immune cells that fight invading pathogens. The study finds for the first time that fetal immune cells are present in adults and have specialized roles during infection. The first immune cells made in early life are fast-acting first responders to microbes in adulthood.
Risk-taking research
Dr. Margaret Bynoe, associate professor of immunology, received the Schwartz Research Fund for Women in Life Sciences, which supports innovative women life scientists. Bynoe's lab focuses on understanding how the immune system works and the cellular and molecular basis of immune defects that occur in autoimmune diseases and cancer.
Paper and protozoa
The college hosted a workshop that demonstrated the power of simple, accessible science with the Foldscope — a $1 paper microscope. Sponsored by ASSET, an NIH-funded, science-education outreach program at the college, the workshop explored numerous applications and integration of the Foldscope into classroom curricula with 25 teachers from communities throughout New York.
Illuminating inflammation
Assistant professor of immunology Dr. Pamela Chang has developed a chemical tool to control inflammation that is activated by ultraviolet light. The method will allow scientists to study inflammation and the immune system, and may one day prove effective as a targeted therapy for inflammatory diseases while minimizing side effects to healthy tissues.
---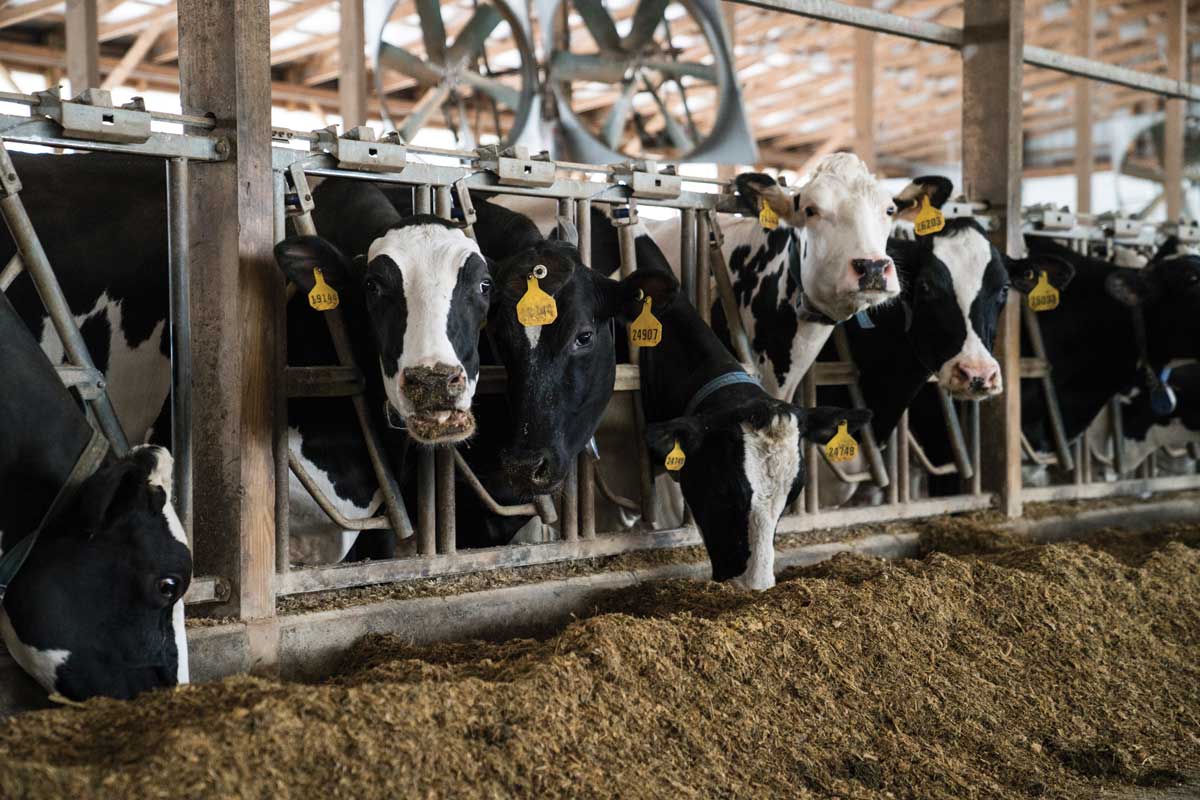 Population Medicine & Diagnostic Sciences
Exploring perceptions
A multidisci­plinary team of researchers from CVM and the College of Agriculture and Life Sciences (CALS) is conducting a study to explore perceptions regarding antibiotic use and resistance in dairy farming. Renata Ivanek, Ph.D. '08, leads the study along with CVM colleagues Drs. Frank Welcome, Paolo Moroni and Amelia Greiner Safi, M.S. '06, and CALS colleague Dr. Michael Shapiro.
Interventions for farmers emphasizing cost-effective disease prevention and financial benefits of refining antibiotic use may hold promise based on the team's preliminary results that suggest their skepticism of antibiotic reduction.
New York City symposium
In March 2018 nearly 100 faculty, staff and students from CVM, Weill Cornell Medicine and Cornell Tech gathered for a symposium on antimicrobial resistance. Dr. Craig Altier and the organizing committee designed a program that drew on the strengths and goals of our combined campuses in basic and applied clinical science in human and animal medicine.
Nutrient investigation
Sabine Mann, Ph.D. '16, works as an ambulatory clinician while also conducting research on the overlap of nutrition, metabolism and immune system regulation, a field known as immunometabolism. She also studies physiological adaptation and maladaptation during periods of nutrient deficit and intense exercise in large animals.
Planetary & wildlife health
Wildlife Health Cornell's (WHC) Steven Osofsky, D.V.M. '89, the Jay Hyman Professor of Wildlife Health and Health Policy, and Dr. Montira Pongsiri led multiple sessions at the inaugural Planetary Health Alliance Annual Meeting, and published an article in The Lancet Planetary Health. These efforts outlined how health impact assessments can be the bridge to the planetary health paradigm, becoming a go-to tool for truly sustainable solutions that interconnect public health and environmental problems.
Additionally, WHC wild carnivore health specialist Dr. Martin Gilbert and colleagues published a paper describing the first documented case of canine distemper virus in a wild Amur leopard. With only an estimated 80 Amur leopards left in the wild, infectious disease can have devastating consequences on this critically endangered species.
Bench to farm
Jessica McArt, D.V.M. '07, Ph.D. '13, investigates the epidemiology of metabolic diseases in early lactation dairy cows. She currently focuses on the impacts of hypocalcemia in cows and identifying markers in milk associated with energy deficits, disease and production. As an applied epidemiologist, McArt integrates her research with clinical and teaching duties in the Ambulatory and Production Medicine Clinic.
---
Research Funding
Dollars awarded by department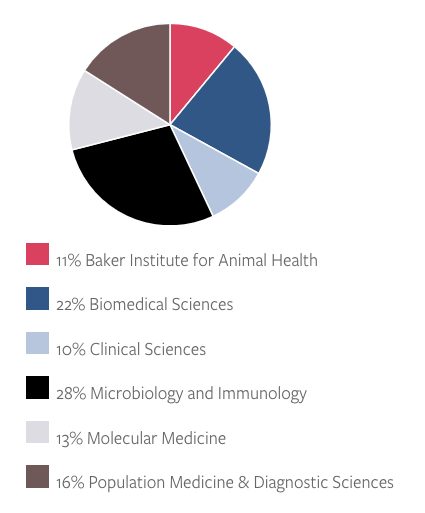 Baker Institute for Animal Health $3,880,563
Biomedical Sciences $7,803,204
Clinical Sciences $3,555,256
Microbiology & Immunology $10,266,334
Molecular Medicine $4,881,819
Population Medicine & Diagnostic Sciences $5,887,361
Grand Total $36,274,537
Number of awards by department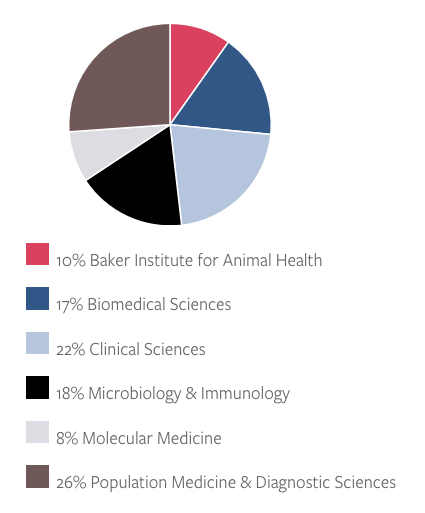 Baker Institute for Animal Health 24
Biomedical Sciences 41
Clinical Sciences 53
Microbiology & Immunology 43
Molecular Medicine 20
Population Medicine & Diagnostic Sciences 64
Grand Total 245
---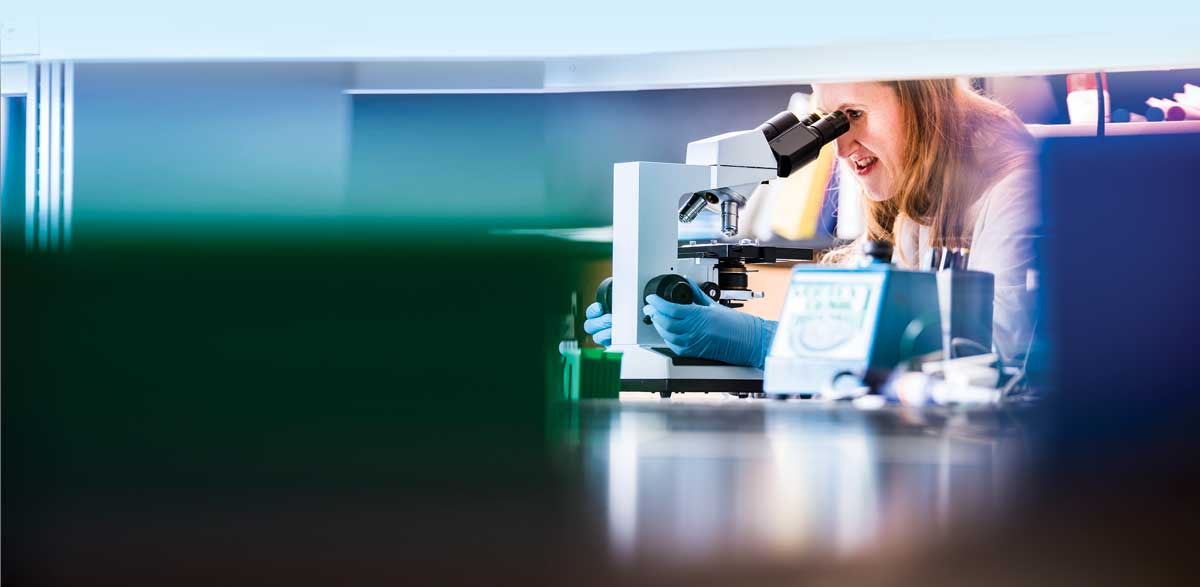 Noteworthy New Awards
Avery August, Ph.D. '94, NIH – National Institute of Biomedical Imaging and Bioengineering: Immuno-Engineering: Integrated Engineering and Immunology Training: $890,560
Cynthia Leifer, Ph.D. '00 / Dr. Hector Aguilar-Carreno, NIH – National Institute of Allergy and Infectious Diseases: Cornell Program to Increase Faculty Diversity and Promote Research Excellence: $244,301
Dr. Charles Danko, NASA: Pol II Pausing as a Milestone on the Road to Complex Animals: $791,393
Dr. Bethany Cummings, DoD – U.S. Army: Defining Alpha and Beta-Cell Crosstalk for the Treatment and Prevention of Diabetes: $312,041
Jonathan Cheetham, Ph.D. '08, NIH – National Institute on Deafness and Other Communication Disorders: Manipulating Macrophage Phenotype to Accelerate Recurrent Laryngeal Nerve Repair: $1,962,500
Dr. Gerlinde Van de Walle, USDA: The Antimicrobial Properties of Mesenchymal Stromal Cells as a Biological Alternative to Conventional Antibiotics in Veterinary Medicine: $489,908
Elizabeth Berliner, D.V.M. '03, The Humane Society of the United States: Spayathon For Puerto Rico: $75,000
Dr. Jeongmin Song, NIH – National Institute of Allergy and Infectious Diseases: Cracking Salmonella Typhis Secret Code: Understanding Pathogenic Mechanisms of Salmonella Typhi Toxin: $2,692,634
Dr. Robert Weiss, NIH – National Institute Of Child Health & Human Development: Coordination of ATR Signaling for Genetic Quality Control, Silencing and DNA Repair During Meiosis: $2,169,882
---
Alumni & Donors
Making a difference
There are many ways animal lovers have chosen to further animal health, research and education. The following individuals have generously partnered with Cornell to make a difference for animals.
Finn's Fund
Christina Fried '94 rescued Finn the mixed-breed dog from the streets of New York City in 2006. Just before his second birthday, however, he started showing signs of an incurable disease that affects blood in the liver. Finn's Fund was established in his memory to assist other families whose pets are facing vascular liver abnormalities.
The Brennan Equine Scholarship in Remembrance of Dr. John F/h3>
Mary and Chip Brennan established this scholarship in 2018 to honor John Cummings '58, D.V.M. '62, Ph.D. '66, and his expert consultation with their horse Cary, who was once a reserve champion in Novice Hunter in the greater Chicago area. The scholarship provides an annual tuition award to a deserving student with an interest in equine medicine.
Sheila's Fund for Patient Assistance
Thanks to the foresight of an animal lover from the Albany, New York area, this fund will assist families who are in need of a little financial help that will allow their pets to receive critical care.
Calico Clara Fund
Phyllis R. Strickler has known of Cornell's strength in veterinary medicine for over 30 years and wanted to ensure her estate would help animals through several veterinary college programs. The Calico Clara Fund for the Cornell Feline Health Center is in memory of Clara and all the cats she's loved. Additionally, the the Phyllis R. Strickler Fund will provide support to Wildlife Health Cornell, a College of Veterinary Medicine Center of Excellence.
Your gifts help create a healthier world for animals and people through
Scholarships
Innovation in Teaching
Education and Discovery
Care for Animals
Safeguarding our future
The following funds were established in 2017-2018, ensuring the future of veterinary research, education and care.
Brennan Equine Scholarship in Remembrance of Dr. John F. Cummings
Canine/Feline Ophthalmological Research
CVM Leadership Development Fund
Equine Recovery Study
Finn's Fund
Liz Hansen Graduate Scholarship
Hemangiosarcoma Research Task Force
Dr. Robert M. Lewis and Sandra S. Lewis Anatomic Pathology Residency
Lois C. Rich, D.V.M. 2001 Scholarship
Sheila's Fund for Patient Assistance
The Henry and Karen Silverman Initiative to Advance Treatment of Canine Arrhythmias
SynDaver Synthetic Canines Fund
White Shark Genome Project
Wildlife Health Cornell's AHEAD Program
William W. Crandall Fund